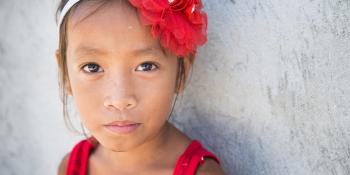 Building a Community
Asia-Pacific
Habitat for Humanity looks beyond shelter to pave the way for the development of a community. While Habitat builds homes, its partners provide access to water and sanitation facilities and electricity supply, educational and livelihood opportunities, health awareness programs, training to empower women and help to internally displaced persons to integrate into society. Many of these efforts are undertaken through Habitat Resource Centers.
In Vietnam, Habitat works with local microfinance institutions to implement water and sanitation improvements in addition to building and renovating houses. Health awareness training is also carried out in communities where Habitat works.
In Afghanistan, Habitat built school classrooms which benefited 200 students in the Ali Abad community in the north. Several hundred more children from Habitat families will also have adequate sanitation facilities as part of Habitat's value-added housing program.
Habitat also helps to build and rehabilitate more than 1,000 houses in conflict-hit Mindanao island, southern Philippines. Funded by the European Union, the Build for Peace in Mindanao project aimed to rebuild lives of internally displaced persons, former combatants and their families in the strife-torn regions.
In India and Nepal, Habitat's Save & Build program encourages members – often women - of self-help groups and village banks to save toward the cost of their house.
Over in Cambodia, Habitat's partners enabled former garbage dump settlers to live in decent, affordable homes at a new site and start new livelihoods such as bakers and cobblers.