Featured News

25th Anniversary Build and Rally Info: Drive, Build and Bond
Hello, Care-A-Vanners: Our registration for the 25th Anniversary Build and Rally is going very well. One week into signup, we already had nearly half of the registrations we had hoped for. No one wants to miss this once-in-our-lifetime opportunity to see old friends, meet new friends and build! So for those of you who deleted your July newsletter, I have repeated the information about signing up. If you want to build between April 21 and May 4, 2014, there is only one place to do that– Springfield, Mo. See you all there.

When: April 21 - May 4, 2014

Where: Springfield, Mo.

What: Two-week build with a rally on the middle weekend (April 26-28)

Who's invited: Current and former RV Care-A-Vanners and HFHI staff

Campsite: The Ozark Fairgrounds, 3001 N Grant Street, with entry at Gate 4 off of Norton Rd. No early arrivals.

Amenities: Not much, but we have a place to camp together, fellowship and, most importantly, build! Although the fairgrounds are large and our rally hall is nice, the campsites are marginal and tight, with few full hookup sites. There is a huge variation in the length and width of the sites, so you will have to trust the staff to match you with a site that fits. It may be tight, but you'll fit! Included in your rally fee will be two pump-outs by a honey wagon. Your campsite fee is being subsidized by the RV Care-a-Vanner program to keep the event affordable.

Cost: $140-$335. The cost includes camping, the rally, entertainment, three dinners and the coffee hours during the rally. There will be a cash bar at the rally. Costs increase by $50 after January 1.
How to register: (Please print this guide to have in front of you when you register.)
Go to our build registration page. For build and rally registration, look for Springfield, Mo., listed for April 21, 2014. For rally-only registration, look for Springfield, Mo., listed for April 26, 2014.
The cost for each build, based on two people, is listed below. Singles pay $50 less.
The following is the key to the RV sites. Build and rally are GV14-0100 thru GV14-0108:

GV14-0061: Small full-hookup site: Less than 15 feet wide. $335.
GV14-0062: Medium full-hookup site: 15-18 feet wide. $335.
GV14-0063: Big rig full-hookup site: Larger than 18 feet wide. $335.
GV14-0064: Small water and electric site: Less than 15 feet wide. $270.
GV14-0065: Medium water and electric site: 15-18 feet wide. $270.
GV14-0066: Big rig water and electric site: Larger than 18 feet wide. $270.
GV14-0067: Small electric-only site: Less than 15 feet wide. $215.
GV14-0068: Medium electric-only site: 15-18 feet wide. $215.
GV14-0069: Big rig electric-only site: Larger than 18 feet wide. $215.
GV14-0070: Build and rally dry camping. $190.
GV14-0071: Rally-only dry camping. $150.
GV14-0072: Rally-only, staying off site. $140.

PLEASE sign up for the smallest site you can fit in. If you desire more amenities and there are no more sites available in that category, you can be put on the waitlist for that build number, but please also sign up for your second choice so you have a spot reserved. If a spot opens up for the build number for which you are waitlisted, you will be notified and given the opportunity to swap. The important thing is to register.
You will receive an initial confirmation from Lu Tillotson at the registration desk, followed by a confirmation from Kelly Sosland (habitatcav@gmail.com) that you are booked for the build and rally with your requested amenities, or for the rally alone; however, your individual site assignment will be made at a later date. Kelly's phone number is 830-456-2672.
If you are staying off site, you must make your own reservations. We have a deal with the La Quinta Inn East. Just mention Habitat for Humanity to get the $62 per night rate. The hotel is located just off I-44 at Exit 80. The phone number is 417-520-8800.
Payment: By check only, mailed to the RV Care-A-Vanner Desk, 121 Habitat Street, Americus, Ga., 31709. Be sure to write "25th Anniversary registration" in the check memo and make the check payable to the RV CAV Program.

Cancellation policy: There is $75 cancellation fee prior to March 21. There will be no refunds after that date.

What to expect: We will be doing new construction, home renovations and A Brush with Kindness. Everyone, by rig, will be divided into build teams and will have an opportunity to experience all three build opportunities. We will have morning teams and afternoon teams.

The Rally schedule:
Building is Tuesday-Saturday both weeks.
The rally begins Saturday evening with a social hour and dinner.
Sunday and Monday schedule:

8-8:30 Coffee and donuts hosted by the Springfield HFH affiliate
8:30-12 Seminars
1:30-3:30 Seminars
5-6 Social hour
6-7 Dinner
7-8 Entertainment

An HFHI safety certification course will be offered during the week in half-day sessions. You will be assigned to a class during the build. Our goal is to get all the Care-A-Vanners safety-certified at the rally.
Remember: PRINT this guide to have in front of you when you register.

The Care-A-Vanner desk staff and event organizers look forward to meeting and building with all of you. There is room for everyone! Do not miss this historic event and celebration of 25 years of building safe, affordable and decent housing.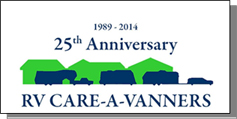 God bless and safe travels,

Mary Vandeveld
RV Care-A-Vanner coordinator
mvandeveld@habitat.org
On Facebook

Safety training
I have had a great response to my call for safety trainers. The applications have been turned over to the construction/safety people for review. We had many more applications than we have room for in our first class, so we will probably offer a second opportunity for training sometime in 2014. Thank you for your support of this effort. If you have any questions, you can contact me at mvandeveld@habitat.org.

Surveys
Let me first thank all of you for filling out your surveys. We do read every one of them and try to respond to any of your concerns and ideas. We have added a new feature to our surveys. If both you and your traveling companion would like to fill out your own survey, we welcome that. You can now both click on the same link and do your own survey. Your opinion is important to us!

Mary Vandeveld
mvandeveld@habitat.org
---
In Memoriam

In memory of Burma Anderson
Jim Anderson notified us through Bernie and Audrey Ussery that his beloved wife, Burma, who had been fighting cancer since 1992, finally succumbed to the disease. Jim said she was always one to get involved with whatever task her health would permit, and was never one to complain or seek sympathy. Jim and Burma had worked with the Care-A-Vanners since 2003.

If you would like to send a sympathy card or note to Jim, send it to 9272 Best Street, Effingham, IL 62401.

It was Jim's wish that any memorial donations be made to the Habitat for Humanity RV Care-A-Vanner program in her name.
---

Team leader corner

Hello from Boothbay Harbor, Maine. I am not sure if I blinked and missed summer, but it feels like a lovely fall day here in the first week of August!

First, a hearty "thank you" to our jovial July team leaders. They are: John Krohn, Steve Gullette, Ron and Jean Gratz, Robert and Doris Meyer, Kathi and C.A. Ritchie, Harry Fritts, Leon and Betty Nelson and Lisa Crawford.

I hope to get to meet many of you at the Care-A-Vanner 25th Anniversary Build and Rally. I have been asked to give a seminar on team leading. I will cover some basics but would like to know what would be most helpful to you. Please send me ideas and questions for the seminar. Also, I am always looking for topics for the newsletter. I would love for someone to write a short paragraph or two about why you choose to serve as team leaders on a build. Perhaps that would encourage others to join the team leader ranks.

If you've been thinking about becoming team leaders but are not sure what's involved, contact me at bsawyer@habitat.org and I will send you the guidelines. Also, don't forget to check the "team leader interest" box on your registration if you are willing to lead the build.
Finally, team leaders are needed for the following builds. If you are available and willing, please contact me.
Sept. 8-22 Mankato, Minn.
Sept. 15-29 Yakima, Wash.
Sept. 22-Oct. 6 Columbia, Ca.
Sept. 29-Oct. 13 Tuscaloosa Ala. (Disaster Response)
Oct. 27-Nov. 10 Tuscaloosa, Ala. (Disaster Response)
Oct. 27-Nov. 10 Goldsboro, N.C.
Oct. 27-Nov. 10 Dade City, Fla.
Thank you and happy hammering!

Thank you,
Brenda Sawyer
Team leader coordinator
bsawyer@habitat.org
---
Disaster Response
West Liberty, Ky.: (formally known as Morehead, Ky.): West Liberty lost 500 housing units, many of them low-income, in a March 2, 2011, tornado. I have scheduled builds through early November. We need Care-A-Vanners late summer and into the fall.
Tuscaloosa, Ala.: Tuscaloosa is rebuilding following the massive tornado in 2011. They now have room for eight RVs at their volunteer facility. I have listed the Tuscaloosa builds on our website through next winter, including some Collegiate Challenge builds in March 2014. No experience is required to work at Tuscaloosa, and I have heard from the builders who have been there that it is a great place to work. Thanks to a grant from the RV Care-A-Vanner program made possible by Larson Manufacturing, there are now eight full hookup sites there.
Superstorm Sandy: We have completed three builds in Toms River, N.J., ground zero for Superstorm Sandy. I have gotten a great report from builders there. It was a quality experience, and the affiliate was terrific. I am hoping to have more builds in Sandy-affected areas before it is time to go south. If you would like to be on my email list for Sandy recovery, please send a note to mvandeveld@habitat.org. I will notify Care-A-Vanners on my list first about build opportunities there.
Granbury, Texas: 58 Habitat homes were damaged or destroyed by a tornado in Granbury. Fortunately, all the homeowners were okay. Disaster assessments are still being done and clean-up is underway. We will have a presence in Granbury when they are ready to rebuild. If you would like to be on my email list for Granbury, Texas, or Moore, Okla., please contact me at mvandeveld@habitat.org
Moore, Okla.: What a tragedy, with 1,200 homes destroyed and 12,000 damaged. It will be a while before they need us, but I am keeping a combined list for Moore and Granbury for Care-A-Vanners who might be interested in helping with the rebuilding effort.
---
Upcoming Builds
Lu and I have changed our policy of when we list builds. It was a matter of survival! We now list the builds as they come in.

Builds that are very popular, such as the ones in Alice and Mason, Texas, will be listed on a specific day and time (10:30 a.m. PDT for our Care-A-Vanners on the West Coast), and that date will be announced in the newsletter. So that gives you another reason to read the newsletter cover to cover!

Don't forget those Springfield, Mo., builds for 2014! Yes, our 25-year celebration and rally. Registration opened on Aug 1. Although we have room for everyone, our sites with amenities are limited, so sign up early.
---
Featured Builds
Brookings, S.D. is looking for drop-in help this summer and fall. They have three houses under construction and 10-plus A Brush with Kindness projects underway. Brookings is home to Larson Manufacturing, which gave the Care-A-Vanner program a $30,000 grant last year. That grant is what got our Disaster Response program off the ground. Camping is free at the Larson Manufacturing plant. Let's show our support of Larson and Brookings and get some builders their way.

Thibodaux, La. has been a longtime supporter of the RV Care-A-Vanner program. They list builds with us year-round. We are looking for more people to sign up for their builds this fall, so check the September, October, November and December build lists, and see if we can give Thibodaux a hand up.

Elgin, Ill. is a new affiliate to us, and it needs some help finishing some neighborhood stabilization projects. The build starts Oct. 13, at the height of fall colors. You will be staying in an Illinois Forest Preserve free of charge! Let's help this affiliate out and show them what the RV Care-A-Vanners can do.

Alice, Texas: Alice will be listed soon. We plan to open registration for the end of September or the first week of October. We will announce the details of how to register in the next newsletter. Signup will be online, as usual. We make a big effort to have a fair and smooth signup. Lu and I like to be readily available that day, and we will have an IT person at HFHI available to deal with any login issues.

Mary Vandeveld
mvandeveld@habitat.org
---
Collegiate Challenge and Care-A-Vanners
There are still some openings next spring for those who might enjoy working with students in the Collegiate Challenge program. Our newest affiliate to ask for Care-A-Vanner crew leaders is in Indiantown, Fla., which is planning a build in March. Its builds will be a bit different in that they will be two weeks long rather than one week. Look for the CC after the name of the place to find a Collegiate Challenge build that needs your help!
Diane Gravlee
Collegiate Challenge coordinator
dggravlee@gmail.com
---

Anniversary Celebration

IT'S FINALLY HERE! The registration for the 25th Anniversary Build and Rally, that is. Our planning committee is gratified with the good beginning to registration and optimistic that the trend will continue as you make decisions about coming to Springfield in April, which we hope you will do.
The venue is nice, and folks there have assured us that the weather will be splendid. We hope that is not just so much salesmanship. The program is meaningful with many contributions from other Care-A-Vanners and HFHI staff. The builds are always the top attraction, and they will be a great experience for everyone.

And then there is the party: the rally over the middle weekend during which we will celebrate the past 25 years of Care-A-Vanning — 25 years of traveling with toolboxes in the basements of our RVs or in the back of our tow vehicles, 25 years of arriving at sites and bonding with other builders over delivering affordable housing to those who need it the most. Oh, and I should not forget, 25 years of great joy and fun in sharing the work.

We'll see you in Springfield in April.

Fundraiser raffle:
Wow, only nine more months to the 25th Anniversary! You still have time to get busy. There will be a raffle to raise money for Habitat. We are putting out an invitation to the gifted and talented Care-A-Vanners to bring an item you have crafted, knitted, drawn, written, sewn, built — or any other items you may want to donate. It will be so much fun to see all the wonderful items that the CAVs donate to this meaningful fundraiser. This is a volunteer request and not mandatory. Please contact Shirley Harvey sharvey23@yahoo.com if you have questions or items to donate.

Care-A-Vanners win Golden Hammer Award
The Habitat for Humanity of Springfield, Missouri board met in July and awarded one of its annual Golden Hammer Awards to the Care-A-Vanners who descended on Springfield in April 2013 for one of the well-known Mark Murphy 20-day builds. The board only awards four of these Golden Hammers each year. Board member Jonathan Gano, who is the son of Care-A-Vanners Jane and Joe Gano, accepted the award on behalf of all those who had been there for the build.

Funding our anniversary builds
Often gifts to a fund are given in the form of a pledge, and sometimes paid in amounts over a period of time. If you would consider giving a leadership gift amount and would like to do this in smaller payments, please contact me, Joe Gano, at ganoja@gmail.com and we can make the arrangements to suit your financial convenience. Also, if you would like to make a pledge to the fund for future payment, please contact me and I will make record of it. That could help us get things started.
So far, we have raised $4,835.
Help us reach our goal of $125,000:
Contribute here
(and please be generous in your giving.)
Attention, quilters!


We have a project started for all of you who want to make a fabric contribution. The project organizers are Paula Huls at randphuls@gmail.com, and Cindy Hopkins at sewingbelle56@yahoo.ca. Paula is in Redmond, Wash., and Cindy is in Midland, Ontario, in Canada. When you send squares, consider whether it's best to send them to the U.S. or to Canada. Be sure to contact either Paula (for the U.S.) or Cindy (for Canada) for the correct mailing address.

These folks will collect everyone's contributions and coordinate the assembly of the quilt, which will be raffled off at the rally to benefit Care-A-Vanners projects. Quilt squares of 12.5 x 12.5 inches are welcome contributions. The overall theme is the 25th Anniversary of the Care-A-Vanners. If you would like to participate in the assembly of the quilt, please send your name to one of these people and plan to bring your sewing machine to Springfield.

Jane and Joe Gano
25th Anniversary Event Coordinators
Jane: janefgano@gmail.com
Joe: ganoja@gmail.com
---
Welcome new Care-A-Vanners

Charles and Linda Anderson, Ralph Caldwell and Beth Sattler, Cathy Conley, Carson and Nancy Fleetwood, Jim and Vicki Getgood, Bill and Diane Grist, Paul and Mary Lewis, J.T. Little and Kathy Ayers, John and Sandra Lorton, Thomas and Kathryn Montgomery, Marlene Reading, James and Silene Reed, Albert and Jolene Sandor, Kent and Jan Shacklett, Mark Troester and Lynn Neakrans, Patricia Wirschem, Scott and Margie Zoeckler.

Our apologies if we have included a seasoned Care-A-Vanner, or if this is duplication. Habitat for Humanity is grateful for the work that you do!
---
Safety Corner
Stairway safety during construction
Incidents (accidents) on stairways and ladders account for a significant number of job site injuries. Below are some OSHA guidelines you should be aware of when a house has internal stairs.

To clarify the terms:
Stair rail: refers to a guardrail around the stairway opening or any point on the stairway where there is no adjacent wall. This typically occurs where there is a midpoint stair landing.

Handrail: refers to the typical handrail we use when going up and down stairs.
Handrail
All temporary stairways with four or more risers, or that are more than 30 inches high, must have at least one handrail.
Handrails must be capable of withstanding at least 200 pounds of force.
Handrail height must not be more than 37 inches nor less than 30 inches from the upper surface of the handrail to the surface of the tread.
Handrails must be surfaced (smooth) to prevent injuries such as punctures or lacerations and to keep clothing from snagging.
Handrails must provide an adequate handhold for employees to grasp to prevent falls. Flat 2x4s are too wide to qualify as a handrail.
Stair rails
Stair rails must not be less than 36 inches in height.
Stair rails must be installed along each unprotected side or edge or stairs.
A mid rail must be provided between the top rail (guardrail) and stairway steps and stretch halfway to the step.
Unprotected sides and edges of stairway landings must be provided with a 42-inch guardrail.
Though it's not included in the above OSHA language, it's also important to ensure that a stairway planned for any house be built as soon as practically possible. This eliminates the need for ladders, which are far more likely to cause accidents than properly guarded temporary or permanent stairs.
---
Questions, cancellations or concerns?
1-800-HABITAT, ext. 7534
1-229-410-7534 (direct)
rvinfodesk@habitat.org
RV Care-A-Vanner staff contact info

Register for a build online
Step-by-step instructions

Roster updates
please email updated roster information to rvinfodesk@habitat.org or ltillotson@habitat.org or call 1-229-410-7534.

Report Care-A-Vanner hours
Help us keep track of total volunteer hours contributed, and partner families served. Please email these stats from your drop-in or ongoing builds to rvinfodesk@habitat.org.

Donate to RV Care-A-Vanners
How to donate money or vehicles