Featured News

As I was painting my kitchen this week while listening to the horror in Oklahoma unfold, it occurred to me that I should quit complaining to Dave about what a pain it was to paint our entire house before selling it. After all, we have a house to paint, something 1,200 people in Moore, Okla., can't say and 58 Habitat families in Granbury, Texas, would give anything for. I will never say I hate to paint again!

Let me share a little about the direction that Habitat is headed in response to disasters. First, we all agree it takes too long to get to the rebuild stage. We all want to go help the day after a disaster and get frustrated when it is months before I put the call out for help. It takes time to do the cleanup, settle with insurance, put in FEMA claims, fundraise for the rebuild, qualify new families and for the affiliates to increase their building capacity. The RV Care-A-Vanner Program is part of Volunteer and Institutional Engagement. With the leadership of Allyson Drinnon, the Volunteer and Institutional Engagement department is developing a seamless system for disaster-affected affiliates to have one portal to the volunteer departments of Habitat. This will include Disaster Corps volunteers, AmeriCorps, U.S. Global Village teams and the RV Care-A-Vanners. With a disaster assessment prepared by the folks in Disaster Response in hand, all the team members can communicate and together fill the needs of the affected affiliates most efficiently. We now have a weekly conference call to share information, assess our resources and plan a response. In the chaos that follows a disaster, it is great to see some organization that makes sense!
| | |
| --- | --- |
| | |
| | |
Moving on to our 25th Anniversary Build and Rally planned for April 21 - May 4, 2014, in Springfield, Mo. Plans are rapidly falling into place. This is going to be a historic event. In next month's newsletter, we will outline the process for registering for the build and rally. We are doing the registrations ourselves rather than using an outside firm in order to save money and keep your fees as low as possible. Registration will begin on or about Aug 1, 2013, and will be done online, just as you register for a Care-A-Vanner build. We especially want retired Care-A-Vanners to come so we can honor your years of service. Don't be caught around a campfire next summer being the one who missed out on this unique opportunity to celebrate 25 years of the RV Care-A-Vanners.

I want to thank all of you for your hard work. You folks, the Care-A-Vanners in the trenches, are what make this program a success. I hope to get clearance soon from my neurosurgeon and get back in the trenches with you on a few builds. In the meantime, next time you are painting, smile and think about what a difference you are making in people's lives.

God Bless and safe travels.

Mary Vandeveld
RV Care-A-Vanner coordinator
mvandeveld@habitat.org
On Facebook
---
Special Instructions for the Mason 2014 build signup
Registration will be open at 1:30 p.m. EST on June 24 for all four 2014 Mason, Texas, builds. Registration will be online only. If you have trouble logging on, send an email to ltillotson@habitat.org and we will help you. Please be patient with the builds going online. I can bring it live at 1:30 p.m., but the computer may not process it for up to 60 minutes.
The builds are as follows:
| | | |
| --- | --- | --- |
| GV14-0046 Mason, TX | 2.2.14-2.16.14 | (2 week) |
| GV14-0047 Mason, TX | 2.16.14-3.9.14 | (3 week) |
| GV14-0048 Mason, TX | 3.9.14-3.23.14 | (2 week) |
| GV14-0049 Mason, TX | 3.23.14-4.14.14 | (3 week) |
Remember if you do not get on this build, there are many more builds to choose from!
---
Team leader corner
My contribution to the newsletter will be brief this month. I am currently in Oklahoma with the Red Cross helping with the disaster relief effort. I came closer to a tornado last Friday than I ever want to again. I don't know how people live with that constant threat!

First, let me thank our marvelous May team leaders. They are: David and Jeri Alton, Lowell and Shirley Harrison; Harry Fritts; Frank and Diana Peccia, Bob Gillespie, Sandy Mathewson; Michael and Karen Vincent; Jerry and Lori McHugh; Dan Augustine; Scott and Nancy Hoag; Lisa Crawford; Larry and Margot Durham; and Chuck and Judy Sambs.

Just a little reminder: If you communicate with anyone at the RV Care-A-Vanner desk about a particular build, it is very helpful to have the GV build number and the date so that we can look it up quickly and accurately.

If you've been thinking about becoming a team leader but are not sure what's involved, contact me at bsawyer@habitat.org and I will send you the guidelines. Also, don't forget to check the "team leader interest" box on your registration if you are willing to lead the build.
Finally, team leaders are needed for the following builds. If you are available and willing, please contact me.
| | |
| --- | --- |
| July 21- August 4 | Virginia, MN |
| July 28- August 4 | Willow River, MN |
| July 28- August 11 | Iron River, MI |
| August 11- September 1 | Sheridan, WY |
| August 18- August 31 | Tacoma, WA |
| August 18-September 1 | Iron River, MI |
Thank you,
Brenda Sawyer
Team leader coordinator
bsawyer@habitat.org
---
Disaster Response
West Liberty, Ky.: (formally known as Morehead, Ky.): West Liberty lost 500 housing units, many low-income, in the March 2, 2011 tornado. I have scheduled builds through early November. We need Care-A-Vanners late summer and into the fall.
Tuscaloosa, Ala.: Tuscaloosa is rebuilding following the massive tornado in 2011. They now have room for eight RVs at their volunteer facility. I have listed the Tuscaloosa builds on our website through next winter including some Collegiate Challenge builds in March 2014. No experience is required to work at Tuscaloosa and I have heard from the builders that have been there this winter that it is a great place to work. Thanks to a grant from the RV Care-A-Vanner Program made possible by Larson Manufacturing, there are now eight full hookup sites in Tuscaloosa.
Joplin, Mo.: I still have a need for a house leader October 7-12, 2013. Our responsibility is to lead a Thrivent team of 10 to 12 members and enhance their volunteer experience. There will be local construction supervision available. If you might be interested, please contact me for more information at mvandeveld@habitat.org.
Super Storm Sandy Relief: I have listed two more builds in Toms River, N.J., ground zero for Super Storm Sandy. They are listed in June and July and I will probably be adding to that list. I have gotten a great report from the first builders in Toms River. It was a quality experience and the affiliate was terrific. Several affiliates have just received significant funding and I have been told to expect a need for Care-A-Vanners, so stay tuned. If you would like to be on my email list for Sandy recovery, please send me a note to mvandeveld@habitat.org. I will notify Care-A-Vanners on my list first about build opportunities.
Granbury, Texas: We lost 58 habitat homes in Granbury. Fortunately, all the homeowners were okay. One house we lost was to be dedicated the next weekend after the storm and the family was ready to move in. Disaster assessments are still being done and cleanup is underway. We will have a presence in Granbury when they are ready to rebuild. If you would like to be on my email list for Granbury, Texas, or Moore, Okla., please contact me at mvandeveld@habitat.org.
Moore, Okla.: What a tragedy with 1,200 homes destroyed and 12,000 sustaining damage. Our own Brenda Sawyer, the Care-A-Vanner desk team leader coordinator, is in Moore right now with the Red Cross wearing her psychology hat. Thank you Brenda for what you are doing for the people of Oklahoma. Search and rescue has been completed and they are just getting into the assessment and cleanup phase. It will be a while before they need us, but I am keeping a combined list for Moore and Granbury for Care-A-Vanners who might be interested in helping with the rebuild effort.
And finally, let us pray that my list does not get any longer for the next newsletter!
---
Upcoming Builds
Lu and I have changed our policy of when we list builds. It was a matter of survival! We now list the builds as they come in. Builds that are very popular like Alice, Texas, and Mason, Texas, will be listed on a specific day and time (after 11 a.m. for you West Coasters) and that procedure will be announced in the newsletter for each build. So that gives you another reason to read the newsletter cover to cover!
---
Featured Builds
---
Collegiate Challenge and Care-A-Vanners
Collegiate Challenge article:

We are already getting some sign-ups for Collegiate Challenge builds scheduled in the spring of 2014! If you are interested in teaching and supervising these energetic and interesting students, just look for the "CC"code after the city on the build list. There are one-week Collegiate Challenge builds already listed in Tuscaloosa, Ala., Albany, Ga., and Port Townsend, Wash. You don't need to be a professional, but you should have at least some experience on Care-A-Vanner builds or with your local affiliate.

Diane Gravlee
Collegiate Challenge coordinator
dggravlee@gmail.com
---

Anniversary Celebration

Care-A-Vanners Invade Springfield in 2013!
| | |
| --- | --- |
| | |
| | |
Two groups of Care-A-Vanners traveled to the site of next year's anniversary event for a "dress rehearsal" in miniature. Look what we did – we built a house in 16 ½ days, as we lost 3 ½ days to bad weather.

Twenty-six of us in two phase groups worked with local building supervision and subcontractors (for electrical, plumbing, drywall and HVAC) to put up a four-bedroom home in a very ambitious build schedule.

Jane and I approached the Springfield, Mo., affiliate board last fall about our anniversary event in 2014 and they were very excited about hosting it. However, we also knew that they had no previous experience with Care-A-Vanners. We suggested that they post a build for this year so they could become better acquainted with what Care-A-Vanners can do and what it might mean to have several hundred of us in town next April and May.

They posted the build and the billets filled up quickly. The rest, as we say, is history. Care-A-Vanners impressed the affiliate staff so much they wanted to know how to get us back there. The local staff was very involved and very visible during our build and board members hosted several very pleasant receptions in their homes during the phases. In all, each of us made very positive impressions on each other and wanted to work together more frequently. First things first, however, and that is our anniversary event next April, 2014.

Funding our anniversary builds
| | |
| --- | --- |
| | |
The 25th Care-A-Vanners Anniversary is moving well down the road and many of the important boxes have been checked off. One of the most important aspects of the event needs much more attention and responses – funding our builds that are planned for the celebration.

Last month I did the math to show that each of the 1,600 active Care-A-Vanners could give $80 to a fund and we would have the amount needed to fund the two houses that we plan to build. There are many Care-A-Vanners who were previously active, but are not presently building, and still consider themselves to be right there with us as we are swinging hammers. Contributions from this segment of our population would also be very welcome.

Often gifts to a fund are given in the form of a pledge, and sometimes paid in amounts over a period of time. If you would consider giving a leadership gift amount and would like to do this in smaller payments, please contact me, Joe Gano, at ganoja@gmail.com and we can make the arrangements to suit your financial convenience. Also, if you would like to make a pledge to the fund for future payment, please contact me and I will make record of it. That could help us get things started.
Contribute here and please be generous in your giving.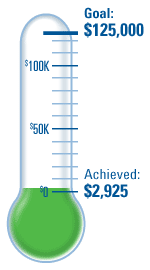 Help wanted - quilters!
We have heard from folks who want to create a quilt centered around the theme of the Care-A-Vanners 25th Anniversary. It is a small group and they would like to hear from all you other quilters out there who would be interested in participating in this project. The resulting quilt would be raffled off at the anniversary event next May in Springfield. Please reply to Paula Huls at randphuls@gmail.com to signify your interest.

Please visit the RV Care-A-Vanners 25th Anniversary website. It has been updated with new information about the event.

Please reply to Joe Gano at ganoja@gmail.com about this or any other aspect of the anniversary that interests you or about which you have a question. Registration information will be released in August.

Jane and Joe Gano
25th Anniversary Event Coordinators
Jane: janefgano@gmail.com
Joe: ganoja@gmail.com
---
Welcome new Care-A-Vanners
Donald Allen and Judith Gilford, Ken Belt, Linda Bettys, Dan and Jean Bissell, Robert, Donna and Megan Carr, Susan Cooper, Frank and Fran Cornwell, Sam Daggett, Dave and Gloria Johnston, Pete Hays, Dwight and Kathy Jones, Dan and Cindy Olivier, Alan and Cheryl Schmiedt, Terry and Emma Waldren, Donna Wiggins, Bill and Michelle Zinnecker
Our apologies if we have included a seasoned Care-A-Vanner, or if this is duplication. Habitat for Humanity is grateful for the work that you do!
---
Safety Corner
Incident report
Potential energy converted to kinetic energy
or
Things that lean are dangerous!
An incident happened recently in which a piece of leaning scaffolding (potential energy) was caused to fall over (kinetic energy) causing a relatively serious injury.

Situation – scaffolding was moved from one section of the house to another and half of an additional piece was needed. So, one end and the associated support bars were taken to the new location, and the remaining end was left leaning against an unused section. The picture on the left was staged to simulate that situation – can you see the impending danger?
| | |
| --- | --- |
| | |
During cleanup, a cord was pulled, which moved a piece of plywood and – kinetic energy! The picture on the right was staged to show the final location of the scaffold piece. Of course, the piece could have been laid down instead of leaned – but then it becomes a trip hazard! When the piece fell, it struck one of the volunteers on the head – fortunately not a concussive blow, but rather a laceration blow – and the result was not pretty.

Fortunately, staples handled the laceration and with quick on-site care followed by quick care from a "Convenient Care" office (a great name for a local Urgent Care!), only a scar will result – but as the picture below shows, it could have been much worse.
What could have prevented this incident?
Properly remove the scaffold section from the job site.
Make sure that any objects are not left in a "leaning" position.
Whenever there is a risk of object movement, wear a hard hat.
When moving cords, ropes, etc., check first to see if they might be tangled with another object.
Constantly look around you for potential dangers, bringing them to the attention of the site supervisors/team leaders, and get them handled right away – Prevention!
Be safe,
---
Questions, cancellations or concerns?
1-800-HABITAT, ext. 7534
1-229-410-7534 (direct)
rvinfodesk@habitat.org
RV Care-A-Vanner staff contact info

Register for a build online
Step-by-step instructions

Roster updates
Please email updated roster information to rvinfodesk@habitat.org or ltillotson@habitat.org or call 1-229-410-7534.
Report Care-A-Vanner hours
Help us keep track of total volunteer hours contributed, and partner families served. Please email these stats from your drop-in or ongoing builds to rvinfodesk@habitat.org.

Donate to RV Care-A-Vanners
How to donate money or vehicles