Featured News

Happy 25th to all RV Care-A-Vanners!

As we near our celebration of 25 years of building homes to reach Habitat's goal of eliminating poverty housing, I have made a commitment to Habitat for Humanity of Springfield, Missouri, that we will match them house-for-house in funding. We want to build four houses at our Anniversary Build and Rally, two funded by Springfield and two funded by RV Care-A-Vanners and our partners. That means we need to raise $125,000 between now and April 21. I know what some of you are thinking, "What has Mary gotten us into this time?" Always the dreamer and cheerleader for what the RV Care-A-Vanners are capable of doing, I am so optimistic that we can do this that I have set a personal goal for Dave and I to raise $10,001. Now you know I am crazy, right? But what's with the one dollar over $10,000? Well, the Ganos, our project managers for the Build and Rally, have a goal of $10,000. I can't let them outdo Dave and me! We live on a fixed income like many of you, and we don't have $10,001 in the budget this year, so how in world are we going to do this and still have money to put fuel in the tank and drive to Springfield?

Let me introduce you to my secret weapon: Share.Habitat. This is an interactive website that will allow you to reach out to family and friends, and their family and friends, until you have reached hundreds of people, maybe thousands. You can tell the story of your Habitat journey, share photos, talk about the families we will be building with, and reach out to friends and your friends' friends through social media. Yes, that spooky Facebook! Share.Habitat is a very easy platform to use. Even my tech-challenged husband can do it, and trust me, if Dave can figure it out, you can. We are fortunate to have Mary Campbell on the RV Care-A-Vanner desk staff in charge of this project, and she is available to help you get started. I have asked Mary to share the nuts and bolts of Share.Habitat with you in this newsletter so we can all get started with our fundraising efforts.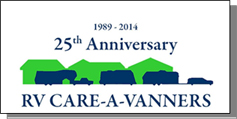 All you have to do is sell the Habitat story, and what an inspiring story that is. After all, that is why we are all building, right? So sign up for your own Share Habitat site. Challenge your friends in your fundraising effort. We will get there. Two houses - I know we can do it.

God Bless,
Mary Vandeveld
mvandeveld@habitat.org

Breaking news: Jonathan Reckford, CEO of Habitat for Humanity, is going to join us at our rally, along with Mark Andrews, vice president of volunteer and institutional engagement and Allyson Drinnon, associate director of volunteer and institutional engagement, and my mentor. All will speak at the rally, either in a seminar or at an evening event. Jonathan is flying in and will spend some time in Joplin at my request, with the Springfield affiliate and with us. His transportation while he is in Springfield: a motorhome. We are making him an honorary RV Care-A-Vanner and driving him around in style. Mark Andrews is thinking about renting an RV to camp and build with us. Here is your opportunity to talk with the senior management of HFHI and share your experiences as an RV Care-A-Vanner. Let's show them how many RV Care-A-Vanners we can pack into fairgrounds, and how many projects we can complete in two weeks. I am so pleased that Jonathan, Mark and Allyson are taking the time to show their support for the RV Care-A-Vanner program.
---

Three ways to support the 25th Anniversary Build

The powerful new tool that Mary Vandeveld referred to as our "secret weapon" is called Share.Habitat. Use it as a supporter to see what's going on, encourage others and spread the word. Check it out here.
You can also become a donor by clicking on "Please donate." Donate by mail or secure credit card. Choose any amount. Donate anonymously if you prefer. It's all up to you.
To maximize your impact, become a fundraiser. To create your own fundraising page on Share.Habitat, go here, then:
Once on the campaign page, scroll down until you see the "Up Your Impact" box on the right-hand side.
Click the last link in that box, which reads "Become a Fundraiser."
From there, you can choose to create an account through Facebook, or you can simply click "Sign Up" under the Facebook banner to just use your email.
If you are not using Facebook, just enter your name and email address, and create a password.
Now that you've created an account, you will be taken to your fundraising creation page. You may edit this page by clicking on your Dashboard tab at the top, and then on the "Make Edits" link at the top. Personalize your page by: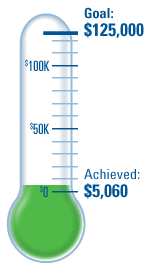 Writing a short statement about why you're fundraising.
Setting a goal. How much would you like to raise for this cause? You can change the default amount to your choice. (The end date and default donation are set for you, but you are free to change them.)
Uploading photos that help tell the story of your support for this anniversary event. You may also copy and paste the URL to a video hosted on YouTube or Vimeo that will display on your page as well. Some content is there for you already, but you may delete it, move it around or add to it.
Telling your Care-A-Vanner story in your own words. Tell your donors why this event is important to you.
That's it! You're now ready to accept donations to your Share.Habitat fundraising page. You can add to the experience by doing the following three things:
Click on the Dashboard tab at the top of your page to share your story using the promotional and email tools found there.
Use the dropdown box at the top right of the page to edit your account settings (this is where you add a profile picture to show the world it's your page!).
Click on the Edit button in the strip at the top to update and edit your fundraising page.
If you have any trouble or questions with the process, please send me an email at macampbell@habitat.org. I'll answer as soon as I can and share helpful hints in future newsletters.
---

Accomplishments
Pagosa Springs, Colorado: The August 4, 2013, Care-A-Vanner build team is featured in a YouTube video. It is a must-watch, showing a time lapse of their build. View the video.

Remember to send me photos of your builds. If you would like to submit anything to the newsletter, such as a good story, a new way to do things, an update on a build — please do. This is your newsletter and we welcome the input. Besides, you have got to be getting tired of hearing from only me! Just send your contributions to mvandeveld@habitat.org. I want to hear from all of you!
---

Team leader corner

First, a hearty "thank you" to our awesome August team leaders. They are: David and Roxanne Draves, Ron and Jean Gratz, Fred Winslow and Sharon Adair, Chuck and Judy Sambs, Michael and Gloriann Kramer, Johnnie and Pat Dekle, Nancy Oliker and Ron Bathgate, David Barber, Robert and Pamela Garlett, Gary and Avis Norton, Stephen and Jan Scully and Mike Jager.

Wouldn't you like to join this distinguished group? If you've been thinking about becoming a team leader but are not sure what's involved, contact me at bsawyer@habitat.org and I will send you the guidelines. Also, don't forget to check the "team leader interest" box on your registration if you are willing to lead the build.

I hope to get to meet many of you at the 25th Anniversary Build and Rally. I have been asked to give a seminar on team leading. I will cover some basics but would like to know what would be most helpful for you to hear. Please send me ideas and questions you would like to see addressed in this seminar. Also, I am always looking for topics for the newsletter. I would love for any of you to write a short paragraph or two about why you choose to serve as team leaders on a build. Perhaps that would encourage others to join the team leader ranks.

Finally, team leaders are needed for the following builds. If you are available, please contact me.
Sept. 19 – Oct. 13: Tuscaloosa, Ala., Disaster Response
Oct.13 – Oct. 27: Tuscaloosa, Ala., Disaster Response
Oct. 13 – Oct. 27: Goldsboro, N.C.
Oct. 27 – Nov. 10: Tuscaloosa, Ala., Disaster Response
Oct. 27 – Nov. 10: Goldsboro, N.C.
Oct. 27 – Nov. 10: Dade City, Fla.
Happy hammering!

Thank you,
Brenda Sawyer
Team leader coordinator
bsawyer@habitat.org
---
Disaster Response
In response to some survey comments, I would like to review what a disaster build is. RV Care-A-Vanners are really rebuilders. We go in when it is time to rebuild and stay until every affected family is in a home, which can take years. It can take months or even a year or two before an affiliate has built enough capacity, raised enough money, selected partner families and are ready to begin the rebuilding process. When we deploy to a disaster build, we are there to do whatever the affiliate needs. We must remember that there were families in the pipeline for a house before the disaster, and they have just as much of a need for housing as families affected by the disaster. On a disaster build, do not expect free lunches, luxury RV sites or time off to play tourist. Do expect to be exhausted every night, put lots of miles on your tow (think car pool), and make do with fewer tools. But you will leave with a sense that you made a difference, and with a warm heart. Those things are priceless.
West Liberty, Ky.: (formally known as Morehead, Ky.): West Liberty lost 500 housing units, many of them low-income, in a March 2, 2011, tornado. I have scheduled builds through early November. We need Care-A-Vanners late summer and into the fall. Greg, the executive director there, would love to have Care-A-Vanners throughout the winter, so if you are passing through at a time we don't have a build scheduled, get in touch with me at mvandeveld@habitat.org. I will soon be looking for house leaders for next year so I can start building teams. There is still housing to replace after the devastating tornado.
Tuscaloosa, Ala.: Tuscaloosa is rebuilding following the massive tornado in 2011. They now have room for eight RVs at their volunteer facility. I have listed the Tuscaloosa builds on our website through next winter, including some Collegiate Challenge builds in March 2014. No experience is required to work at Tuscaloosa, and I have heard from the builders who have been there that it is a great place to work. Thanks to a grant from the RV Care-A-Vanner program made possible by Larson Manufacturing, there are now eight full hookup sites there.
Superstorm Sandy: We have completed three builds in Toms River, N.J., ground zero for Superstorm Sandy. I have gotten a great report from builders there. It was a quality experience, and the affiliate was terrific. I am hoping to have more builds in Sandy-affected areas before it is time to go south. If you would like to be on my email list for Sandy recovery, please send a note to mvandeveld@habitat.org. I will notify Care-A-Vanners on my list first about build opportunities there.
Granbury, Texas: 58 Habitat homes were damaged or destroyed by a tornado in Granbury. Fortunately, all the homeowners were okay. Disaster assessments are still being done and clean-up is underway. We will have a presence in Granbury when they are ready to rebuild. If you would like to be on my email list for Granbury, Texas, or Moore, Okla., please contact me at mvandeveld@habitat.org.
Moore, Okla.: What a tragedy, with 1,200 homes destroyed and 12,000 damaged. The executive director of the affiliate that serves Moore has requested help to build their construction capacity. Dan and Carolyn Banks arrived just after Labor Day. One of their missions will be to secure RV parking for Care-A-Vanner teams. I expect we will have Care-A-Vanner teams there in either late fall or early spring. If you would like to be on my email list for Granbury/Moore and get regular updates, please send a note to mvandeveld@habitat.org.
---
Upcoming Builds
Don't forget those Springfield, Mo., builds for 2014! Yes, our 25-year celebration and rally. Registration opened Aug. 1. Although we have room for everyone, our sites with amenities are limited, so sign up early. I will be posting a follow-up build in Springfield after the anniversary build and rally is complete. This will be a regular two-week Care-A-Vanner build to clean up whatever needs to be done to finish the four houses we plan on building. Watch for that listing over the next few weeks. The build will run May 4 - May 18.

Alice, Texas: Because of the popularity of these builds, will we hold online registration on Oct. 3 beginning at 1:30 p.m. EDT. Lu and I will both be on standby, and we will have someone from IT available for login issues. Our computer system updates on the half hour, so I think we will be a little closer on the time it goes live than we were last year. If you have any questions, please contact Lu Tillotson at ltillotson@habitat.org or Mary Vandeveld at mvandeveld@habitat.org. Remember, if you don't get on the Alice build, we have a huge list of builds that we need help with, so check out the build list.
---
Featured Builds
Brookings, S.D. is looking for drop-in help this summer and fall. They have three houses under construction and 10-plus A Brush with Kindness Projects underway. Brookings is home to Larson Manufacturing, which gave the Care-A-Vanner program a $30,000 grant last year. That grant is what got our Disaster Response program off the ground. Camping is free at the Larson Manufacturing plant. Let's show our support of Larson and Brookings and get some builders their way.
Thibodaux, La. has been a longtime supporter of the RV Care-A-Vanner program. They list builds with us year-round. We are looking for more people to sign up for their builds this fall, so check the September, October, November and December build lists, and see if we can give Thibodaux a hand up.
Elgin, Ill. is a new affiliate to us, and it needs some help finishing some Neighborhood Stabilization Projects. The build starts Oct. 13, at the height of fall colors. You will be staying in an Illinois Forest Preserve free of charge! Let's help this affiliate out and show them what the RV Care-A-Vanners can do.
Albany, Ga. first experienced RV Care-A-Vanners last winter when we sent Care-A-Vanners as crew leaders during Collegiate Challenge. That partnership was a great success, and Albany has asked that we provide some Care-A-Vanners this fall. You will find three builds listed for Albany on our build list. RV parking is at a church camp, with full hookups for $6 a night. Let's support our new partner and sign up for these builds.
Baraboo, Wisc. added this build late to meet a grant requirement. The affiliate has moved the camping to the Sauk County fairgrounds, and it is free. Sign up for this Sept. 29 build. Visit the famous Wisconsin Dells during the height of the fall colors!
Are you seeing a trend here? I have twice as many builds this year as last year. That's twice as many families we need to help get into homes, so I need you all to work a little harder. I know I am working harder keeping track of all of you and listing new builds.
---
Collegiate Challenge and Care-A-Vanners
Don't forget to check the Collegiate Challenge build list. If you can spend a week helping supervise students during their spring break, look over the list and see what might strike your fancy. Some of them are full, but many are not and need your help.

Diane Gravlee
Collegiate Challenge coordinator
dggravlee@gmail.com
---

Anniversary Celebration

Build/Rally sign-ups continuing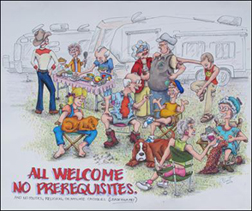 A lot of RV Care-A-Vanners have signed up for the anniversary rally next April and May in Springfield, Mo., and I know that a lot more are still thinking about it. There is plenty of room left, as we have the entire Ozark Empire Fairgrounds for our use. There are also plenty of reasons to come. You can:
Build houses for families in need of decent, affordable housing in Springfield.
Reunite with Care-A-Vanners you have not seen in a long time.
Meet some of the VIPs from HFHI, names you have read about but never met.
Meet the RV Care-A-Vanners desk staff, our compatriots who keep this program running by coordinating sign-ups, recruiting and assigning team leaders and handling communications with the affiliates for whom we build.
Enjoy the banquet meals and evening entertainment during the weekend rally.
Benefit from the seminars that are being offered during the weekend rally and build weeks (more about these below).
Plus, it's economical. And it's easy to sign up.

Some of you are still in the planning stages for your travels and builds in 2014, and this event is taking place early in the season, in a warm climate, in a central location. This event would be an excellent addition to your spring calendar. Much effort is being made to make this event the best that RV Care-A-Vanners can offer other Care-A-Vanners. Make your plans to be a part of it. Then go to the sign-up page.

Seminars planned for the rally weekend
The weekend rally event will include a wide variety of events of interest and value to RV Care-A-Vanners. Nearly all of you have been to a rally in your RVing past, whether it was a Good Sam Rally, FMCA Rally or Airstream Rally or a rally sponsored by some other group. The common denominator is that they all represent a coming-together of people with similar interests and goals. Rally sponsors usually provide educational content as part of the program, and our Anniversary Rally will do the same.

Here are some tentative seminar topics:

Disaster Response: Recent major disasters affecting large populations have brought focus to the work that RV Care-A-Vanners can do, when trained and able to respond.

First aid and citizen CPR: A refresher course for some, and essential for all.
Team leaders: Ever thought you would like to be a team leader? Been one and want to discuss the program? This is the right place for you.

RV Care-A-Vanners desk round table: Meet the volunteers who manage the RV Care-A-Vanner program and learn how the desk operates.

FMCA: Learn more about this organization and their operations in home-building.

Golf chipping and putting: More recreationally minded? There will be time for more than one seminar, and if you're a golfer, or want to be, this is an excellent seminar by one of our own PGA pros.

Skill-related offerings: Want to improve your home-building skills? There are plans for seminars of this type, offered by those in the know and in the trades.

This is the line-up at the present time. If you have suggestions or would like to offer a seminar of your own, please contact Joyce Rush at jrush@habitat.org.

Building Blocks
We just received our first block for the anniversary quilt. A huge "thank you" goes to JoAnne Phelps for being first to submit a block. JoAnne wanted to make a block even though she will not be attending the anniversary build and rally. Way to go, JoAnne!



So, we have our foundation. But we need many more blocks to make the anniversary quilt complete. If you'd like to submit a block (whether or not you're planning to attend), please follow these simple guidelines:
Finished block should be 12.5 inches by 12.5 inches.
General theme: 25th Anniversary.
Color scheme: Use your imagination.
Submit blocks to Paula Huls, 9514 167th Ave NE, Redmond, WA 98052
or to Cindy Hopkins, 393 Mildred St, Midland, ON Canada L4R 3R7.
Deadline: Dec. 31, 2013 (If you're coming to the rally and want to bring a block, please send Paula an email soon at randphuls@gmail.com.)
We will also need many hands to put the quilt together at the rally. If you will be attending and would like to help, send Paula an email. Plan on bringing a sewing machine or ironing board and iron — and a sense of humor! Hope to see you there!

Jane and Joe Gano
25th Anniversary Event Coordinators
Jane: janefgano@gmail.com
Joe: ganoja@gmail.com
---
Welcome new Care-A-Vanners

Carl and Marlene Boucher, Richard Conques, Larry and Ruth Ernest, Carole Frey, Gigi Hansen, Beverly Heberer, Randy and Annie Klegin, Martin and Mary Konopacki, Craig and Andra McKeand, David and Kay Piper, Janet Salcik, Harold and Barbara Sanderson, John and Evelyn Webb, George and Sue Young.

Our apologies if we have included a seasoned Care-A-Vanner, or if this is duplication. Habitat for Humanity is grateful for the work that you do!
---
Safety Corner
A recent Care-A-Vanner accident involved a nail gun. In the past year, I've written an article on nail gun safety. Because the use of nail guns is becoming more commonplace, it's important to keep nail gun safety on our on the job site.

As an overall policy, Habitat for Humanity International:
Discourages and disapproves of the use of framing nailers on the work site.
Discourages and disapproves of volunteers bringing their own framing nailers to the work site.
Approves the use of finish nailers, palm nailers and coil nailers for the installation of Hardi Siding. In this context, if you provide your own nailer, it must be checked out and approved for use by the affiliate's construction manager.
Requires that all nailers work in a sequential mode. (Tip must be depressed and trigger pulled for each firing and then released. Before the nail gun will fire a second time, the same sequence must occur.)
That said, below are some of the common problems or pitfalls to watch out for when using nail guns:
Double fires: This occurs primarily when a person tries to prevent recoil and exerts significant pressure on the nail gun. The secondary unintended firing can happen faster than the user can react and release the trigger. In this scenario, it's possible to have a third unintended firing as well. The real problem is that the second and third firing are not intended and may not be aimed correctly. Always control the nail gun, but allow it to recoil.
Use of nail guns in tight spaces: Another cause of double firing is working in very tight spaces where the gun doesn't have space to recoil. This can cause a double fire, or if the gun is close to your head, a serious head or face injury when the recoil occurs. Always keep the gun away from your face.
Weak hand: Nail guns are heavy and, after a couple of hours of use, start feeling very heavy. Controlling a nail gun is best done with your dominant hand. If you use a nail gun with your non-dominant hand, you will not have as much accuracy or control. This increases the risk of having an accident.
Avoid nailing through knots or metal framing hardware: These hard surfaces can cause the nail to bounce off the surface and become a projectile.
Avoid aiming the nail gun toward yourself or a co-worker: Reposition yourself or use a hammer if necessary. Remember, a nail shot from a nail gun can ricochet and hit you or another volunteer.
Avoid keeping your finger on the trigger when changing position: Practice keeping your fingers off the trigger when walking, changing positions or carrying a nail gun.
These are a few of the do's and don'ts to keep you and your fellow volunteers safe when using a nail gun.
---
Questions, cancellations or concerns?
1-800-HABITAT, ext. 7534
1-229-410-7534 (direct)
rvinfodesk@habitat.org
RV Care-A-Vanner staff contact info

Register for a build online
Step-by-step instructions

Roster updates
please email updated roster information to rvinfodesk@habitat.org or ltillotson@habitat.org or call 1-229-410-7534.

Report Care-A-Vanner hours
Help us keep track of total volunteer hours contributed, and partner families served. Please email these stats from your drop-in or ongoing builds to rvinfodesk@habitat.org.

Donate to RV Care-A-Vanners
How to donate money or vehicles