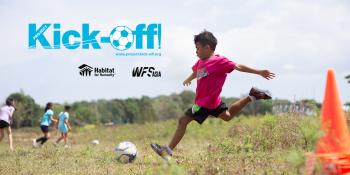 Project Kick-off
Project Kick-off is a partnership between Habitat for Humanity and the World Football Summit Asia. As part of Habitat's Impact Asia campaign, Project Kick-off aims to get the community who supports the world's most popular sport — football — to root for Habitat for Humanity.
Our vision is of a world where everyone has a decent place to live. Impact Asia, a key initiative of Habitat for Humanity, is targeted at helping 15 million people in the Asia-Pacific region secure decent shelter, and engaging a further 10 million as volunteers, advocates and supporters by 2020.
"With the complex work that we do, Habitat for Humanity is constantly looking out for innovative ways to change lives and transform communities. On our own, we can never build enough homes to meet the pressing need for shelter. But we believe in making a collective impact with like-minded partners who share our vision. We are thrilled that the passionate and committed community behind the world's most popular sport will be rooting for Habitat. Through football's connections and influence, I'm confident that we can help our younger generation to develop life skills to build a solid future," says Rick Hathaway, Vice President for Asia-Pacific, Habitat for Humanity.
Studies have shown that high-impact physical activities such as football improve children's health.[1]
Football can also inculcate life skills in children that complement the positive impacts of safe, adequate housing. These skills include:
Teamwork: each player has a role in ensuring victory. Likewise, Habitat cooperates with families, donors, volunteers and advocates to achieve our mission.
Discipline: self-control is necessary on and off the pitch. For special builds such as the signature Jimmy & Rosalynn Carter Work Project, Habitat's future homeowners and volunteers do their utmost to complete building homes on a strict schedule.
Hard work: Habitat's supporters are like top players. They go the extra mile, particularly in post-disaster response and recovery, when they are actively raising funds and working on the ground.
Setting goals: success is more assured when the progress can be measured. Habitat knows the value of measuring impact, whether in construction, raising funds and awareness or speaking up for the cause of adequate housing.
Perseverance: playing football requires physical and mental stamina. Habitat is in for the long haul, particularly when we help communities to recover and rebuild after disasters.
Amid the setting of a secure, stable home, children who have learned important life skills through the game of soccer can go on to make a difference in their families and communities.
[1] "Soccer receives A+ grade for health benefits for kids, study finds."
https://www.nays.org/sklive/sure-shots/soccer-receives-a-grade-for-health-benefits-for-kids-study-finds/

Habitat for Humanity's vision is of a world where everyone has a decent place to live. We began working in the Asia-Pacific region in 1983 with a pilot program in Khammam, India. Since then, Habitat has supported more than 8 million individuals in the region. Through financial support, volunteering or adding a voice to support affordable housing, everyone can help families achieve the strength, stability and self-reliance they need to build better lives for themselves. Through shelter, we empower.

The World Football Summit Asia, held in Kuala Lumpur, Malaysia, from April 29 to 30, 2019, will mark the first time that the annual event is organized outside Europe. The summit aims to establish a hub for the Asian football Industry and provide a platform for football professionals to learn, explore, obtain and generate business opportunities with the diversity that the event offers. Learn more at asia.worldfootballsummit.com
Pilot countries
The pilot phase of Project Kick-off will be launched in the Philippines, India, Indonesia and Thailand, with other Asian territories to follow in succeeding years.
Collaboration
Under Project Kick-off, local football clubs and players will be providing strong support by lending their time and expertise to impart important skills such as teamwork, discipline and perseverance to children from Habitat families. The innovative partnership will be launched at the World Football Summit Asia in Kuala Lumpur on April 29, 2019.
Contact
Habitat for Humanity
Asia-Pacific area office
3rd Floor, 111 Paseo Condo Building Tower 1
Paseo de Roxas, Makati City, Philippines 1229
Telephone: +63 2 553 4455
Fax: +63 2 553 2233
Email: info@projectkick-off.org
Website: projectkick-off.org
World Football Summit Asia
8-3 Jalan Puteri 1/5, Bandar Puteri Puchong
47100 Puchong, Selangor Daru Ehsan
Malaysia
Telephone: +60 3 8052 2028
Website: asia.worldfootballsummit.com