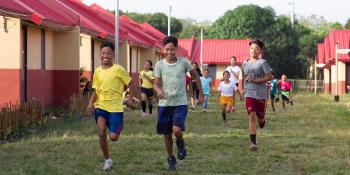 Philippines
In the Philippines, nearly four million families are living in unsafe, unsanitary and unsustainable conditions. By 2030, the housing backlog will increase to about 6.5 million units.
Since 1988, Habitat for Humanity Philippines and its partner organizations have been working hand-in-hand with families to build better lives through decent housing. To date, more than 140,000 families have been served. Working in a country that lies along the Pacific Typhoon Belt and the Pacific Ring of Fire, Habitat frequently responds to devastating natural disasters that hit the Philippines annually.

Based on a holistic approach, Habitat takes the lead in providing livelihood training in communities and strengthening the skills of the youth through the Habitat Young Leaders Build campaign and Leadership Academy training. Habitat Philippines also advocates for secure tenure and for empowering communities to assert their right to adequate shelter.