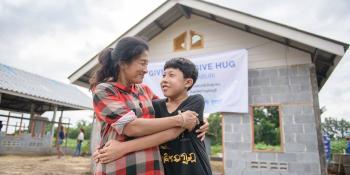 Thailand
Thailand is often cited for its success in pulling millions of people out of poverty, thanks to rapid economic growth over the past few decades.
However, poverty and inequality continue to pose significant challenges. As of 2014, over 80 percent of the country's 7.1 million poor came from the rural areas. Moreover, an additional 6.7 million were living within 20 percent above the national poverty line and remained vulnerable to falling back into poverty.

Habitat for Humanity Thailand was established in 1998 with the aim of improving the Thais' quality of life through building homes and transforming communities. It works with like-minded partners to achieve a lasting, positive impact through holistic development and sustainable change. Habitat Thailand has partnered with 11,500 families or over 46,000 people to build, repair and rehabilitate their homes.