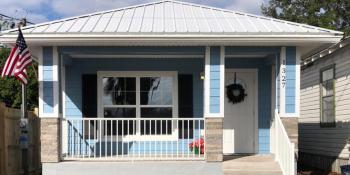 Brotherly love makes a house a home
Vincent would do anything to make his brother smile. That's why he built their Habitat home with love. "It's more meaning when you build it with love, and I built it with love," says the 31-year-old U.S. Air Force veteran. "I built it for the purpose, for the main goal of making my brother happy."
Vincent's 27-year-old brother, Caleb, has lived with a rare form of cancer since he was a teenager. After serving several deployments including Iraq and Afghanistan, Vincent left the military and became Caleb's sole caregiver. For years, the brothers lived together in apartments that were too small for Caleb to comfortably maneuver his wheelchair, lacked ramp access or were not well maintained. Now, they're paying an affordable mortgage in a home of their own — one that's spacious enough for Caleb to easily navigate.
The brothers' house was built on a lot donated to Habitat for Humanity of Hillsborough County. The home's exterior is painted baby blue – Caleb's favorite color – and it features an inviting front porch and a metal roof designed to withstand 145-mph winds, an important feature in Florida. In fact, the home's design was recognized as "best in resiliency" in Habitat's 2020 House Design Contest. The fully accessible home also includes a roll-in shower, no-step entry, lowered counters, and wider halls and doorways to accommodate Caleb's wheelchair and help him move about more freely. "Just him being able to go in and take an actual shower. That's a big thing," Vincent says.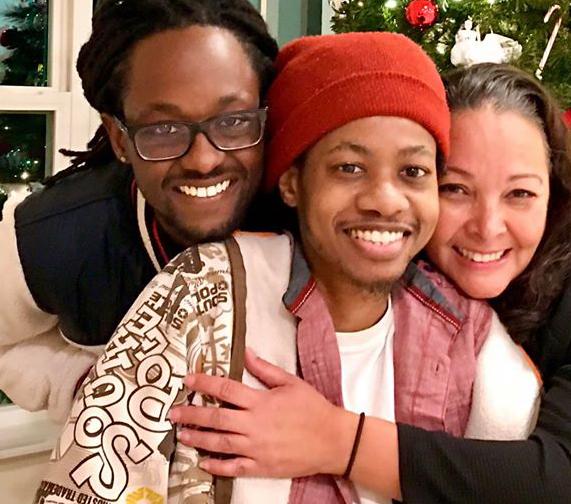 Building the dream
Ongoing maintenance issues plagued Vincent and Caleb's last apartment. "You could just tell how old the buildings were. Whatever they fixed up, they didn't really fix it – they just patched it up," says Vincent, who grew even more alarmed when he noticed water leaking from a light fixture in the ceiling. When a friend advised him to reach out to Habitat, Vincent didn't think that he would qualify. But, he knew something had to change, so he decided to apply.  
Nitza Rivera, neighborhood revitalization program manager for Habitat Hillsborough County, says most veterans are reluctant to ask for help. "Regardless of whether they need it or not, they always have the same mentality Vincent had. 'There's always someone out there that's worse off than me. Let him take the help,'" says Nitza, who is also a veteran, having served 23 years in the U.S. Army.
Once Vincent was accepted into the homeownership program, he learned about improving his credit from Habitat's financial education classes and says he was thrilled to be a part of building his home while working alongside volunteers. "Just actually seeing the people around me and how they were so eager to help, and they were happy for me. That felt good because it just made me feel like, man, there's people in the world that care still," he says.  
One of the volunteers, Theresa O'Neil, a specialty assistant manager for the local The Home Depot, remembers meeting Vincent and being inspired by his story. "It just made me feel great and my team feel great that we could help him, and we knew that we were helping his family as well. And to be able to give back for all that the military and veterans have done for us," says Theresa, who organizes volunteer activities as a community captain for her store.
"I could never forget the volunteers from The Home Depot," says Vincent. "They were a big highlight of the experience." The Home Depot Foundation helped fund the construction of Vincent's home, and Theresa and several other members of Team Depot, The Home Depot's associate volunteer force, helped him paint the house and also cleaned up the build site. Through Habitat's Repair Corps program, The Home Depot Foundation has built and repaired homes in partnership with more than 1,300 U.S. military veterans and their families nationwide since 2011.
A house becomes a home
Vincent says though he'd never envisioned himself as a homeowner before Habitat, now he wouldn't have it any other way. "It is a big step. And it just makes me feel like I'm really accomplishing something, getting a house," he says. "It just feels good for me and my brother to feel like we are in a place to call ours."
Now that they have a home of their own, the brothers enjoy listening to music together in the living room, sometimes even making up their own songs. Caleb also likes to watch Vincent play video games and cheer him on. "He's not able to do a lot of things with his hands anymore," Vincent says. "His vision is limited now. But he does like to see me play video games."
Next, Vincent is looking forward to getting to know his neighbors better and decorating his home more so that guests feel wowed and welcomed in the space. "I really want to get in here and decorate and make it feel as homey as possible," he says. "I want to have everything up where I want it to be and looking good."