How donations from companies provide ReStores with unique, useful items
Habitat for Humanity ReStores are well known for all the unique treasures that can be found at any one of the 850-plus stores around the country. But did you know that many of our donations come from companies? It's true!
We are lucky enough to receive generous donations from companies like Darden Restaurants Inc., known for establishments like Olive Garden, LongHorn Steakhouse and Seasons 52, just to name a few.
Practical furnishings you can't find anywhere else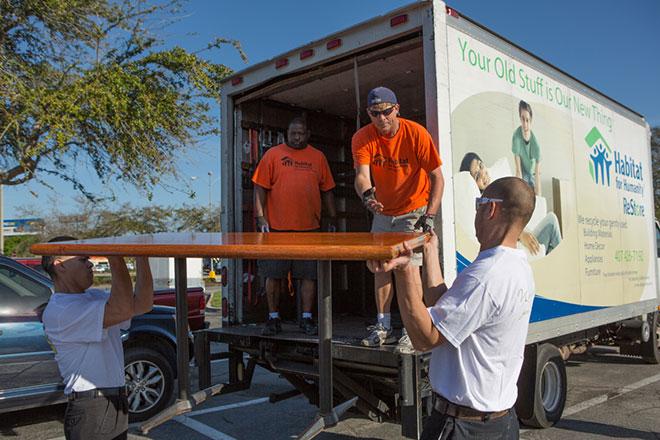 These donations offer our shoppers an array of uncommon finds that can be used as very practical furnishings that normally would not be available at a big box store.
For example, young students are able to spread their books across a couple of restaurant booths they've converted into a work station. Families can enjoy sitting together to dinner at beautiful, hardwood restaurant tables. Children can learn to play "Twinkle, Twinkle Little Star" for the first time on a gently used piano.
Donations from companies like Darden help strengthen our communities
One loyal restaurant-goer purchased all her favorite donated restaurant wall décor from her local Habitat ReStore. That was thanks to the fact that the restaurant put Habitat ReStore information cards out for their patrons after making a donation. Donations from companies like Darden become part of the fabric of our communities.
Darden has been donating to Habitat ReStores around the country since 2010, and their donation value now exceeds 3.5 million. Not only are they helping us raise funds to build safe, decent and affordable housing, they are also modeling excellent green business practices by keeping these materials out of landfills.
With corporate partners like Darden, our Habitat ReStores are able to continue fulfilling their mission. Habitat for Humanity is always looking for new partners interested in standing with us on the front lines of affordable housing and environmental responsibility. See more about how companies can help at our ReStores Donation page.