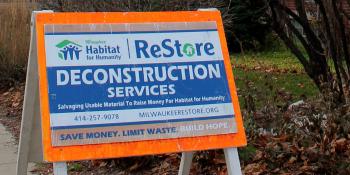 Building deconstruction
How Habitat ReStores in Milwaukee build community with deconstruction services
Building deconstruction and salvage is quickly growing in popularity as a way to recycle building materials during a renovation or a house teardown. Some Habitat ReStores have developed deconstruction programs, so we wanted to take a look at exactly what occurs during a deconstruction project.
Deconstruction: a definition
Building deconstruction is the process of systematically dismantling all or part of a building or house piece-by-piece so that most of the resulting materials can be recycled, repurposed or reused.
Demolition and deconstruction
"Demolition is the dismantling, razing, destroying or wrecking of any building or structure or any part thereof," according to the Occupational Safety and Health Administration (OHSA). Typically this means that a building or room is dismantled in the most convenient, economical way possible.
The deconstruction process – sometimes known as green demolition – is a more methodical process as workers attempt to salvage everything from the worksite that can be recycled or reused.
Landfill diversion
The American Institute of Architects [PDF] estimates that anywhere between 25 to 40 percent of the waste produced by the U.S. is building-related waste. That equates to 164 million tons a year, as of the most recent numbers available. Fortunately, the process of recycling building material through deconstruction techniques is becoming more popular.
Benefits of deconstruction Landfill diversion Tons of waste are diverted from landfills. Jobs New job and volunteer opportunities are created. Benefits non-profits Donated items benefit non-profits in the community (such as Habitat ReStore!). Makes used building materials available Low cost, recycled building materials are made available to those in the community that need them. Habitat ReStore & deconstruction
Building deconstruction and salvage in action at the Milwaukee Habitat ReStore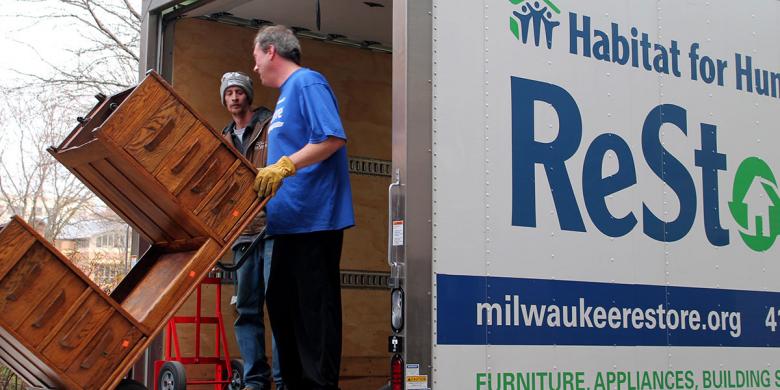 The Milwaukee Habitat ReStore builds community through its deconstruction services. However, not all ReStores have deconstruction programs, and some that do only offer limited salvage services that remove only certain items and materials from buildings. Contact your local ReStore to see if the services they offer fit your deconstruction needs.
When a building is being torn down or a room is being renovated, the remaining materials inside – from movable goods like leftover furniture to fixed items like cabinets – need to be removed from the site. Traditionally, this has meant breaking everything apart with a bulldozer or sledgehammer, then hauling the resulting heap of waste to the landfill. Milwaukee Habitat ReStore's deconstruction service seeks to recycle the unwanted material left in a building as an environmentally friendly way to reuse and repurpose a wide variety of useful goods and materials.
How Milwaukee ReStores diverted 13 tons of goods from a landfill in eight days
In a recent deconstruction example, the Milwaukee Habitat for Humanity – which has a dedicated Habitat ReStore Deconstruction Services team – partnered with Marquette University for a deconstruction project.
All told, 13 tons worth of built-in cabinets, lockers, desks and many other goods were removed from the Jesuit Residence Center, an early 20th century structure on the campus of Marquette near downtown Milwaukee set to be torn down.
The Deconstruction Services team recycled, reused and repurposed those 13 tons. Many of the items were sold in Milwaukee area Habitat for Humanity ReStores; in total, more than 45,000 was raised that will go back to the community.
Just the beginning for the Milwaukee Deconstruction team
The work at the Marquette University wasn't a one-off project for the team at the Habitat ReStore. The deconstruction program has been growing rapidly over the past few years. Last year, Jake Weiler was brought on as Deconstruction Services Manager.
"It's a volunteer-based group of between 15 and 20 that all meet on site weekly," Weiler said about the program. The team systematically removes the items inside buildings that can be reused. Weiler says he and the crew of trained and certified volunteers are typically looking for things like kitchen cabinets, HVAC systems, hardwood floors, décor items, appliances and antiques.
Hear more about the Jesuit Residence project with Marquette directly from Weiler in the Milwaukee Habitat video below.
Keeping Milwaukee landfills emptier
The 13 tons of goods from the Marquette building that didn't end up in the landfill are just a small sample of the impact that can be made. Every year, the Milwaukee ReStores keep more than 1 million pounds of waste out of landfills.
Deconstruction enables community partnerships
The impact of deconstruction goes beyond the house or building where the work takes place. Milwaukee Habitat for Humanity has created numerous partnerships with other organizations in the community. The Milwaukee team has worked with Marquette University on three projects so far that have diverted a total of 23 tons of materials from landfills.
Some of these projects also were part of another partnership with Mortenson Construction that has resulted in 12 total tons being diverted from the landfill from both commercial and residential properties.
"[The partnership with Mortenson] started with a couple of buildings and then really grew," Weiler said. "They saw how professional we are, how efficient we are, and the impact it makes for Habitat here in Milwaukee. And we just want to continue to be a good partner for them – it's a good relationship."
How salvage and deconstruction can save history
Deconstruction also saves items that may otherwise have been lost forever – including many antiques. In fact, there have been so many antique finds from deconstruction projects and other donations received by Milwaukee ReStores that employees began featuring them in an area of the store called Treasure Pickers.
"Any of these old items that come in – these vintage items – we put into the Treasure Pickers area," said Milwaukee Habitat ReStore Director Larry Starkey, adding that this section has become a hit with regular shoppers. "They want to see what's new and unique that we've pulled out with deconstruction or maybe just a regular donation that comes in."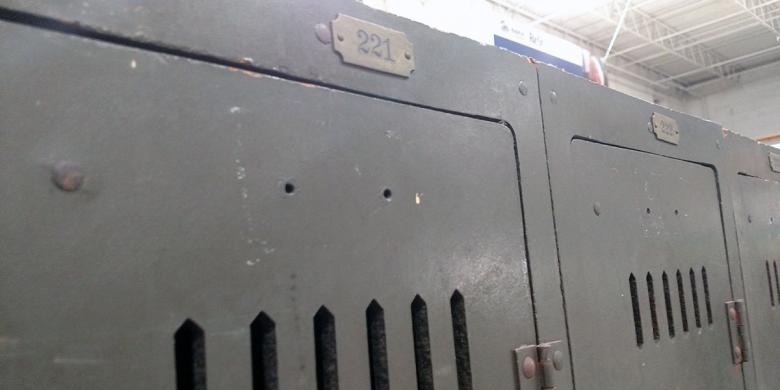 A win win (win win)
Construction companies working on a renovation or rebuild project also benefit when they partner with a deconstruction team.
Weiler notes that, among other benefits, construction companies have at least one less day of demolition, they spend less on dumpsters because they don't have as much waste, and they don't see big alterations to their construction schedule.
"We're in and out in one day so we're not adding anything to your construction schedule either," Weiler said. "So, we're in, we're out before you know it. We cost you less money… It's really a win win win win; everyone gets a benefit here, all to help a good cause here at Habitat."
Habitat ReStore deconstruction services
Each ReStore is unique, and not all have deconstruction capabilities like the Milwaukee Habitat ReStores. However, some ReStores that don't have a deconstruction program may perform small tear-outs in some situations. For example, certain ReStores may remove a kitchen cabinet set. If you have deconstruction needs, contact your local ReStore to see what services they offer.
Like all items donated to Habitat ReStores, goods salvaged during a deconstruction project are kept out of landfills and instead provide a gently used good to someone that needs it at a price below retail. And the proceeds from the sale help build decent and affordable shelter in partnership with families in the community.
Take a look at some of the places the Milwaukee Habitat for Humanity ReStore's Deconstruction Services team has been and what they've found!