Q&A with Global Village's founder
In 1989, Karen Foreman pioneered the Global Village program and began shaping it into the success that it is today.
Over the next 30 years, the program would go on to connect thousands of volunteers and families from around the world as they worked together to build and improve places to call home.
Now serving as Senior Advisor for Habitat's Latin America and the Caribbean area office, Karen looks back on her experiences with Habitat and Global Village – and looks forward to how these efforts will continue to grow to help even more communities across the globe.
Q: How did you first hear about Habitat and what led you to work at Habitat?
A: I went to Furman University in Greenville, South Carolina, where the chaplain had a close relationship with Millard Fuller. One of my friends went to Americus, Georgia, to volunteer and ended up staying long-term.
After college, I was traveling and stopped through Americus to visit my friend when my car got broken into. My friend, Dianne Hall, and her husband took me to lunch where we started chatting about Habitat and their international programs. I then spent the rest of the day at Habitat headquarters learning more about the organization while making phone calls, trying to convince someone to accept my traveler's check.
Everything eventually worked itself out, but Habitat and their mission kept weighing on my mind. I was searching for an international experience and I knew I wanted to incorporate my faith into it. Habitat offered me this really interesting and unique opportunity to do both, so I applied and became an international volunteer.
I volunteered in Zaire [now known as the Congo], for 3 1/2 years. Once my term ended, I was asked to return to Americus and initiate what is now known as the Global Village program.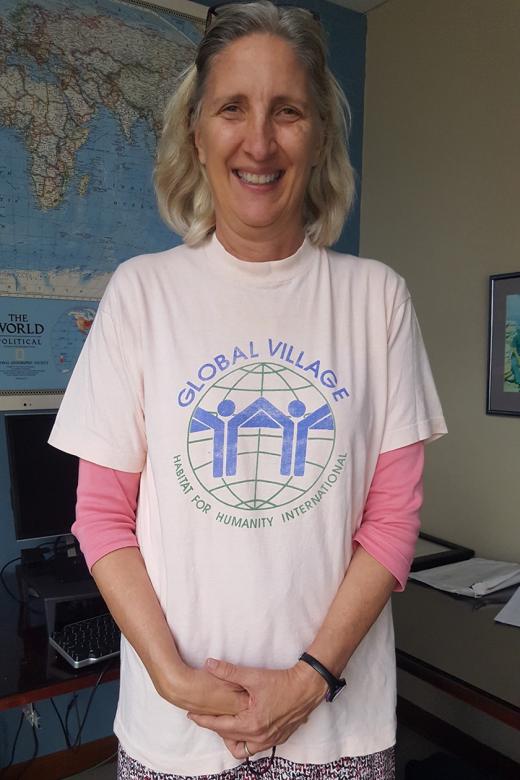 Q: How did the Global Village program start?
At the time, there was no formalized program or structure to the trips. We had volunteers coming to us interested in traveling abroad to volunteer, but we needed to create an official program – that was the job I was tasked with. I looked into the concept of a Global Village trip and what we think it should be.
Global Village gave us the opportunity to expose people in a short-term way to the work Habitat for Humanity is doing internationally and help us identify people who'd be interested in becoming long-term volunteers. All we needed was a constant flow of volunteers and a driving force to help push the program to grow to the magnitude it has today.
Q: Why do you think the Global Village program has been able to sustain itself for 30 years now? How would you like to see its impact grow?
A: It still has that "roll up your sleeves and do something" identity. Global Village offers people the unique opportunity for practical engagement, allowing them to take action and no longer be a spectator.
The world is more global now than it was when we first started Global Village – awareness and knowledge have grown. People are more willing to go and want to go, and the countries they're going to are becoming more accessible. The initial vision was this idea of sponsored projects – looking at how those who have access to resources help those who don't. But now, Global Village is also about, "How do we get people to see the need inside their own country?"
It's an equalizer, for the volunteers and hosting community. Many people go thinking they're giving, but they return from their trip realizing they've actually received more.
It gives the hosting community the opportunity to interact with people from different countries and greet these incoming volunteers as equals, sharing their lifestyles and meals with them. It's a transformative experience.
All of these pieces of promoting dignity, hope and transformative development that make up Habitat's mission principles can be found in the Global Village experience. Everyone should have this opportunity.