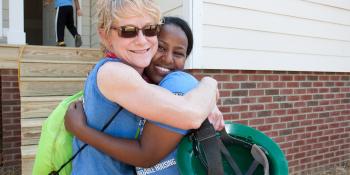 Are you a Habitat supporter who is passionate about helping to build homes and communities through a Habitat Global Village trip? If so, you can engage your friends, family and colleagues in our exciting work improving the lives of families around the world.
The people who know you want to support you, and in turn, we want to thank you for supporting our vision. Together, we have the ability to effect great change in the lives of families in need of decent housing.
Habitat now offers you an easy way to raise funds online for your next Global Village trip using our completely customized donation pages just for you. After all, it's your trip.
Getting started is easy.
Sign up to join a Habitat for Humanity Global Village trip. See a list of our trips.
After signing up, you'll receive a confirmation. Then, simply create an account using your Global Village Event Code and Participant ID number.
Once your account is created, you can log in to share.habitat.org and start sharing! Post your photos and begin telling your compelling story. Share your pages with your friends and family and ask them to support your work in helping Habitat.
For every person who is going on a Global Village trip, there is a network of caring people who want to help. Thanks to volunteers like you, we are getting closer to our vision of a world where everyone has a safe, affordable place to call home.