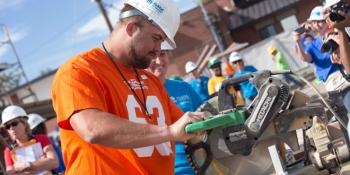 Denver Broncos join 'unsung heroes' on build site
DENVER, Colorado — Around lunchtime Tuesday, Habitat volunteers got a visit from sports royalty when seven members of the Denver Broncos football team dropped by the work site.
The players signed T-shirts and hard hats, shook hands and posed for countless cell phone photos.
"All these guys are on my fantasy team," one excited volunteer exclaimed as he stood next to several players for a photo.
An older volunteer reached out and squeezed a player's bulging arm muscles. "Do you have to work hard to get these?" he joked.
Near the players, four massage therapists had set up tables and chairs so they could provide a little free relief to volunteers with sore shoulders and backs.
Broncos safety Omar Bolden noticed masseur Strider Ditzler giving his co-worker Juulia Ilves a quick rubdown before she started her shift, and he hopped over to take Ditzler's place, much to the delight of the crowd.
"I had no idea," Ilves said later. "I just heard a lot of commotion and lot of laughter, and I knew someone else was massaging me. It wasn't that bad, actually. I was impressed."
Ditzler confirmed her assessment.
"I was keeping an eye on him to make sure he didn't press on her spine too hard," he said. "I have to admit, he did a pretty good job."
Afterward, the Broncos donned hard hats and toured the site where volunteers are building 11 new townhomes. Star wide receiver Demaryius Thomas snapped a picture of some of his teammates in their hats and then walked up to a circular saw as if he were going to give it a try.
A woman in the crowd yelled in alarm, "Remember, they need their fingers for Sunday!"
Thomas backed away, but teammate Ben Garland stepped up for a quick lesson from Heather Lafferty, Habitat of Metro Denver's CEO and executive director.
Earlier, Garland had addressed the lunchtime crowd: "We wanted to come out here on our day off and say thank you," he said. "We have a tremendous respect for you guys … you are the unsung heroes of the community."
A life lesson in community service
STATEN ISLAND, New York — Rudy Mienert bought a two-story house in a proud, working-class neighborhood on Staten Island in 2007.
"It was a fixer-upper," he said, a time-consuming labor of love whenever he wasn't working as a sergeant with the New York Police Department. But Hurricane Sandy rolled through in October 2012, obliterating nearly half his work in progress. "This whole half of the house just wasn't there anymore," he said, gesturing to a room now bustling with volunteers from the 2013 Jimmy & Rosalynn Carter Work Project.
Mienert did what people often do in the wake of disaster: "You pick yourself up and you rebuild again," he said. With a little help from his friends, Mienert had slowly but surely reframed his house and started over.
This week, an enthusiastic team of seniors from Petrides High School is getting his home one step closer to readiness for a New York winter. On Tuesday, eight boys and three girls hung drywall and installed roll after roll of thick insulation.
Michael Blyth teaches sculpture, chemistry and algebra at Petrides, a public high school that prides itself on community service. The school was an evacuation center during Hurricane Sandy, offering refuge for hundreds of people. "Many of those people came in soaked to the skin, with nothing but the clothes on their backs," Blyth recalled.
The faculty and students were actively involved in storm recovery efforts, and jumped at the chance to help Habitat's Carter Work Project rebuild their community. "For five years, I've led building trips to faraway places" such as Mobile, Alabama; Taos, New Mexico; and Mission, South Dakota, Blyth said. "But this year we didn't go away. We just went down the street. You don't always have to look far from home to find people who need help."