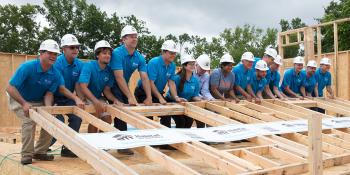 Professional builders build, renovate and repair homes.
Register now
Habitat for Humanity's Home Builders Blitz brings together pro­fessional homebuild­ers from all over for one shared pur­pose - to build safe and affordable housing for families in need of a decent place to call home.
This an­nual weeklong project dates back to 2002 when Habitat for Humanity of Wake County, North Carolina, part­nered with local homebuilder Tom Gipson to build 12 Habitat homes in five days.
Thousands of professional homebuilders volunteer to help construct, repair or revitalize homes, working alongside Habitat homeowners. They also engage in fundraising with com­munity partners. Home Builders Blitz 2018 took place in 31 states to construct or repair 253 homes with the help of professional homebuilders. That brings us to a total of 2,000 homes since this program began in 2006.
Habitat and homeowners aren't the only ones who benefit from Home Builders Blitz. Homebuilders deepen ties to their community, allowing them to collaborate with other builders in their area, to connect with subcontractors and to incorporate other corporate sponsors in the homebuilding industry who share their company's values.
Ready to build something special?

Home Builders Blitz was recently featured by the National Association of Home Builders on their NAHBNow blog and will accept the 'Game Changer – Best in American Living' Award at the International Builders' Show in February.
Frequently asked questions
What are homebuilders required to provide in order to participate?
Builds may vary across the U.S, but in general, homebuilders provide labor, funding and materials. For specific information, please contact us below.
Does Habitat simply give away houses?
Habitat does not give houses away. Potential Habitat homeowners go through a selection process to see if they qualify. Applicants must demonstrate that they can partner with us in order to qualify, which includes the ability to pay an affordable mortgage, being willing to take financial training classes and being ready to contribute hundreds of hours of sweat equity, including the construction of their own house. Learn more about the process.
Does Home Builders Blitz also take place internationally?
At this time, the builds only occur in the United States.
For additional information, contact us at 800-HABITAT or [email protected].