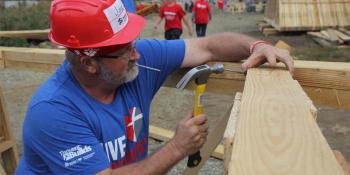 Thrivent Builds
About Thrivent Builds with Habitat for Humanity
For over a decade, Thrivent Financial has partnered with Habitat to build safe, affordable homes in partnership with those living in poor housing conditions both in the United States and around the world through the Thrivent Builds program. The partnership blends the financial, volunteer and advocacy resources of Thrivent Financial and its members with the hands-on, global experiences of Habitat.
To date, our combined efforts have resulted in more than 5.2 million volunteer hours donated by more than 727,000 Thrivent members and other volunteers as part of Thrivent Builds. Additionally, Thrivent and its members have contributed more than $226 million to Habitat since the Thrivent Builds with Habitat for Humanity partnership began in 2005.
Thrivent Builds
The Thrivent Builds partnership consists of three programs: Thrivent Builds Homes, Thrivent Builds Repairs and Thrivent Builds Worldwide.
Thrivent Builds Homes is the largest of the three programs and focuses on improving communities by helping build homes in partnership with families in need of affordable housing across the U.S. 
Thrivent Builds Repairs provides for the repair of existing homes in partnership with families who don't have the resources or ability to make the repairs themselves.
Thrivent Builds Worldwide allows volunteers to travel to international or domestic locations for a week or more at a time to build homes while experiencing other communities and cultures.
In 2017, Thrivent Financial's goal is to build, rehab or repair nearly 600 homes in the United States and send as many as 150 teams across the U.S. and across the globe, as part of Thrivent Builds Worldwide, to help address shelter needs. The Thrivent Builds Worldwide teams work under the direction of Habitat's Global Village program, which has been sending volunteer teams around the world for more than 25 years. Also, if you're a Thrivent Financial member, you may be eligible to receive funding support for a trip.
Can we count you in?
Thrivent Financial encourages living wisely and generously, and this is a tangible way to do both. Bring your family or yourself. No experience is needed, and there is plenty of work for all skill sets and abilities. This is a meaningful contribution that lasts a lifetime.
For additional information or to register to volunteer with Thrivent Builds, please visit the Thrivent Builds website.