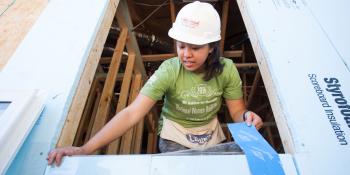 Habitat AmeriCorps ServiceFeed
Learn more about Habitat AmeriCorps by reading the stories in our Habitat ServiceFeed.
Habitat AmeriCorps Alumni Association volunteers build in El Salvador
VIDEO – Members of the Habitat AmeriCorps Alumni Association re-engaged themselves in service by traveling to El Salvador to build a new home with a family in need. The trip was the alumni association's first Global Village trip.
AmeriCorps Build-a-Thon opens doors
Jackie Jones, a proud grandmother of seven, has been a custodian at Heritage High School for more than seven years. Iris Hall, a mother of six, has a medical condition and survives now on disability payments. Both have worked hard and lived frugally for years, and now, both have achieved their dreams of owning a home.
AmeriCorps members join Habitat for Humanity for its annual Build-a-Thon
PRESS RELEASE – (May 16, 2014) Throughout the week, AmeriCorps members and volunteers will build 10 new homes and perform several critical home repairs in partnership with low-income families. In addition, AmeriCorps members will partner with local organizations and volunteers on community service projects.
Habitat for Humanity AmeriCorps: Building hope, making an impact
BLOG – April 22, 2014 On the fifth anniversary of The Serve America Act, Liz Blake reflects on the impact Habitat AmeriCorps has made building homes and touching lives since the act's passing.
AmeriCorps Profile | Stephanie Ham – "Part of something bigger"
VIDEO – Since high school, Stephanie has volunteered with Habitat and now serves with Habitat AmeriCorps in Los Angeles. Her Habitat journey has given her the opportunity to lead and recruit countless volunteers, build homes with families and make a difference.
AmeriCorps Alum Profile | Crystal Fisher – "Hooked on helping people"
VIDEO – As a single mother, Crystal raised her daughter while serving on a construction site with Habitat AmeriCorps. Now as an alum, she continues her lifetime of service to others with The Community Home Trust.
AmeriCorps Profile | Kyle Shillington – "Completely changed my life"
VIDEO – One week changed his life. After graduating, Kyle spent a week volunteering with Habitat for Humanity and was inspired to keep serving others through Habitat and AmeriCorps. Hear how service has helped him learn new skills and, most importantly, empowered him to positively change others' lives.
AmeriCorps Alum Profile | Gina Leckron – "I fell in love with service"
VIDEO – Meet Gina, an AmeriCorps alum from the mid-1990s and current state director for Habitat for Humanity of Indiana. Hear how service changed her life and how AmeriCorps gave her the opportunity to find a career path she loves.
Life of Service | Neal Pointer
VIDEO – "Life of Service" is the story of AmeriCorps VISTA alum and Army veteran Neal Pointer. Pointer shares his unique perspective on service and why he chose to continue to serve his country through AmeriCorps VISTA.
AmeriCorps Alum Profile | Heather Hardy – "An excellent way to give back"
VIDEO – Meet AmeriCorps NCCC alum Heather Hardy and hear how service affected her and how it can impact your life.
Habitat for Humanity volunteers and AmeriCorps members to observe 28th annual Martin Luther King Jr. Day of Service
PRESS RELEASE – (January 17, 2014) "The memory of Dr. King continues to inspire us all to come together to build stronger, healthier and more vibrant communities around the world," said Jonathan Reckford, CEO of Habitat for Humanity International. "We thank everyone volunteering with us for helping to honor Dr. King's legacy on the upcoming day of service."
AmeriCorps Profile | George Davis – "I love this"
VIDEO – Working from his wheelchair, George leads volunteers on the construction site and continues to teach, build and inspire others to serve.
"The opportunity to serve my country again"
Vietnam veteran Neal Pointer became an AmeriCorps VISTA member with Habitat to help serve fellow veterans and their families.
Habitat AmeriCorps: People, Places and Service | Build-a-Thon 2012
VIDEO – Share in the experience of the 2012 AmeriCorps Build-a-Thon with AmeriCorps members, alumni and Habitat partner families. The AmeriCorps Build-a-Thon is an annual event which brings Habitat AmeriCorps members together to help meet the needs of partner communities and celebrate the service of our members.