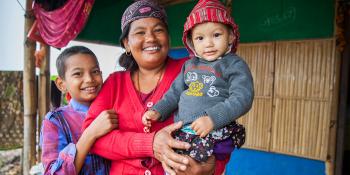 Celebrating 30 years of Global Village
For 30 years, the Global Village program has helped expand the far-reaching, worldwide impact of Habitat's work by empowering volunteers to build and improve homes alongside families in over 30 nations across the globe.
Through this program, volunteers can cultivate a relationship with homeowner families that goes beyond the homes they build together – they share mutual joy, experiences and hope for the future.
"These groups aren't just building a house, they're helping a family build a future full of birthday parties, quinceañeras and weddings that will all occur in that house," says Luis Madrid, national volunteer coordinator for Habitat for Humanity Honduras.
Across Habitat as a whole, volunteers have contributed to more than 9 million hours volunteering on build sites, community projects, Habitat ReStores or advocating for Habitat's mission. Their passion for access to affordable housing has touched the lives of millions of families and, likewise, these families have touched the lives of those who worked with them. This sentiment is at the core of the Global Village mission.
"Many people go thinking they're giving, but they return from their trip realizing they've actually received more," says Karen Foreman, founder of the Global Village program and director of institutional development in Habitat's Latin America and the Caribbean area office. "All of these pieces of promoting dignity, hope and transformative development that make up Habitat's mission principles can be found in the Global Village experience."
Discover our growth and impact over the years as we celebrate 30 years of Global Village.