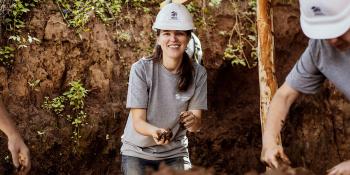 How to apply to a Global Village trip
Bring strength, stability and self-reliance to homeowner families around the world by joining a Global Village trip.
Coronavirus impact on Global Village builds
The COVID-19 pandemic has brought unprecedented challenges to all parts of society, Habitat for Humanity included. Habitat for Humanity's top priority is the health and safety of our staff, volunteers, partners and the people we serve and, as such, there are no currently scheduled Global Village builds.
Please sign up below for the Global Village newsletter to stay up to date and be notified when new builds are available. You can reach us anytime with questions at [email protected]. Global Village volunteers who were affected by build cancellations in 2020 will be able to apply their donations to a future trip up to one year after builds resume.
Global village email newsletter
Sign up to be informed of news about future trips.
As a Global Village volunteer, you will:
Lend a helping hand to those in need of simple, decent shelter as you learn about the global housing need.

Donate

valuable funds

to Habitat programs around the world.

Engage in Habitat's local construction projects, such as building homes, smokeless stoves, latrines and/or cisterns.

Increase your cross-cultural understanding by exploring local historical sites, cooperatives and preserves.

Discover how to become a long-term advocate for affordable housing.
Next steps in the application process
You'll complete an application to provide some basic contact information, sign our volunteer waiver and code of conduct and select up to three trips that you're interested in joining.
After you submit your application:
You'll receive your unique Habitat ID and we'll connect you with a team leader within two business days. Your application allows us to share your contact information with the leaders you select and serves as your waiver and code of conduct acknowledgement.

The team leader will contact you to tell you more about the trip and learn more about why you're interested in volunteering with Habitat.

After speaking with the team leader, donate or fundraise your deposit to secure your spot on the team.

Tell your friends, family and coworkers about your exciting adventure and get ready to travel!
Funding your trip
Fundraising can sound daunting, but options are available for each trip. Once you join a team you'll have access to www.Share.Habitat.org, a peer-to-peer fundraising website that will make sharing your story with others simple and impactful. We've also developed a fundraising toolkit that offers more ideas for fundraising opportunities.
The program donation for your Global Village trip is typically tax deductible, but you should consult with your tax professional for specific financial guidance. A tax receipt will be issued after each donation is made.
Every dollar raised above the program donation is an additional donation to the host program you're visiting. Each contribution allows us to serve another homeowner and continue building after your team returns home.
All funds are due no less than 45 days prior to the trip.
Participants under the age of 18
While all Global Village volunteers must be 16 or older, some trips and locations do not allow youth younger than 18 to participate without their legal parent or guardian. However, most trips allow participants who are younger than 18 to participate only if their legal parent or guardian completes the Waiver of Liability and Authorization to Travel. More details are listed in the Global Village minor policy.
Health and safety
Work assignments can involve strenuous physical activity ― sometimes at high altitudes. Team members should be in good physical health when considering a trip.

International travel always contains some risks. While Habitat for Humanity International has a comprehensive safety and emergency management plan in place, and all volunteers are covered under travel medical and evacuation insurance policy, all Global Village team members participate at their own risk.

Recommended vaccines:

Consult with your personal physician or travel clinic regarding any recommended vaccinations or precautions that may need to be taken prior to travel.
Passports and visas
Passports:

 You will need a current passport that is valid for at least six months beyond your travel dates.

Visas:

 Visit 

www.travel.state.gov

 to review the visa requirements based on your citizenship and the country you're traveling to.
For more information, please review the Global Village FAQs.
If you are interested in a Thrivent Worldwide trip: Please view more information about Thrivent Worldwide trips and submit a separate application on the Thrivent Worldwide site.