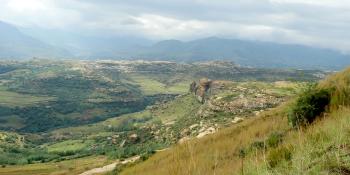 Maseru, Lesotho
Sept. 26-Oct. 3, 2020: Experience a new culture while learning and building with the local community!
Vulnerable populations
Bring stability and opportunity to orphans, vulnerable children and other people experiencing extreme difficulties.
Of the more than 200,000 orphans in Lesotho, more than half of them are living in rural areas where they are exposed to the elements and lack proper toilet facilities.
The Orphans and Vulnerable Children Project is Habitat for Humanity's response to the AIDS/HIV crisis in Africa. According to the Lesotho Bureau of Statistics, the recent life expectancy is estimated at 39 years for men and 45 for women, leaving the 37% of the youth who make up the population orphaned and in need of decent housing. Join this trip and work alongside Habitat for Humanity Lesotho and future homeowners to construct two-bedroom homes and ventilated pit latrines to increase access to decent housing and proper sanitation.
You'll stay in double-occupancy rooms at a local hotel and breakfast, and dinner is provided at the lodge. Lunch will be delivered to you on the work site. Typical tasks on the work site include mixing mortar, pouring cement floor slab, moving bricks, passing mortar and some gardening. Off the work site, you'll have the opportunity to interact with the local community through traditional songs and dances, meet the local chief or play a friendly game of soccer.
Itinerary
Saturday:

 Welcome. Fly into Johannesburg, South Africa, where Habitat staff will greet you at the airport and take you to dinner and your overnight accommodations in Johannesburg.

Sunday:

 Learn. After exploring the city, Habitat staff will drive you 4-5 hours to Maseru where you'll learn about our innovative work in the region and your project for the week.

Monday-Thursday: Build.

 Spend the day on the build site, breaking for lunch, snacks and water. You'll have free time and team activities in the evenings.

Friday: Celebrate. 

Spend the morning on the build site and celebrate the week's accomplishments over dinner with Habitat Lesotho staff.

Saturday:

 Goodbyes. Continue your journey independently or depart for home.
Please note that while our itineraries begin with arrival day in country, some locations require additional days for travel.
Leading this team
Tricia Vos lives in Boston, and when she's not traveling or volunteering, she works part-time as a consultant in the field of medical chemistry. She took her first Global Village trip in 2012 and was immediately hooked! Tricia began leading teams in 2013 because she wanted to share her love of the Global Village program with others. On each trip, she strives to ensure that everyone has a positive experience and ends the week feeling like they're a part of something big! She has now led more than 20 previous Global Village teams and can't wait to share this experience with you. 
Join this trip
Once you fill out the trip application, a team leader will be in touch to tell you more about this trip and answer any questions you may have.
Apply now