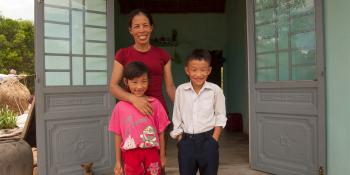 Quang Nam, Vietnam
Aug. 15-23, 2020: Grab a hammer and help build safe, affordable housing!
Vulnerable populations
Bring stability and opportunity to orphans, vulnerable children and other people experiencing extreme difficulties.
Join this trip to Vietnam and help families in disaster-prone areas gain access to safe, permanent and disaster resilient housing.
Quang Nam is regularly affected by natural disasters including typhoons, floods, whirlwinds and landslides. However, most homes have not been built to sustain such disasters, and with 22% of households classified as low-income, families are left unable to improve their current living conditions. Habitat for Humanity Vietnam addresses this housing need for low-income families in disaster-prone areas by partnering with families to build permanent housing solutions with water and sanitation facilities.
You'll be staying in double-occupancy rooms at a nearby hotel where breakfast and dinner will be provided. Lunches will be served on the build site. Work site activities typically include mixing and carrying mortar, laying bricks, carrying and pouring concrete or transferring materials as needed. Off the build site, you'll have the opportunity to visit the ancient town of Hoi An, Monkey Mountain, Son Tra Peninsula, Marble Mountain or local beaches.
Itinerary
Saturday: Welcome.

Arrive at Da Nang International airport where Habitat staff will greet you and transport you to your accommodations for the evening.

Sunday:

Learn.

Travel with your team to Quang Nam and learn about Habitat's work in the community.

Monday-Thursday: Build.

Spend the day working on the build site, breaking for lunch, snacks and water throughout the day. You'll have free time and team activities in the evenings.

Friday: Celebrate.

Spend the morning building followed by a farewell ceremony with the community celebrating the week's accomplishments.

Saturday: Explore.

Continue to learn about the country and culture while you explore the city before traveling back to Da Nang.

Sunday: Goodbyes.

Continue your journey in Vietnam independently or head home.
Please note that while our itineraries begin with arrival day in country, some locations require additional days for travel.
Leading this team
John has been leading Global Village teams since 2012. During his career as a high school Spanish teacher, he led students on 16 summer service-oriented trips to Latin America, an experience that prepared him for leading Global Village teams in retirement. Social justice and serving others is a foundational aspect of his life. John has volunteered as a Spanish language interpreter for torture survivors and served on the boards of two human rights organizations. He currently volunteers as a translator for children in immigration court, and John also contributes to and volunteers with his local Habitat.
As a leader, he works to build a strong team where all feel comfortable offering and sharing their own gifts and strengths. He encourages team members to be open to learning from others and to learning from a new culture. His philosophy is that as a team we take care of one another, helping and supporting each other as we work in solidarity with the homeowner and family. John's motto is: "Expect and embrace the unexpected -- it is often the best part."
Join this trip
Once you fill out the trip application, a team leader will be in touch to tell you more about this trip and answer any questions you may have.
Apply now