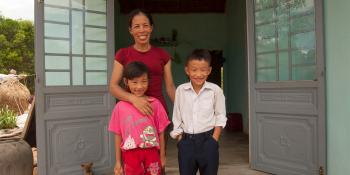 Thai Binh, Vietnam
Sept. 12-20, 2019: Build, learn and explore on this Global Village build!
Healthy homes
Upgrade existing houses with smokeless stoves, water filtration systems, new bathrooms and more.
Join this trip to Vietnam and help low-income families gain access to safe, decent shelter and adequate facilities for water and sanitation.
Many homes in Thai Binh require frequent repairs due to damage from natural disasters and the effects of climate change. However, many families cannot afford to repair their house. Additionally, poor groundwater quality makes access to clean water and sanitation a challenge. Habitat for Humanity Vietnam works alongside families and the community to build safe, affordable housing, focusing on disaster preparedness and WASH programs (safe water, sanitation and hygiene practices).
You'll stay in double-occupancy rooms at a nearby hotel where breakfast and dinner will be provided. Lunches will be served on the build site. Work site tasks typically include mixing and carrying mortar, laying bricks, carrying and pouring concrete or transferring materials. Off the build site, you'll have the opportunity to visit local markets, tour the city, take a cooking class or interact with the local community.
Itinerary
Saturday: Welcome.

 Arrive at Noi Bai International Airport where Habitat staff will greet you when you and take you to meet your team.

Sunday: Learn. 

Travel with your team to Thai Binh and learn about Habitat's work in that community.

Monday-Thursday: Build.

 Spend the day on the build site, breaking for lunch, snacks and water throughout the day. You'll have free time and team activities in the evenings.

Friday: Celebrate.

Spend the morning building followed by a farewell ceremony with the community to celebrate the week's accomplishments.

Saturday: Celebrate.

Go sightseeing around the city, interact with the local community and sample local cuisine.

Sunday: Goodbyes.

Depart for home or continue your journey in Vietnam independently.
Please note that while our itineraries begin with arrival day in country, some locations require additional days for travel.
Leading this team
"Habitat for Humanity and Global Village are amazing opportunities to serve, grow and learn about myself, the world and its people," Lou says. He always tells his team that while their mission is to build and improve housing and sanitation, it's equally as important that they build relationships and understanding as team members and with the people they serve. Lou has seen long-lasting friendships and even marriages come out of his Global Village teams. 
When it comes to his leadership style, Lou takes a hands-on approach. He engages with team members, the hosting Habitat and skilled workers on site as well as with the families and community. Lou's wish is that each team member walks away from the build with a feeling of accomplishment, growth and connection with the other team members and community they worked alongside.  
Join this trip
Once you fill out the trip application, a team leader will be in touch to tell you more about this trip and answer any questions you may have.
Apply now