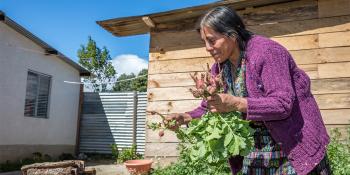 Panajachel, Guatemala
Oct. 24-Nov. 1, 2020: Immerse yourself in the rich Guatemalan culture while working with the community to improve housing!
Home construction
Help build new homes with those in need.
Join this trip to Guatemala and help families live healthier lives by helping build innovative smokeless stoves.
Over 90% of rural Guatemalan families use wood as their primary cooking fuel and often use an open fire inside the home, which has caused 52% of Guatemalans to suffer from respiratory disease. Through partnerships with the local community and family, Habitat for Humanity Guatemala has built over 21,000 smokeless stoves, reducing families' firewood consumption by 60%. This drop in firewood use saves them over $700 a year and allows them to allocate more time towards generating an income to better support their family. In addition to building smokeless stoves, Habitat also helps provide families with complete home construction and home improvements such as latrines, concrete floors and roofing.
You'll be staying in double-occupancy rooms at a nearby hotel where breakfast and dinner will be provided. Lunches will be served on the build site. Work site tasks typically include mixing concrete and mortar, pouring concrete, tying rebar and splitting, moving or laying concrete blocks. Off the build site, you'll have the opportunity to visit weaving or coffee cooperatives, take a boat ride on Lake Atitlan, make traditional tortillas or interact with the community through local school visits.
Itinerary
Saturday: Welcome.

Arrive in Guatemala City where Habitat staff will greet you at the airport and take you to meet the rest of your team over dinner!

Sunday: Learn.

Travel to the host affiliate where you'll learn more about Habitat's innovative work in the region and details about the week's project.

Monday-Thursday: Build.

Spend the day on the build site, breaking for lunch, snacks and water throughout the day. You'll have free time and team activities in the evenings.

Friday: Celebrate.

Spend the morning working on the build site followed by a farewell ceremony in the afternoon with the community to celebrate the week's accomplishments.

Saturday: Explore.

Travel to Antigua and spend the day exploring the city before enjoying a farewell dinner with your team that evening.

Sunday: Goodbyes.

Continue your journey in Guatemala independently or depart for home.
Please note that while our itineraries begin with arrival day in country, some locations require additional days for travel.
Leading this team
Trina loves watching a diverse team come together and bond with families over a common goal, and she believes there is no better way to immerse yourself in local life than by working alongside the families. Despite language and cultural barriers, she sees mutual trust, love and respect quickly emerge through small acts of kindness and cooperation. Her Global Village teams always finish the week with a renewed perspective and thankfulness. 
Trina has lived in Bermuda for 35 years where she has raised five children along with her husband, who will be joining her on the trip. She hopes you'll consider be a part of this Global Village journey! 
Join this trip
Once you fill out the trip application, a team leader will be in touch to tell you more about this trip and answer any questions you may have.
Apply now