The chosen house
Ten years ago, Hurricane Katrina left Tracey Davison and her four daughters homeless. Today, the family thrives in their Habitat house.
The most important room in the baby blue house on School Avenue is the one outside. The front porch.
It is where Tracey Davison and her four daughters catch the comings and goings of their neighbors in Pascagoula, Mississippi.
In the evenings, when the sticky heat breaks and the girls are finally asleep, Tracey escapes to the porch to be alone and take a deep breath. Sometimes, she has a good cry. "Everybody needs a good cry every now and then," says Tracey, a teacher's assistant who works with disabled children.
The porch is also the perfect perch to remember when hope sprang from the devastation of Hurricane Katrina. "Right over there," says Tracey, leaning over the white railing and pointing to a spot in the yard as if it were yesterday.
Rebuilding after Katrina
Ten years ago this past August, Hurricane Katrina ravaged a swath from Florida to Texas, killing more than 1,800 people and displacing more than one million families, including Tracey's. A month later, Hurricane Rita, while nowhere near as deadly, added insult to injury to a shell-shocked region.
In the years since, local Gulf Coast Habitats have partnered with families to build, renovate or repair thousands of homes, each of them "chosen" in the eyes of their owners. Tracey partnered with Habitat for Humanity of the Mississippi Gulf Coast and her three-bedroom house was built during the 2008 Jimmy & Rosalynn Carter Work Project.
Other people "slamming hammers" to give Tracey and her daughters a home included country artists Trisha Yearwood and Garth Brooks. As if that weren't special enough, the house is built with lumber milled and converted to two-by-fours from the 2007 Christmas tree at Rockefeller Center.
"It was all really overwhelming at the time, and it still is," says Tracey, who traveled with her girls to New York City to see the lighting of the tree. "Living in this house is one of the most uplifting things in my life."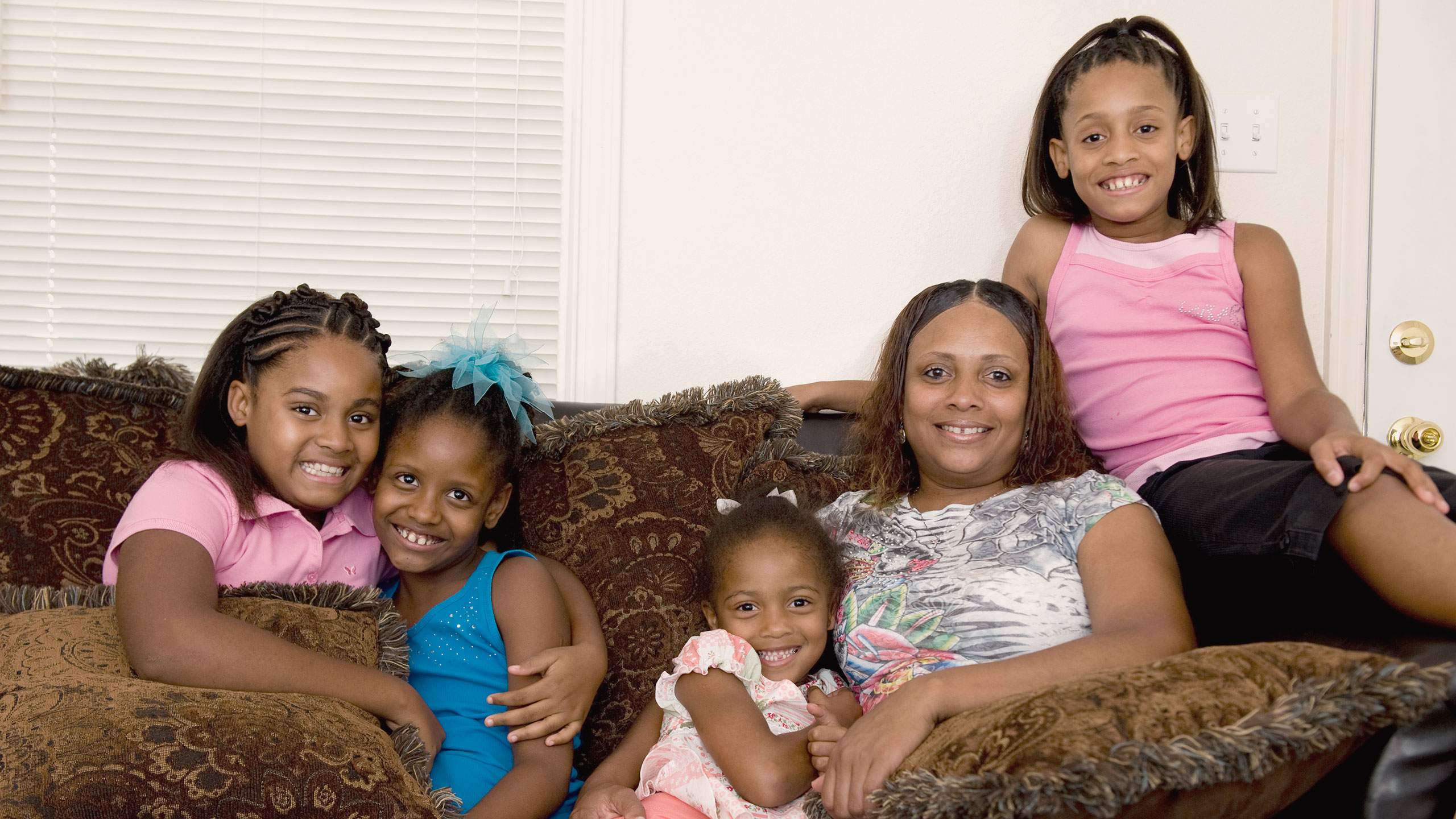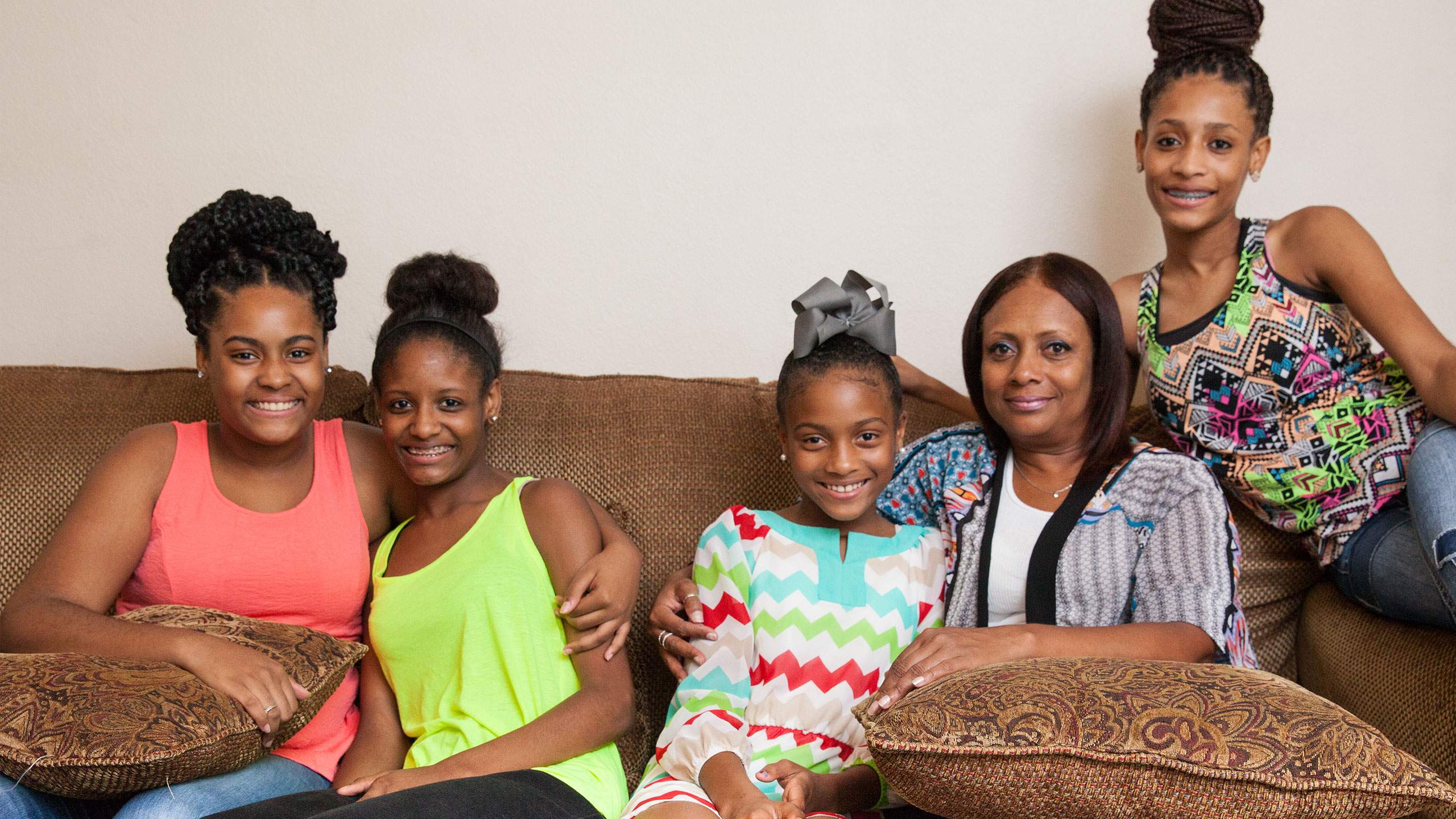 Looking forward
On a recent day, Tracey and the girls — 17-year-old Ashunti, 16-year-old Nylah, 15-year-old Majsa and 11-year-old Karly — marvel at old photos of their first days in the house. They all get a kick at how little they were and agree that Karly, who was just 3 when they moved in, has changed the most.
"It just doesn't seem like all that long ago," Majsa says. None of the girls remembers much about Katrina or the hard times that followed.
Tracey doesn't talk much about those days, either. Two days before Hurricane Katrina hit, she had just moved her daughters into a duplex not far from the Gulf. The hurricane nearly wiped her new neighborhood off the map.
With just a few suitcases and Karly on her hip, Tracey fled the water with her girls and like so many families, took up life on the move — first to a friend's home, then a relative's, followed by a docked cruise ship, then a FEMA trailer.
"It was a pretty traumatic time for us, and it could have been much worse," she says, remembering the people who lost their lives. "I wouldn't say it is a blur, but it is just not something I choose to think a lot about. When battles come, I fight them with prayer and by looking forward."
Looking forward also meant staying put. Tracey did not want to move from the area where she was raised and where much of her family still lives. And as ironic as it may sound, she still loves the water. Then there is her work with disabled children. "I love my job," she says. "To be honest, you have to have the heart for it. And I do."
The baby blue house
Long before Katrina, Tracey had dreamed of owning her own home. "That was my goal. I wanted to show my girls that if you work hard, you can achieve your goal," she says. "If the girls haven't gotten that message by now, it's not because they don't hear it. I fuss about it all the time."
Gathered on the front porch, Tracey and her daughters talk about their lives in the baby blue house, which is how they distinguish it from other homes to first-time friends and visitors. The walls contain a lot of girl power, they offer. "Too much," Tracey chimes in. Birthdays are celebrated here, with cake and ice cream and the birthday girl deciding the dinner menu.
Tracey had a choice of lots on the street and chose the one in the middle of everything. The girls live close enough to their schools to walk. All of the girls sing in the choir at the Baptist church less than a half-mile away, though they say Nylah has the best voice.
"They are really good girls," Tracey says. She gives Habitat some of the credit for how well they are growing up. "A house is a way to keep your family wholesome and stable."
If the girls have a complaint, it's that they don't each have their own room. "This is our little nest. And pretty soon you are going to need to fly, fly, fly away," Tracey laughs. Karly promises her mom that when she grows up, she'll visit her mom every day. "Maybe not every day," Tracey says. They all laugh.
And so goes another day of life in the baby blue house. "Habitat made this possible," Tracey says. "That is the part of Katrina that I don't mind talking about."