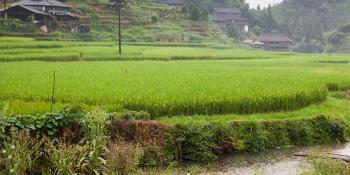 Frequently Asked Questions
Asia-Pacific
What is Habitat for Humanity International?
Habitat for Humanity International is a global non-governmental organization and Christian housing ministry. Founded in 1976 by the late Millard Fuller and his wife Linda, Habitat's vision is of a world where everyone has a decent place to live. We work with people of all backgrounds, ethnic groups and religions to build homes with families in need of decent, affordable housing. Habitat and its supporters worked alongside families in various ways including house construction and repair solutions, disaster response efforts, improved water and sanitation as well as economic independence through home ownership.
How many people has Habitat for Humanity helped?
Since 1976, Habitat has helped more than 6.8 million people achieve strength, stability and self-reliance through housing, including home construction, rehabilitation and repairs and by increasing access to improved shelter through products and programs.
For how long has Habitat for Humanity operated in the Asia-Pacific region?
Habitat for Humanity began working in the Asia-Pacific region in 1983 with a pilot program in India. Since then, Habitat has enabled an estimated 2 million people to create better lives for themselves and their families.
Where does Habitat for Humanity operate in the Asia-Pacific region?
We work in such places as Australia, Bangladesh, Cambodia, China, Fiji, India, Hong Kong, Indonesia, Japan, Myanmar (Burma), Nepal, New Zealand, the Philippines, Samoa*, Singapore, South Korea, Sri Lanka, Thailand, Tonga*, Vanuatu*, and Vietnam. In Japan, Singapore and Hong Kong, Habitat is involved in fund-raising, advocacy and organizing volunteers, along with some limited local repair and home improvement activities. The principal Asia-Pacific office is in Manila, the Philippines, with a satellite office in Singapore. (*Partnerships)
How many people does Habitat for Humanity help each year?
Together with its supporters, Habitat for Humanity has enabled 312,400 people in the Asia-Pacific region to gain access to decent housing for the fiscal year up to June 30, 2015.
What is former U.S. President Jimmy Carter's role with Habitat for Humanity?
Every year since 1984, former US president and Nobel Peace Prize laureate Jimmy Carter has donated one week of his time – and his building skills – to Habitat. Each year, he and his wife Rosalynn lead a major building event which attracts thousands of volunteers. In November 2009 the Jimmy and Rosalynn Carter Work Project took place at sites in northern Thailand, southwestern China, Laos, Cambodia and Vietnam. The 2009 Mekong Build marked the fourth time the former US president and his wife had built with Habitat for Humanity in Asia. Previous Carter Work Projects in Asia were held in India in 2006, in South Korea in 2001 and in the Philippines in 1999.
Does Habitat give houses away?
No, Habitat for Humanity is not a giveaway program. In the Asia-Pacific region, Habitat works with partner organizations to serve even more families through innovative financing methods. Habitat's homeowners also invest hundreds of hours of their own labor, called "sweat equity", working alongside volunteers and other Habitat homeowners.
Why do families have to contribute "sweat equity?
"Habitat for Humanity believes in a hand up, not a hand out. Each family is required to invest many hours of "sweat equity" into the construction of their home. This allows potential homeowners to work alongside volunteers and neighbors, increasing the pride of ownership and fostering the development of positive relationships within a community.
9. How are future homeowners chosen?
Families in need of decent, affordable shelter apply to their local Habitat organization. Future homeowners are selected based on their level of need and their willingness to partner with Habitat, among key criteria. We follow a non-discriminatory policy of family selection. Neither race nor religion is a factor in choosing future homeowners.
Do you have to be a Christian to be a Habitat homeowner?
Across the Asia-Pacific region, Habitat for Humanity work with families who are Buddhists, Hindus, Muslims, or of other faiths, and those with none. While maintaining our Christian identity, we welcome everyone to partner in our mission, regardless of religious affiliation and persuasion. Habitat's vision is of a world where everyone has a decent place to call home. In the Philippines and several other countries, building homes with Habitat for Humanity has become a platform for bringing together different Christian traditions and collaboration between different faiths.
How does Habitat help expand affordable housing markets?
The great majority of families in countries where Habitat for Humanity works have no access to formal-sector housing options, such as traditional mortgage products or developer-built housing. Like most of the world, they acquire shelter incrementally, building homes step by step as their families grow and as their limited finances allow. Habitat's MicroBuild, a social investment fund with a target size of US$100 million, lends capital to local financial service providers, expanding opportunities for low-income families to obtain microfinance products to improve their homes. Habitat's network of worldwide regional offices and national organizations support MicroBuild by providing technical assistance through Habitat's Center for Innovation in Shelter and Finance to eligible microfinance institutions that receive capital from MicroBuild.
How does Habitat operate in the Asia-Pacific region?
Habitat for Humanity's work in the region is accomplished by national organizations and their partner organizations.
What is a national organization?
Habitat's work in a country is coordinated and supported by a national organization which is a legally separate entity managed by a volunteer board and staffed by specialists in construction technology, financial management, marketing and fund raising, among other expertise. Local conditions sometimes mean a national organization is directly controlled and managed by Habitat for Humanity International.
What partners does Habitat work with?
We work with any group that shares our vision of a world where everyone has a decent place to live. Corporate and private philanthropy partners,  community or faith-based organizations contribute financial resources or expertise or both, and often volunteer labor, to build homes. Other groups, particularly non-governmental organizations and government-linked bodies, help to provide useful services and reliable utilities to Habitat homeowners.
Who volunteers with Habitat for Humanity and how?
Volunteers come from corporations, schools, faith-based groups and other organizations. They use their time, hands and voices to help families build strength, stability and self-reliance through shelter. Through the Global Village program, volunteers might work alongside families on new home construction, incremental housing improvements, or water and sanitation projects. In the Asia-Pacific region, the Habitat Young Leaders Build galvanizes young people to volunteer, fundraise and speak out for the need for decent homes as a way out of poverty and toward self-reliance. Youth-led campus chapters organize events on campuses and in local communities to highlight housing issues and the work of Habitat for Humanity. In addition to raising funds, they take part in home construction either locally or through Global Village trips. Regardless of the project, Habitat offers a meaningful, transformative experience.
Why does Habitat for Humanity respond to disasters?
Living in the world's most disaster-prone region, Asia-Pacific families are particularly vulnerable. Those who are marginally above the poverty line find themselves in dire straits with the loss of shelter and livelihood following a disaster. Across the Asia-Pacific region, Habitat for Humanity is involved from the earliest opportunity after a disaster. Through assessment visits and discussions with government authorities and partner organizations, Habitat enables affected families to make incremental progress toward permanent shelter. We also work with partners to provide technical training to enable families to build back safer. Families and communities are trained to better prepare for and respond to disasters.
To what natural or man-made disasters has Habitat responded?
In the Asia-Pacific region, Habitat for Humanity has responded to over 20 disasters in 17 countries between end December 2004 and January 2016. After the devastating 2004 Indian Ocean tsunami, Habitat embarked on an ambitious, long-term response. Over six years, more than 25,000 families in India, Indonesia, Sri Lanka and Thailand benefited from Habitat reconstruction programs designed to rebuild communities, homes and lives. More recently, our responses included Cyclone Winston in Fiji in 2016; devastating earthquakes in Nepal in 2015; Typhoon Haiyan (locally known as Yolanda) and the Bohol earthquake in the Philippines in 2013; in 2011, the earthquake and tsunami which hit Japan and the earthquake that struck Christchurch, New Zealand, within days of each other.
Who runs Habitat for Humanity International?
An international board of directors determines policy, and oversees and guides Habitat for Humanity's mission. Board members are volunteers who are deeply concerned about the problems of poverty housing around the world.

Area offices oversee Habitat's work in different parts of the world. The office in Manila, the Philippines, spearheads activities in the Asia-Pacific region; the office in Bratislava, Slovakia, is responsible for Europe, the Middle East and Africa; and San Jose, Costa Rica, for Latin America and the Caribbean. North American activities are overseen by the operational headquarters in Americus and the administrative headquarters in Atlanta, both in Georgia, USA. These Habitat for Humanity offices have administrative staff, assisted by professional and support employees, and volunteers.
 
How are donations distributed and used?
We rely on gifts from individuals, corporations and other groups to fund our house-building mission worldwide. All donations of any amount are deeply appreciated and help us build more decent, affordable houses with more families across the globe. Designated donations are allocated in support of the national organization, the U.S. affiliate or program of the donor's choosing. Undesignated gifts help to serve more low-income families, build the capacity of our network of national organizations and U.S. affiliates, and cover other costs necessary to ensuring that Habitat fulfills its mission with excellence. Audited financial statements are available.
Where can I find out more? contact us.