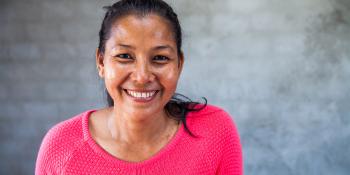 Funding Habitat homes
Asia-Pacific
Habitat for Humanity's donors — who range from individuals to corporations to foundations to multilateral funding institutions — provide strong funding support in enabling families to have a decent place to call home. 
In many of the Asia-Pacific countries where Habitat for Humanity works, only a small proportion of households have access to mortgages. Acting as a market facilitator, Habitat increases its impact by working to improve access to affordable housing products and services for low-income families.

Houses may be built in stages or rehabilitated with the families gaining access to housing loan products designed by financially inclusive institutions that have received advisory services from Habitat.

Habitat does not issue microfinance loans itself, but collaborates with partner microfinance institutions through its MicroBuild Fund.

Habitat's Terwilliger Center for Innovation in Shelter mobilizes the flow of capital to the housing sector allowing financial institutions and other housing market actors to provide the products and services needed by low-income families to build and expand their homes.