Change the world; change your life
You can make a difference while you explore the world! Check the Global Village trip schedule frequently, as trips are being added on an ongoing basis! A complete list of trips is included at the bottom of this update.

Featured Global Village trips
Comanesti, Romania (October 9-19, 2009)
Warning! By joining this trip, you are committing to an international cultural adventure with a team of open-minded global citizens in order to make an impact on the lives of others. You will also likely learn more about yourself and build bonds with teammates! No previous building skills or volunteerism required-only an open mind, a great attitude and a willingness to make a difference.

Bali, Indonesia (October 24-November 7, 2009)
This November, a crew of 14 individuals will work side-by-side with a homeowner to build a home for a family. The team will work with local families and experience the rich culture, food and people of Indonesia through building and other cultural activities throughout the trip.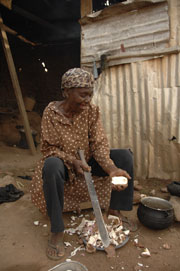 Kauai, Hawaii (December 6-15, 2009)
Have you always wanted to combine your love of travel with your passion for helping others? Then consider joining us in beautiful Kauai, Hawaii. Start the holiday season by donating your time and energy to make this an unforgettable holiday for a deserving family.

Ghana (January 16-29, 2010)
Are you adventurous, flexible, open-minded, culturally sensitive, service-oriented and ready to get your hands dirty while working hard? Then please join us on this excursion to Ghana! Building with Habitat for Humanity in Ghana will provide you with a unique opportunity to get to know the country and the local community in a personal and meaningful way.

Paraguay (March 17-March 26, 2010)
Join a team of like-minded people and travel to one of South America's less-traveled treasures! The experiences and memories of working alongside the local family will last far longer than any souvenir could. Join in the effort that Habitat for Humanity Paraguay is undertaking to eliminate poverty housing in their country.


---

Get easy access to travel tools and Habitat information
Check out the new Global Village participant resources page! Find more information about Habitat for Humanity, fundraising and payment resources, helpful travel Web sites and more.


---

Travel safely
We are committed to simultaneously serving families and protecting the safety of our staff, volunteers and partners. Read more information from the Global Village program about issues affecting travel, such as H1N1 and the Honduran coup. As always, we encourage you to visit U.S. Department of State to stay updated on important travel information.


---

Join Habitat for Humanity's annual Jimmy and Rosalynn Carter Work Project 2009 in Southeast Asia
Volunteers are needed for Habitat for Humanity's annual Jimmy and Rosalynn Carter Work Project 2009 in Southeast Asia. Volunteer opportunities are available in Thailand, Cambodia and Vietnam the week of November 15-20, 2009.


---

Thrivent Financial for Lutherans members: Plan your 2010 Thrivent Builds Worldwide trip now!
Learn new skills, experience a new culture, meet other Lutherans who share your passion to make a difference and help give a family a chance at economic independence. Thanks to Thrivent Financial's support, Thrivent members' trip prices for Gulf Coast Community and El Salvador Community trips are reduced! Visit Thrivent Builds online to learn more.


---

Recognize World Habitat Day on October 5
Habitat for Humanity is helping to recognize World Habitat Day, October 5, around the world. Use the World Habitat Day 2009 resources to find other ways to get your team, family, school, church, workplace, affiliate or other community involved!

"It all starts at home" photo petition
When it comes to a family's well-being, it all starts at home. We know that a simple, decent home is the foundation on which a family can build their lives. Show your support for decent, affordable housing by taking part in Habitat's online photo petition, which will be delivered to the White House on World Habitat Day.


---
Trip schedule

Africa/Middle East

Location

Leader

Date

Whittet

Feb. 13-26, 2010

Woodson

Jan. 17-30, 2010

Douglas

Feb. 13-26, 2010

Rendahl

Jan. 1-9, 2010

Crowley

Nov. 20-Dec. 1, 2009
Asia/Pacific

Location

Leader

Date

Stowers

Aug. 6-20, 2010

Henders

Dec. 5-19, 2009

Jordan/Gaar

Mar. 5-18, 2010

Bunce

Oct. 24-Nov. 7, 2009

Ulmer

May 22-June 5, 2010

Skibinski

Jul. 31-Aug. 14, 2010

Kaleda/Wolfson

Jan. 4-16, 2010

Kemp

Feb. 27-Mar. 6, 2010

Walker

April 17-May 2, 2010

Sirrs

Feb. 27-Mar. 13, 2010

Acton

Feb. 6-20, 2010

Robinson

Feb. 28-Mar. 14, 2010

Clearfield

Dec. 4-12, 2009

Millstein/Mace

Jul. 3-17, 2010

Birdsong

April 2-17, 2010

Walker

May 7-22, 2010

Mannix

June 19-Jul. 3, 2010

Spreadbury

Dec. 5-20, 2009

Budway/Cowan

Mar. 20-April 3, 2010

Syed

May 8-22, 2010
Europe/Central Asia

Location

Leader

Date

Drinnon/Moore

June 19-30, 2010

Loos

Sept. 26-Oct. 9, 2009

Hurless

Nov. 7-16, 2009

Alvarado

Nov. 28-Dec. 11, 2009

Wiles

Dec. 12-21, 2009

Wright

Oct. 9-23, 2009

Gotte

Oct. 9-19, 2009

Smith

Mar. 19-April 1, 2010

Millstein

May 14-25, 2010
Latin America/Caribbean

Location

Leader

Date

Sorensen

Dec. 12-20, 2009

Woodard

Jan. 29-Feb. 7, 2010

Tomey

Mar. 13-21, 2010

Repola

Mar. 21-28, 2010

Hayes/Ward

Feb. 6-14, 2010

Petrovich/Filipski

April 17-25, 2010

Kvapil

Jan. 16-30, 2010

Landry/Royer

Mar. 6-14, 2010

Merges

Mar. 17-26, 2010
United States of America

Location

Leader

Date

Sandler

Sept. 18-27, 2009

Millstein/Mace

Dec. 6-15, 2009

Collinson

Nov. 2-8, 2009
Visit the
online Global Village trip schedule
for the most current list of open trips. Contact 1-800-422-4828, Ext. 7530 or
gv@habitat.org
with questions. Visit
www.habitat.org/gv
for more information about the Global Village program.