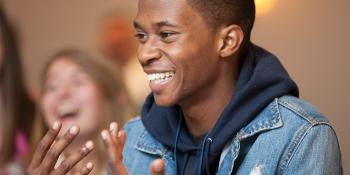 Act! Speak! Build! Week
Habitat for Humanity's annual youth advocacy event
As Habitat's student-initiated, international advocacy campaign, Act! Speak! Build! Week empowers young people to educate themselves and their communities and move people to social action.
Act! Speak! Build! Week goes beyond the build site as volunteers advocate for decent, affordable shelter by engaging elected officials and their community to help shape policy in a way that supports people in need of safe, healthy and affordable housing.
Building and advocating are needed to help the one out of four people around the world who currently live in poor housing conditions build better lives for themselves and their families. Act! Speak! Build! Week serves to educate others by expanding the scope of Habitat's mission from raising a hammer and raising funds to include raising your voice.
Act! Speak! Build Week April 2-8, 2017
Sign up to receive resources to plan your event. Registration is now open.
Become an advocate
Act: Become an online advocate with Habitat for Humanity and learn about the issues related to poor housing conditions.
Speak: Challenge peers to become advocates through Act! Speak! Build Week events and partner with your local Habitat for Humanity to provide a true understanding of how Habitat partners with families in your community and in other countries.
Build: Build awareness in your community about poor living conditions through events that engage local officials, such as scheduling visits with local representatives about housing issues, letter-writing and phone call campaigns to U.S. representatives.
Follow us online
Youth Programs e-newsletter
Stay in touch with all the latest Habitat for Humanity news and volunteer opportunities for youth. Sign up for our e-newsletter today.