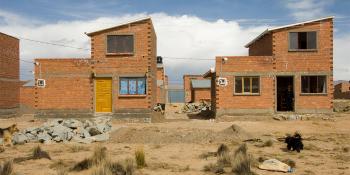 What we do
Latin America and the Caribbean
Habitat for Humanity does much more than just build houses. Working towards a world in which every person has access to adequate housing, we:
Provide low-cost house production…
by building and rehabilitating houses, frequently using volunteer labor.
Offer housing-related technical assistance…
by training families to build, maintain and pay for adequate housing. 
Promote innovative housing finance opportunities…
by promoting accessible financial solutions for low-income families to improve their housing situations.
 Advocate for adequate housing for all…
by organizing public activities and influencing policies that result in easier access to adequate housing.
Prepare for and respond to disasters…
by assisting communities to prepare for disasters and helping them rebuild in the event that they strike.