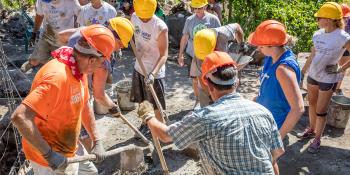 Volunteer
Latin America and the Caribbean
With your own two hands, you can help build the world into a home.
Short-term volunteer trips around the world. For more information, contact Sofia Mejia.
Regional volunteers
Local and regional volunteer opportunities for people living within Latin America and the Caribbean. For more information, contact [email protected].
Long-term volunteer opportunities with Habitat for Humanity.
Be part of the solution
Historically, volunteers mobilized by Habitat for Humanity have participated primarily in construction activities. Today volunteers, while always taking action related to the theme of housing, provide much more.
In addition to building homes, volunteers help with financial education workshops, rebuild areas affected by natural disasters, and encourage others to advocate for those in need a safe place to live.
We believe that through the mobilization of volunteers in issues related to adequate housing, we achieve a just world, and open more doors to collaborate with families in need.
Can't find an opportunity to participate?
No need to wait for Habitat to get involved with the cause. You have the power to change your world today. If you can't find an opportunity with us, create one!