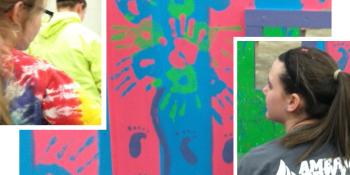 When Ohio's Habitat Coshocton County held a Women Build last year, more than 200 women came out to build in the small town of 18,000 east of Columbus. Several women mentioned that their daughters also wanted to build for Habitat.
The elegant solution: Coshocton's recent Girls Build, in which about 14 girls, ages 11 through 17, built playhouses that were auctioned off at a Habitat fundraiser. The girls were able to raise money, experience the joy of working together and blowing through gender stereotypes, and perhaps get an early taste of volunteering that could lead to a lifetime of community service.
"Most of them were afraid to touch the tools at first," says Jane Mautz, Coshocton's Women Build chair. "But soon they were saying, 'I'll drill! I'll drill!' It was a great learning experience."
The young volunteers were divided into three teams to build three playhouses at the local high school's career center. Adults precut the pieces for the playhouses; the girls measured and assembled them, attached the roof, and painted the houses their own bright color schemes of blue, green and pink. They worked five evenings to complete the houses.
Local businesses underwrote the cost of the materials, and the playhouses were sold at a silent auction in March for about 200 each, says Brittleigh Smith, Coshocton's executive director.
Among the participants were several members of a Girl Scout troop and a teenager whose family lives in a Habitat house in the area.