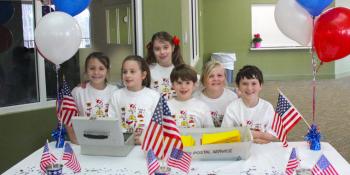 Putting their stamp on fundraising in Louisiana
For the past 12 years, second graders at Louisiana's Christ Episcopal School in Covington have raised money for Habitat St. Tammany West in a unique manner: an intra-school post office.
The students design stamps, apply for jobs such as mail sorter or delivery person, and then run the operation. Each year, there is a ribbon-cutting ceremony to open the post office, which includes a presentation by United States Postal Service and Habitat representatives. The former help cut the ribbon and declare the post office open, while the latter tell the students about the work Habitat does and the importance of volunteers.
The post office sells stamps and stationery to any student who wants to send a letter to another on campus. At the end of the year, all the proceeds — more than 100 in recent years — are given to Habitat, which uses the funds to purchase mailboxes.
Students are usually able to see the installation of one of the mailboxes they helped buy, as well as plant flowers around it and meet a family they have helped.