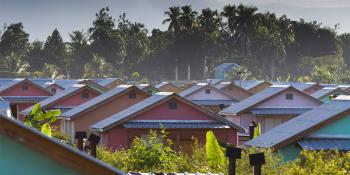 Regional advocacy campaigns
Latin America and the Caribbean
Make your world a home…
I won't wait for someone else
to tackle the problem of inadequate housing;
I have the power to change our world today.
Whether I am a student, business,
non-profit, president, father, daughter,
neighbor, community, visitor or friend…
I will never fall victim to inaction.
I will demand that my neighbors be adequately housed.
I will take up active residence in my community;
I will build it with my own two hands.
I will step up, and I will join the movement.
If an opportunity doesn't exist, I will create it.
I will catalyze and inspire.
I will demonstrate, advocate,
educate, build, renovate, improve,
include, transform, and partner
to make the state of housing an urgent cause.
I will make our world a home…
What it means to be an [albañil] (v.)
albañil is a "bricklayer." It is anyone who volunteers, advocates, donates or otherwise works toward the cause of adequate housing for all.
Don't fall victim to apathy…do something today!
Subscribe to our newsletter