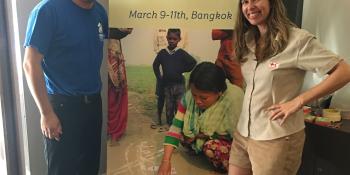 Facebook rewards initiative of Habitat and Red Cross
PASSA Youth
Through the new Facebook Community Leadership Program (FCLP), the Participatory Approach for Safe Shelter and Settlements Awareness, PASSA Youth, developed by Habitat for Humanity International (HFHI) and the International Federation of the Red Cross (IFRC), was selected to receive support, tools and funds of an approximate value of up to USD $ 50,000.
PASSA Youth works in vulnerable communities and aims to enhancing the knowledge and skills of 10,000 youths to reduce shelter-and-settlements-related risks in their low-income communities, while using the best technology available and specialized support from mentors and facilitators. They are empowered to jointly analyze, learn, raise awareness and plan to create safer and more resilient communities against disasters.
PASSA community was created and managed in 2015 by global shelter advisors from the Red Cross- the world's largest humanitarian network that reaches 150 million people in 190 National Societies through the work of over 17 million volunteers-, and Habitat- a global nonprofit housing organization working across all 50 states in the U.S. and in more than 70 countries around the world.
What is Facebook Community Leadership Program (FCLP) 2018?
At Facebook, they're seeing firsthand how technology is empowering leaders around the world to take action and bring their communities closer together. This work comes with unique challenges and requires a blend of vision, care, dedication and empathy. But finding the resources and having the leadership skills to increase impact is a constant challenge for community leaders, and they want to address that need.
FCLP has been started this year as a pilot to address the needs identified by community leaders with a track record of building extraordinary communities. This global initiative will give over 115 participants from around the world the support, tools, funding and the belief in themselves that they need to best lead their communities.
Next steps
PASSA Youth aims to use the prize to:
1. Fund and mentor in how to build a sustainable, effective and user friendly digital platform where all of the intelligent data gathered from the field can be centralized and consulted, no matter which language you speak.
2. Enhance the virtual community network by using all of the Facebook family of tools  and making it more attractive for teenagers and not only for adults and facilitators.
3. Promote face to face meetings as regional exchange among participants, so they can learn from other experiences and provide feedback of how the community  can be improved.
If you want to be part of this exciting experience, you can contact us at: