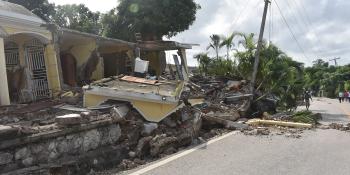 Habitat Haiti continues working
Earthquake zone
Habitat Haiti staff continues working in the earthquake zone despite adversities
Habitat Haiti staff members in the region have been deeply impacted by the earthquake themselves. Jean, a Habitat field engineer stationed in Les Cayes, has had a fear of earthquakes since surviving the 2010 one that killed roughly 250,000 people in and around Port-au-Prince.
He was on the phone in his apartment when he felt the earth begin to shake as it did 11 and a half years earlier. Jean exited through a window and jumped onto a neighboring rooftop, thinking if the building collapsed, he'd be safer on top of it. When the dust settled, he realized that his apartment had broken away from the main building entirely.
Jean and another Habitat field engineer put a tarp over a house that is under construction and slept there for two nights after the earthquake. The third night offered no sleep, as they had to take turns holding onto the tarp as Grace's torrential rains passed. Habitat reinforcements from Port-au-Prince arrived the next day, with hygiene kits, tents, clothes, and food.
Now Jean and the other members of the Habitat Haiti team sleep in tents. Then, each morning, they spring into action, fanning out to assess the full extent of damage to homes in the region.
They know they are far from alone because with Habitat Haiti's nearly four decades of experience in the country and deep connections with local officials, families and organizations, Habitat's every action is done as part of a network.
Together, we and our partners are committed to helping the people of Haiti do the incredibly hard work of rebuilding so that they are safer and more secure in their homes the next time disaster strikes.