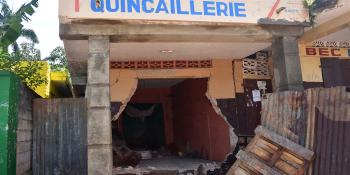 Habitat prepares a disaster response
Strategy in Haiti
Habitat for Humanity prepares a disaster response strategy in Haiti
Habitat for Humanity is preparing a disaster response in Haiti, which will be a long-term strategy, using the approach of Pathways to Permanence as well as the strong relationships with local communities, the government and international partners that the organization have.
Habitat plans to start by distributing emergency shelter and water, sanitation and hygiene, or WASH, kits. Then the organization will work with the government on assessments to help families determine if their home is safe to inhabit again or needs to be repaired or demolished. The strategy includes working with families on transitional shelter solutions and WASH needs then focus on building and repairs that make homes more disaster resilient.
As in previous responses to hurricanes and earthquakes in Haiti, Habitat will offer their technical expertise in housing to other organizations, seeking alliances with organizations that specialize in other areas of recovery, to provide comprehensive support to the most vulnerable communities together.
Habitat is part of the regional coordination platform for disaster preparedness and response in Latin America and the Caribbean, known as OCHA-REDLAC, allowing the organization to coordinate with other organizations early in the recovery phase.
Following the earthquake, Habitat's focus has been to map the size of the challenges ahead in the area. Landslides have rendered some areas inaccessible by road, but only by motorcycle, horseback, or foot, through damaged terrain or rivers. In addition, heavy rains from Tropical Storm Grace, which lasted for three days after the earthquake, have made conditions difficult.