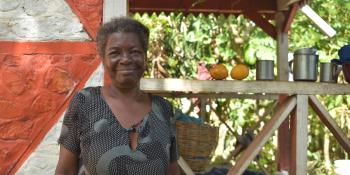 Oxelia still has a safe place to call home in Haiti
Like many residents of Haiti's southwestern peninsula, Oxelia was at home on August 14, 2021, when the 7.2 earthquake hit. "We screamed and ran outside into the street," says Oxelia, who lives in the small town of Corail, in the department of Grand'Anse.
"The house shook like crazy for so long, my neighbors also ran out into the street. My daughter was still asleep, and it shook her awake before she grabbed her baby and ran into the street as well." 
Oxelia's house was built by Habitat for Humanity in the aftermath of Hurricane Matthew in October 2016. Thanks to support from the E European Civil Protection and Humanitarian Aid Operations (ECHO), in collaboration with the UN International Organization for Migration and other agencies, Habitat built 300 houses and repaired another 1,500 in the area where the earthquake struck this 2021.
Oxelia's house was not damaged during the earthquake. Still, she was one of many people who slept under a tent out of fear, even as Tropical Storm Grace passed. "We were all too afraid to go back into the house because you could still feel aftershocks, but now, it has been days and I see that my neighbors' houses have a lot of cracks, but mine is fine".