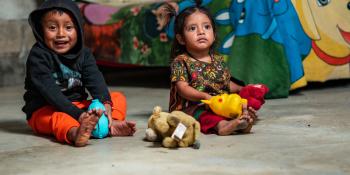 Replace 100,000 dirt floors with concrete floors
Initiative seeks to replace 100,000 dirt floors with

concrete

floors in Latin America and the Caribbean
Habitat for Humanity and the Inter-American Cement Federation (FICEM) have launched the initiative "100,000 floors to play on," with the objective of replacing 100,000 dirt floors with concrete among Latin America and the Caribbean's most vulnerable populations by 2028. Depending on the needs of each household, the project will also offer solutions such as access to water and improved stoves, in order to build a healthy and dignified environment for families' sustainable and inclusive development.
"100,000 floors to play on" is part of the "PISOS S3" program, following a successful pilot project launched in Guatemala in 2021 through a partnership between Cementos Progreso, FICEM, Habitat for Humanity Guatemala, the Guatemalan Cement, and Concrete Institute and the Network of Indigenous Entrepreneurs.
The housing deficit in Latin America and the Caribbean affects nearly 40% of the region's total population. Approximately 6% of households have dirt floors, which can lead to serious illness, particularly among children and elders.
"Habitat for Humanity has significant experience with these types of interventions in the region, as we frequently work with them in the countries where we have a presence. We are witnessing how such improvements can significantly change the quality of life and wellbeing of families, providing them with an adequate and healthy environment upon which to build a better future. The "100,000 floors to play on" initiative is a great opportunity to create social benefits that can positively impact thousands of lives".
— Ernesto Castro, Area Vice-president of Habitat for Humanity Latin America and the Caribbean
María José García, Executive Director of FICEM, adds that "the PISOS S3 was organized by the regional cement industry aimed to improve the health and wellbeing of the poorest and most vulnerable families in Latin American and the Caribbean by replacing dirt floors with concrete ones to create healthier, safer, and more sustainable homes. Today, we join Habitat for Humanity in launching the "100,000 floors to play on" initiative to transform the lives of 100,000 families in the region by 2028. We understand that this is a significant challenge and must be addressed with caution and responsibility. We know that it requires spreading the word, ensuring a region-wide commitment, and strengthening partnerships."
The pilot project replaced a total of 1,080 m2 of concrete floors, benefiting 32 families from five indigenous communities in the municipality of San Juan Sacatepequez. The project also distributed water filters and provided the beneficiary families with training on healthy homes and floors and water filter use and maintenance.
"At Progreso, we believe that a country's development is improved by providing its inhabitants with better living conditions. Implementing the PISOS S3 pilot in San Juan Sacatepequez is part of our commitment to improve quality of life for people in the countries where we operate by building responsible and sustainable practices that create a place where we want to live," says José Raúl González, CEO of Progreso.
Dirt floors can become a breeding ground for parasites, bacteria, and insects that cause issues like diarrhea, respiratory diseases, anemia, immunodeficiencies, malnutrition and Chagas disease. Children are most vulnerable when crawling, playing, and walking on the ground; hence the use of "floors to play on".
Replacing dirt floors with concrete results in health benefits for families, as confirmed by a study carried out in Mexico by the World Bank and the University of California, which analyzed data on household health improvement after replacing floors.
For children, the report showed a 70% reduction in parasitic infections, 49% in diarrhea and 81% in anemia, and an increase from 36% to 96% in cognitive development. Adults showed a 59% increase in housing satisfaction, a 52% decrease in depression and a 45% decrease in stress.
"Replacing 100,000 floors in the region will make a real difference in these families' lives. Concrete floors are low cost and environmentally friendly, their raw materials are produced locally, and they improve climatic comfort inside the house. These interventions save lives, prevent disease, improve the quality of life, contribute to poverty reduction, help mitigate climate change and forward the achievement of the Sustainable Development Goals".
— Ernesto Castro, Area Vice-president of Habitat for Humanity Latin America and the Caribbean
"100,000 floors to play on" benefits poverty-stricken families throughout Latin America and the Caribbean who live in houses made from poor quality materials (such as dirt floors) that make them more vulnerable to the impacts of climate change, focusing on homes with female heads of household with children under six years of age, older adults and/or people with disabilities.
"We are currently seeking partnerships in Mexico, the Dominican Republic and Central America for the first phase of the initiative. We are also working to extend our partnership with Cementos Progreso in Guatemala and other countries in the region where the company works. Replacing 100,000 floors in six years is clearly an ambitious goal and will only be achieved by working in partnership with the government and the public and private sectors. For this reason, we invite cement companies, governments and other stakeholders in Latin America and the Caribbean to join us in improving the health and quality of life of the most vulnerable families," says Castro.
Both Habitat for Humanity and FICEM plan to continue working together in the long-term, replacing a total of 10 million floors by 2050 and make significant strides toward the end goal of eradicating dirt floors in the region. For more information on how your company or organization can join "100,000 floors to play on," please contact [email protected] or [email protected].