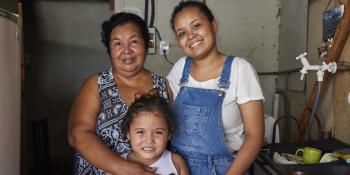 Habitat launches Home Equals campaign
Habitat launches Home Equals campaign
Habitat for Humanity and our partners around the world today launched a five-year campaign, called Home Equals, seeking policy changes at the local, national and global levels to increase access to adequate housing in informal settlements.
According to the United Nations, more than one billion people in the world reside in slums and other informal settlements.
These represent more than 50% of the 1.8 billion people lacking adequate housing worldwide. If we look at the regional level, this organization estimates that more than 95 million people lives in informal settlements in Latin America and the Caribbean, while other organizations, such as the Development Bank of Latin America (CAF), raise the figure to more than 120 million people.
"Residents of informal settlements are playing an incredibly important role as they find housing solutions for themselves," said Ernesto Castro, area vice president of Habitat for Humanity in Latin America and the Caribbean. "Our experience has confirmed that with the right policies and systems in place, we can remove barriers, accelerate efforts and open the door to a better future for many more people who deserve the opportunity to live in a safe home."
At the global level, Habitat for Humanity is calling on G7 member states — a group of leading industrialized nations set to meet this weekend in Hiroshima, Japan — to recognize housing as a critical lever for development progress and commit to addressing housing needs in informal settlements as a way to advance international development priorities in areas such as economic growth, health and education.
The economic and human development gains from improving housing at a large scale in informal settlements would be substantial, according to a report released today in support of the Home Equals campaign. The first-of-its-kind report from Habitat for Humanity and our research partner, the International Institute for Environment and Development, or IIED, modeled the benefits that would be realized – in terms of economic production, income, health, and education — from those housing improvements.
The report found that GDP and income per capita would increase by as much as 10.5% in some countries and that more than 730,000 lives would be saved each year globally — more than the number of deaths that would be prevented annually by eradicating malaria. As many as 41.6 million additional children would be enrolled in school, according to the modeling. That's one out of every six out-of-school children in the world.
"This report adds to the evidence that ensuring people living in informal settlements have access to adequate housing isn't just the right thing to do — it's the smart thing to do," said Jonathan Reckford, president and CEO of Habitat for Humanity International. "Through the Home Equals campaign, we and our partners are committed to taking action so that, when it comes to the places we call home, the more than 1 billion people living in informal settlements are truly treated as equals."
While the report's model couldn't generate projections for specific countries on their own, researchers did group countries into four "typologies." Assuming the impacts to the countries (in each typology) reflect those of the country type it is most similar to, according to this analysis, improving housing in informal settlements in Latin American and Caribbean countries would result, for example, in an increase in the GDP of up to 10.5% in countries such as Haiti, up to 3% in countries such as Argentina, and up to 6% in countries such as the Dominican Republic, Brazil, and Mexico.
In addition, life expectancy would increase, for example, up to 2% in countries such as Bolivia and Honduras, and up to 1% in countries such as Mexico and Guatemala. Years of schooling would increase up to 28% in countries such as Haiti, up to 16% in countries such as Nicaragua and Bolivia, and up to 14% in countries such as Guatemala.
Alexandre Apsan Frediani, a researcher at IIED and one of the authors of the report, said: "Our findings show massive benefits to people's health, education and income when you make sure they live in suitable housing conditions, have access to basic services like running water and sewage systems, and are free from the threat of eviction or harassment." And the gains modeled in the report are likely an underestimation. While the researchers couldn't quantify it, the evidence is clear that environmental, political and care systems improve across entire societies when people in informal settlements gain access to better housing, leading to progress both inside and outside of those settlements, Apsan Frediani said. "There is a spill-over effect," he said, "because when people in informal settlements do better, everyone does better."
Download the full report
See how improving housing in informal settlements impacts economic growth, average income, health, and education.
Download