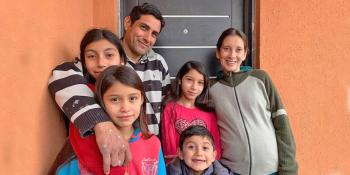 MicroBuild fund wins award
for supporting more than one million families
MicroBuild fund wins award for supporting more than one million families
January 2023. Habitat for Humanity's MicroBuild fund won the Habitat 2023 World Habitat Award, silver category, after allowing more than one million low-income families to improve or build their homes through small loans.
The World Habitat Awards are the leading global housing awards. It is organized by World Habitat, in partnership with UN-Habitat, and is characterized by recognizing revolutionary ideas, projects or programs in housing.
Habitat´s MicroBuild is a microfinance fund that provides loans to institutions in developing countries, with the objective of helping low-income families obtain small loans to build or improve their homes on an incremental basis.
"The barrier that many poor people face is not that they can't build or improve their own home, but banks won't lend them the money to enable it to happen. MicroBuild is a hugely ambitious global microfinance system that solves that problem for millions of people on low incomes"
— David Ireland, chief executive of World Habitat
The MicroBuild Fund has provided US$151 million to 59 institutions in 33 countries that have benefited more than 1 million people, more than double the initial target. The fund's investments have also attracted more than US$582 million of other capital for low-income housing products.
Latin America and the Caribbean accounted for 36% of MicroBuild's portfolio lending during the fiscal year 2022. Historically, the fund has provided money to financial institutions in countries such as Bolivia, Costa Rica, Colombia, Dominican Republic, Ecuador, El Salvador, Guatemala, Honduras, Nicaragua, Panama, and Peru.
One example of the more than one million families benefiting is the case of Magda in Honduras, a mother of five children, who obtained small loans from MicroBuild through the Banco Popular in the country. She initially received a loan to expand her small grocery store. After expanding the grocery store, Banco Popular financed another loan to improve her home.
"I transformed my house, which was made of zinc sheets. Now it is made of brick and my children are safer," Magda says. She later obtained a third loan to further expand her grocery store by adding apartments, creating a new source of income for the household. With MicroBuild's support through Banco Popular, Magda was able to diversify and increase her income while improving her home to provide a safer environment from which to raise her children.
"It is an amazing achievement to have served more than 1 million households that would otherwise not have had access to formal financial services or support", conclude Ireland.