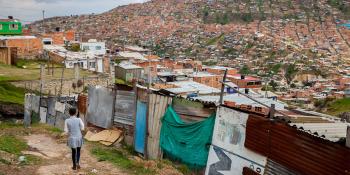 Housing need
Latin America and the Caribbean
"One of the most evident challenges in the region is the increase of urban poverty."
— -UNFPA, State of World Population 2007
Latin America and the Caribbean has one of the highest urban growth rates in the world. Between 2000 and 2030, the urban population growth is expected to grow 394 million to 609 million people. Additionally, the United Nations predicts that in 2020 the percentage of the population residing in urban zones will outnumber that of developed nations, becoming the most urbanized region in the world with 80 percent of its more than 600 million inhabitants living in cities.
(http://www.un.org/en/development/desa/news/population/world-urbanization-prospects-2014.html)
A simple roof versus adequate housing
Between 1990 and 2000, the housing deficit in Latin America rose from 38 to 52 million. According the UN Special Rapporteur on Housing, this is in part explained by the reduction of public investment in low-income housing in certain countries of the region.
Nevertheless, when referring to a housing deficit in Latin America, it is more suffice to say that, while many people have a roof over their head they lack basic elements of adequate housing—such as water and sanitation—that permit them to live in peace and security.
According to statistics published in the XVI General Assembly of Ministries and Maximum Authorities of Latin America and the Caribbean, only 60 percent of the families in the region have access to adequate housing. In addition, 22 percent live in houses that require significant structural improvements and 18 percent are in need of an entire new home. (MINURVI)
Regional studies and investigations
According to this study, inadequate housing continues to be one of the most serious political, social and economic problems in the region. The qualitative housing deficit pushes more and more families into housing conditions that are dangerous and unhealthy. 
A Habitat for Humanity publication.
The IDB has compiled and organized over 1,000 searchable statistics and indicators for countries in Latin America and the Caribbean, creating a comprehensive dataset for the region.
 
Themed "Adjusting laws and institutions to address urban expansion and governance", access to justice for a responsive and inclusive land gevernance need for institutional adjustments to target the most economically vulnerable groups in Brazil. 
Studies and investigations by country
A report outlining the main causes, conditions and effects of inadequate housing in Mexico and to propose strategies to deal with them. The project is based on the definition of "adequate housing" provided by the United Nations, which states that people have the right to live in a safe, peaceful and dignified place, anywhere in the world.
A publication of Habitat for Humanity and the Universidad Iberoamericana