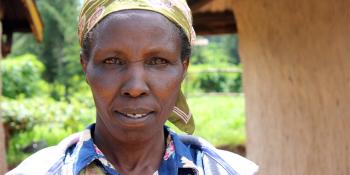 Terwilliger Center for Innovation in Shelter
Building and expanding inclusive housing markets.
Our vision
To serve as a place of knowledge, expertise, advice and innovation, enabling low- and very low-income families to acquire adequate housing.
What we do
Facilitate collaboration between public, private and nonprofit organizations.
Develop sustainable and innovative housing solutions for those who lack adequate housing.
Increase access to affordable shelter among lower-income populations.
Habitat for Humanity established the Terwilliger Center for Innovation in Shelter to work with housing market systems by supporting local firms and expanding innovative and client-responsive services, products and financing so that households can improve their shelter more effectively and efficiently.
Acting as a market facilitator through the Terwilliger Center, Habitat can have exponentially more impact by improving systems that make better housing possible for millions more families, most of whom build their homes in stages.
The Terwilliger Center's approach stays true to Habitat for Humanity's original principles of self-help and sustainability by focusing on improving systems that enable families to achieve affordable shelter without needing ongoing direct support.
The principles that guide the work of the Terwilliger Center for Innovation in Shelter are:
Striving for large-scale impact.
Ensuring sustainability so that solution remains available to households after the Terwilliger Center ceases its support.
Emphasizing the role of the private sector.
Enabling systemic change and attempting to address underlying problems and challenges in the market.
Working as a facilitator to improve the ability of other market players to deliver the solution themselves.
The Terwilliger Center for Innovation in Shelter strategy focuses on:
Mobilizing the flow of capital to the housing sector.
Serving as facilitator and adviser to market actors.
Advancing the knowledge around housing markets through research, toolkits and public dissemination.
Read the 2015-16 State of Housing Microfinance report in English and Spanish.
For more information, please email us at TCIS@habitat.org or call 1-800-HABITAT.
Contact us
Habitat for Humanity International
Attn: Terwilliger Center for Innovation in Shelter
270 Peachtree Street, NW
Suite 1300
Atlanta, GA 30307
USA
Email: TCIS@habitat.org
Phone: 1-800-HABITAT or 1-229-924-6935