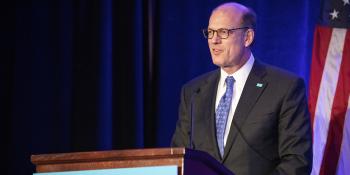 Habitat for Humanity leadership
Habitat's board of directors and senior leadership
Habitat for Humanity International's work is overseen by a board of directors and senior leadership staff who deeply believe that all people deserve a decent place to call home.
Habitat's board is responsible for establishing policy and guiding Habitat's work to construct, rehabilitate, repair and improve housing in approximately 70 countries.
Habitat for Humanity International is managed by an administrative staff, led by CEO Jonathan Reckford and senior leadership dedicated to the cause of decent and affordable housing.
Board of directors
Chair
Mary Cameron
Chair, Cougar Drilling Solutions
Edmonton, Alberta, Canada
Vice Chair
Bill Brand
CEO, Rue 21
St. Petersburg, Florida, USA
Vice Chair
Christiana Smith Shi
Former President, Global Direct-to-Consumer, Nike Inc.
Portland, Oregon, USA
Treasurer
Kimberlee Cornett
Director, Investing for Mission, Robert Wood Johnson Foundation
Annapolis, Maryland, USA
Secretary
Olivia Wong
General Manager, Environmental and Social Responsibility, MTR Corporation Ltd.
Hong Kong, China
Audit Committee Chair
Mary Mack
CEO, Consumer and Small Business Banking, Wells Fargo and Company
Charlotte, North Carolina, USA
Aubree Curtis
Co-head, CAA Social Impact, a division of Creative Artists Agency
New York, New York, USA
Kristiane Graham
Board Member, Dover Corporation
Middleburg, Virginia, USA
Lisa Hall
Impact Chairperson, Apollo Global Management
Silver Spring, Maryland, USA
Boris Henderson
Chief Strategy Officer, Aldersgate Life Plan Service Inc.
Charlotte, North Carolina, USA
Frank Ireri
Chairperson of the Board, Habitat for Humanity Kenya
Nairobi, Kenya
Alex Krell
Partner, Senior Adviser and Investment Committee Member, Paladin Realty Partners
San Juan, Puerto Rico
Celso Marranzini
President, Multiquímica Dominicana
Santo Domingo, Dominican Republic
Manjula Mathews
Company Director, Janashakthi Ltd.
Nugegoda, Sri Lanka
Pamela Hughes Patenaude
Former Deputy Secretary of the U.S. Department of Housing and Urban Development
Moultonborough, New Hampshire, USA
Jonathan Reckford, ex officio
CEO, Habitat for Humanity International
Atlanta, Georgia, USA
Edwin Soeryadjaya
Co-Founder, PT Saratoga
Jakarta, Indonesia
Jim Stanard
Chairman and Co-Founder, TigerRisk Partners
Sarasota, Florida, USA
J. Ronald Terwilliger, ex officio
Chairman Emeritus, Trammell Crow Residential
Key Largo, Florida, USA
Amy Weaver
President and Chief Financial Officer, Salesforce
San Francisco, California, USA
The Right Rev. Robert Christopher Wright
Bishop of the Episcopal Diocese of Atlanta
Atlanta, Georgia, USA
Senior leadership
Jonathan Reckford
Chief Executive Officer
Ed Anderson
Chief Administrative Officer 
Patrick Canagasingham
Chief Operating Officer
Amy Dunham
Chief Communications Officer
Tolli Love
Chief Development Officer
Adrienne Goolsby
Senior Vice President
U.S. and Canada
Hilary Harp
Senior Vice President, Legal
General Counsel
Jacqueline Innocent
Senior Vice President
Integrated Programs
Valerie Norton
Chief People Officer
Ollie Babson
Vice President
Strategy and Planning
Ernesto Castro-Garcia
Vice President
Latin America and the Caribbean
Michael Cox
Vice President
Individual Giving
Tim Daugherty
Vice President
Direct Marketing
Marla Davidson
Vice President, Information Technology
Chief Information Officer
Paul Hamalian
Vice President
Steward of Spiritual Practice
Richard Hathaway
Vice President
Europe and Middle East 
Sue Henderson
Vice President
U.S. Operations
Chris Herink
Vice President
Program Effectiveness
Open
Vice President
Terwilliger Center for Innovation in Shelter
Julie Laird Davis
Vice President
Corporate and Cause Marketing Partnerships
Ed Lee
Vice President
U.S. Transformation and Affiliate Engagement
Maurice Makoloo
Vice President
Africa 
Lee Martin
Vice President
Collaboration, Support and Operations
Liz McLaughlin
Vice President
Global Foundation, Organization and Institutional Relations
Jim Mellott
Vice President
Finance
Juan Montalvo
Vice President
Internal Audit
Luis Noda
Vice President
Asia and the Pacific
Natosha Reid Rice
Vice President
Global Diversity, Equity and Inclusion Officer
Sandy Smith
Vice President
Resource Development Transformation
Chris Vincent
Vice President
Government Relations and Advocacy
Subscribe to our monthly newsletter
Get the latest Habitat news, volunteer opportunities, DIY tips and more ways to get involved.