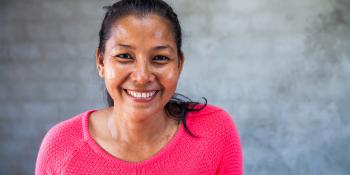 About the Terwilliger Center
Expanding affordable housing markets
Most of the world's people acquire shelter incrementally, building homes step by step as their families grow and as their limited finances allow.
The great majority of families in countries where Habitat for Humanity works have no access to formal-sector housing options, such as traditional mortgage products or developer-built housing. Housing microfinance helps fill that enormous gap by empowering people to build better, more durable homes through a combination of capital and housing support services.
Through the Terwilliger Center for Innovation in Shelter, Habitat for Humanity is able to work within housing market systems to support local firms and expand innova­tive and client-responsive services, products and financing so that households can improve their shelter more effectively and efficiently.
What is a housing market system?
In addition to buyers, sellers and support services, a housing market system also includes political, legal, cultural and economic environments that structure the system, making it possible for market actors to exchange goods and services. A housing market system includes the "who" and the "how" of homebuilding:
Who makes housing available and influences the process.
How a family obtains housing products and services, such as financing, construction materials, solar panels, sanitation and technical advice.
Why we work with housing market systems
Families partner with Habitat to build strength, stability and independence through safe, sustainable and affordable shelter. Yet, with more than 1.6 billion people across the globe still lacking adequate and decent shelter, local markets prove critical in addressing this challenge. Indeed, most low-income people already use available market options to put a roof — no matter how modest — over their heads, then build, repair and improve these structures incrementally. We strive to make markets work more effectively for people in need of decent, affordable shelter.
To that end, Habitat established the Terwilliger Center to work with housing market systems by supporting local firms and expanding innovative and client-responsive services, products and financing so that households can improve their shelter more effectively and efficiently. The Terwilliger Center's approach stays true to Habitat's original principles of self-reliance and sustainability by focusing on improving systems that enable families to achieve affordable shelter without needing ongoing direct support.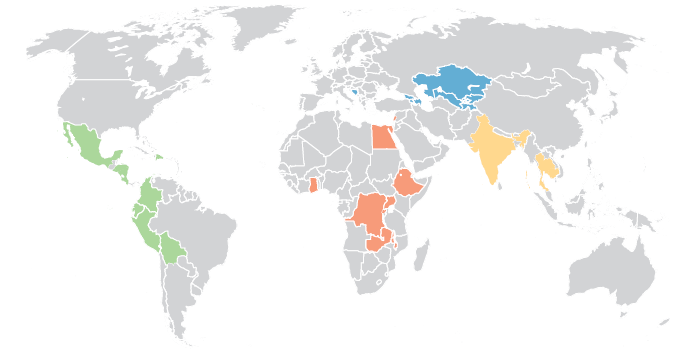 Our impact
$781,471,370 of capital mobilized
52 active technical assistance projects
2,524,260 people served
Impact evaluations
Results of impact study – Enlace (.pdf)
This report presents the social impact results at client level of housing microfinance products provided by Enlace in El Salvador. The study is based on an approach and a customized IT-based survey tool developed by Oxfam Novib. This approach involves obtaining impact information directly from end-clients and includes their perception of changes experienced in key dimensions of poverty.
Housing microfinance client impact study - LOK (.pdf)
This report presents the impact results of housing microfinance products provided by LOK MCF in Bosnia and Herzegovina. The study is based on a survey tool developed by Oxfam Novib, conducted among a target group of randomly selected sample of clients and a control group. A positive impact was found on self-esteem and positive impacts were found for specific client segments on the livelihood and life and security indicators, and women's empowerment. Contrary to expectations, no significant impact was found for clients' health and for a specific client segment a negative impact was found on life evaluation.
"The consultants are very knowledgeable and passionate."
— Gustavo Moron, Financiera Edyficar, Peru
About Ron Terwilliger
Ron Terwilliger, chairman emeritus of Trammell Crow Residential, a residential real estate devel­opment company, currently chairs Habitat's Global Development Council and serves as chairman emeritus of the organization's board of directors. He made a $100 million legacy gift to Habitat — the largest donation from an individual in Habitat's history. A $15 million commitment builds upon Habitat's achievements in creating housing market systems that are inclusive of low-income populations increasing the focus on facilitating more effective affordable housing markets globally.
"Ron's longstanding support of Habitat's mission has helped us improve living conditions for millions of people worldwide," said Habitat CEO Jonathan Reckford. "His generous gift, along with the invaluable knowledge and expertise the center will receive from him as advisory board chair, will help Habitat continue to build strong, stable and self-reliant communities for years to come."
Our leadership team
Patrick Kelley
Global Vice President
Scott Merrill
Senior Global Director
Market Systems and Entrepreneurship
Snorwlor Bropleh
Global Director
Operations
Jyoti Patel
Global Director
Impact Investments
Malaika Cheney-Coker
Global Director
Research and Thought Leadership
Kevin Chetty
Director
Europe, Middle East and Africa
Maria Teresa Morales
Director
Latin America and the Caribbean
Naeem Razwani
Director
Asia and the Pacific
Interested in working with us?
Consultants: Send your CV to [email protected].
Global Operations Center
Habitat for Humanity International
Terwilliger Center for Innovation in Shelter
285 Peachtree Center Ave NE
Suite 2700
Atlanta, GA 30303