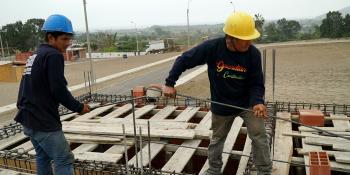 Affordable housing market
Solving Peru's affordable housing market gap through innovation
In Peru, to close the housing deficit, an annual budget of $2 billion is required for housing subsidies, yet the housing subsidy program receives approximately $300 million each year. To take advantage of the untapped potential in affordable housing markets, the Terwilliger Center for Innovation in Shelter in Peru creates innovative solutions in the country to strengthen new models in:
Incremental construction practices and thus influence the behaviors of businesses, consumers, and construction workers.

Housing finance systems for housing finance providers and regulators to reach out to the low-income household market.

Entrepreneurship and innovation so that startups with affordable housing solutions can grow in the South American market.
Resolviendo la brecha del mercado de vivienda asequible en Perú a través de la innovación
En Perú, para atender el déficit habitacional, se requiere un presupuesto anual de 2.000 millones de dólares para subsidios de vivienda, sin embargo, el programa de subsidios de vivienda recibe aproximadamente 300 millones de dólares cada año. Para aprovechar el potencial sin explotar en los mercados de vivienda asequible, el Centro Terwilliger en Perú crea soluciones innovadoras para fortalecer nuevos modelos en:
Prácticas de construcción incrementales y así influir en los comportamientos de las empresas, los consumidores y los trabajadores de la construcción.

Sistemas de financiación asequible, para que los proveedores de financiamiento y los reguladores, lleguen al mercado de los hogares de ingresos bajos.

Emprendimiento e innovación para que las startups con soluciones en vivienda asequible crezcan en el mercado sudamericano.