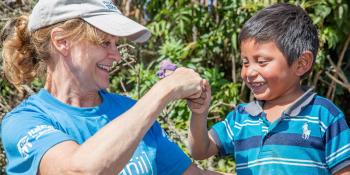 Global Village
Volunteer abroad and immerse yourself in a new culture.
Habitat may work around the corner from you, but we also work around the world. Through Habitat's Global Village trips, you can volunteer abroad with us in nearly 30 nations.
Coronavirus impact on Global Village builds
The COVID-19 pandemic has brought unprecedented challenges to all parts of society, Habitat for Humanity included. Habitat for Humanity International has taken several actions to consider our viability in the long term and prioritize the health and safety of our staff, volunteers, partners and the people we serve.
Among those actions, Habitat for Humanity International is suspending all Global Village volunteer builds through 2020. We expect to post information about 2021 Global Village builds starting in fall 2020.
In this matter, our overriding concern is for you and the people in the communities in which we serve.
If a volunteer has a question or needs assistance, they can contact Habitat for Humanity International's Global Village customer service at [email protected]. Please be advised that we are experiencing much higher than normal call and email volume and you should expect longer wait times and slower responses to messages. We ask for patience as we work through these cancellations.
Global village e-newsletter
Sign up to be informed of news about future trips.
About Global Village
Our volunteer trips offer more than just the opportunity to swing a hammer. When you travel and volunteer with Global Village, you'll experience the country like a local, with the locals. Meet people from around the world with all different kinds of backgrounds, races and religions.
Spending time with other cultures doesn't mean just exploring the differences, but also discovering the commonalities. You'll find that you don't even need to speak the language.
Discover our growth and impact over the years as we celebrate 30 years of Global Village.
Why volunteer abroad with Habitat?
We have various opportunities to volunteer around the world depending on your area of interest, including building one house or many houses at a time, advocating for policy while building, disaster recovery, minor and major home repairs, energy efficiency projects, working with vulnerable populations like children or the disabled, and also trips just for women.
Your participation in one of these trips helps support Habitat's ongoing homebuilding efforts. While your personal trip may last for a week or more, your financial, emotional and physical contributions can be life-changing for both those in the communities where you work and in your own life for years to come.
Make a Global Village trip donation
Make a donation directed toward a trip you are joining, or the trip of a friend, co-worker or loved one.
Learn more about Global Village
Contact Global Village
Email: [email protected]
Phone: 1-800-HABITAT
Mailing address:
Global Village, Habitat for Humanity International
322 West Lamar Street 
Americus, Georgia 31709-3543 USA
If submitting donations via check, please remember to write your event code and personal ID on the check.