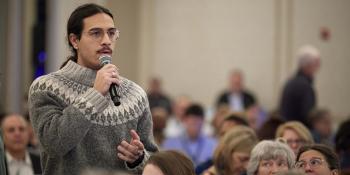 Advocating for improved housing policies so everyone has a decent place to live
Advocacy means supporting and promoting a cause you believe in.
At Habitat for Humanity, we advocate to change policies and systems in the United States and internationally to eliminate barriers to adequate and affordable housing.
Building is part of the solution. But that's not enough. In addition to lifting our hammers, we have the ability – and, now more than ever, the responsibility – to promote sustainable and inclusive policy solutions, ensuring everyone has access to adequate and affordable housing.
Billions of people worldwide lack an adequate home.
Today, one out of every four people around the world are still in need of a safe, healthy and affordable home. Millions live in constant fear of eviction. Disasters displace millions more from their homes each year, endangering their future. In the U.S. alone, more than 18 million households pay more than half of their income on housing – that means 1 in 7 families spend more than half of their income to cover their housing needs.
We know we can't achieve change alone. Policy advocacy is stronger when we work in partnership with others. Our worldwide network enables us to work at all levels – including directly with communities around the world, in coalition with peers and with governments to ensure adequate and affordable housing for all.
United States
In the United States, Habitat works collectively to influence and change policies and systems at all levels of government to ensure that more families can find affordable, quality homes across the U.S.
In 2019, we launched a five-year advocacy campaign to mobilize local and state Habitat organizations, partners, volunteers and community members across the country. Through our U.S. Cost of Home campaign, we are finding solutions and helping to create policies that will allow 10 million individuals to gain improved access to stable, affordable homes. In four years of the campaign, over 400 state and local Habitat organizations have successfully advocated for more than 300 home affordability policies in states and communities nationwide.
International
Internationally, Habitat works to address essential housing needs in more than 70 countries by engaging with local and regional governments, civil society organizations, and global policymaking bodies to promote policies that expand access to adequate, affordable housing and ensure communities are at the center of housing solutions.
In May 2023, Habitat launched Home Equals, our five-year global advocacy campaign dedicated to achieving policy change so that 15 million people living in slums and other informal settlements around the world have equitable access to adequate housing. We are building on previous success through our first global advocacy campaign, Solid Ground (2016-2020), which worked to influence policies and systems to improve access to land for shelter, resulting in more than 12.4 million people with increased access to safe and secure land.
Habitat for Humanity acknowledges that housing is an essential driver for achieving many of the U.N.'s Sustainable Development Goals, or SDGs — in particular, SDG 11, which recognizes the need to make cities and human settlements inclusive, safe, resilient and sustainable, but also those related to economic growth, global health and education.
Join us in advocating for improved policies in the U.S. and around the world.
Contact us
General inquiries: [email protected]
Habitat for Humanity International
Government Relations and Advocacy
1310 L Street NW, Suite 350
Washington, D.C. 20005