homes, communities, hope, you
FY2020 Annual Report
homes
COVID-19 has forced everyone to deeply consider the fundamental importance of home — of having safe, decent and affordable shelter. For far too many families, "shelter in place" only exacerbated the conditions with which they have struggled for so long. Since 1976, Habitat has helped families around the world build and improve places to call home because we believe that a home and the community that surrounds it should be a source of solace and a source of strength. Places to be healthy and thriving, a springboard to stability and opportunity. Now more than ever.
"Every day we leave the safety and comfort of our home to support and care for the people in our community.
Whenever one of us heads out, our family is reassured that our home will be here for us to return to. It saddens me that every family doesn't have the same security a home provides and that the pandemic is making the housing problem that has existed for decades much, much worse. I know that struggle personally because I once lived it. Habitat's homeownership program forever changed our lives."
—Juanita, a Habitat Twin Cities homeowner and housing advocate who counts five essential workers among her immediate family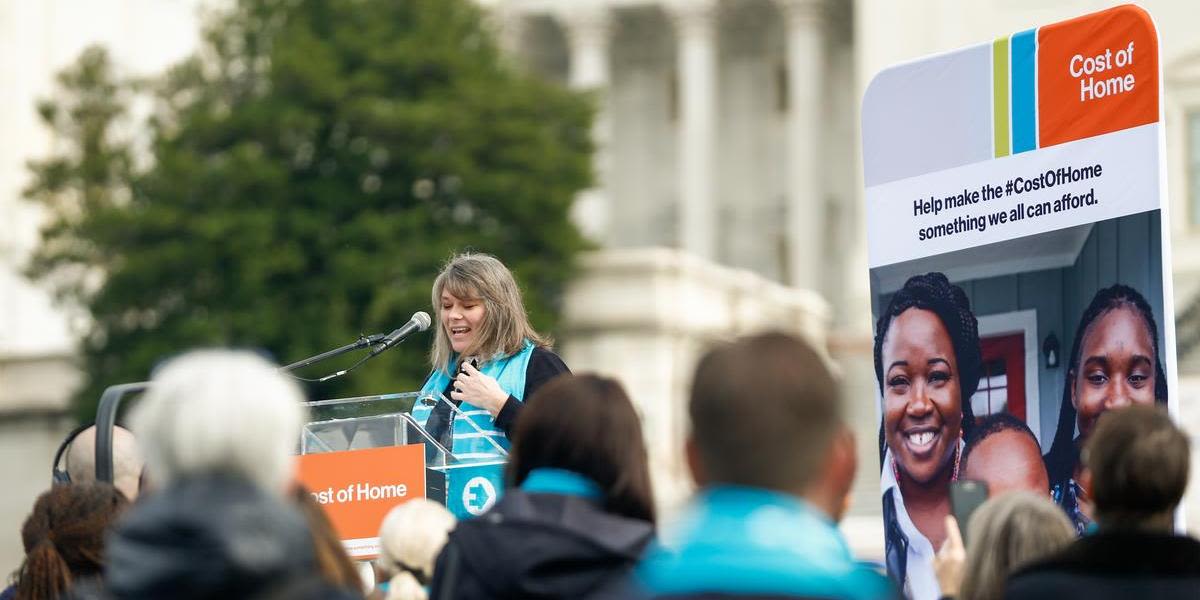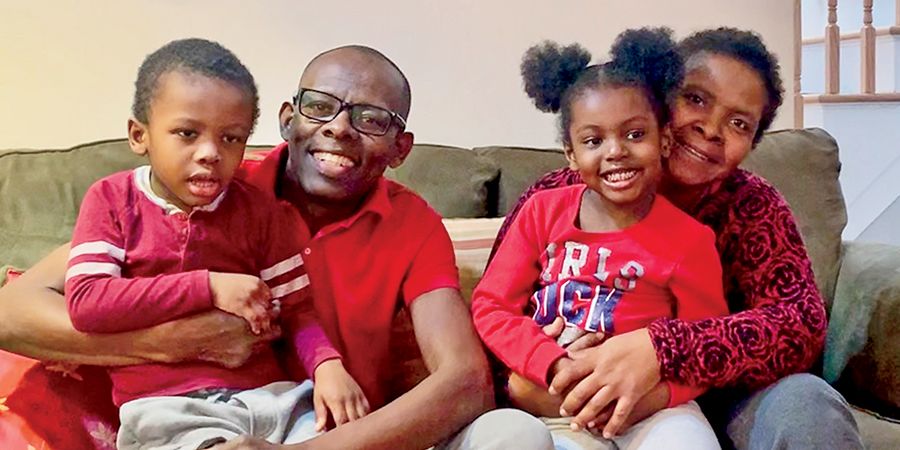 "Now I don't have to worry about getting sick. I don't have to worry about my children getting hurt. It's the very best feeling as a mother. I'm more grateful now than even when we first moved here.
"Our home protects us. It makes us strong."
— Ingrid, a Habitat for Humanity Rockland County homeowner whose son's asthma has greatly improved in the home she and her husband, Jean, helped build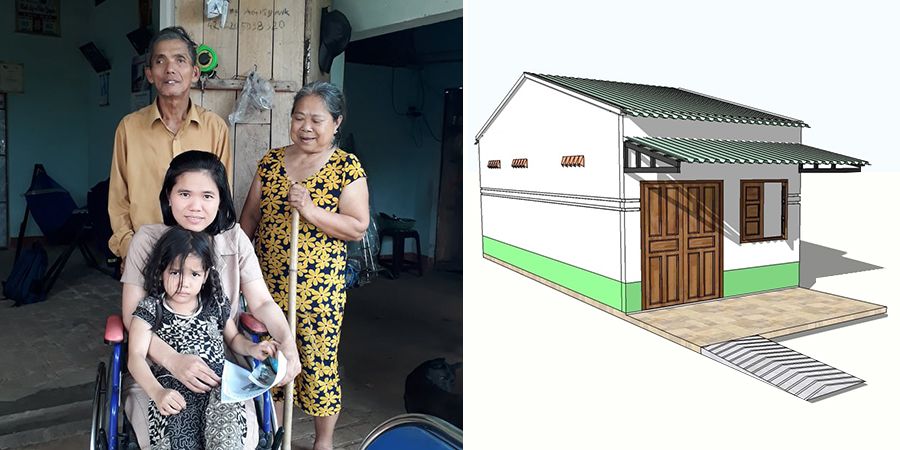 For years, Binh, who uses a wheelchair, has dreamed of having a place of her own.
This year, she partnered with Habitat Vietnam to design and build a home that would be accessible and have enough space for her and her daughter Giao to live independently. The process was delayed due to a nationwide stay-at-home order to curb the spread of COVID-19, but construction workers reengaged at the first available opportunity. Her home will include a gently sloping concrete ramp up to double doors in front, wide doorways throughout, and horizontal grab bars in the bedroom and bathroom.
Kendall and his family now live in a Habitat Greater Los Angeles home built to be more accessible.
"The independence that this house brings for our family, that's the biggest thing for us."
— Mason, Kendall's brother
communities
A sense of a connectedness and a willingness to actively help shape the world around us for the better have always been Habitat hallmarks. They are deep in our DNA. It's in the recognition of how much we depend on one another, how much we matter to each other, that we can harness our shared humanity and heal together. Habitat's efforts are only as strong as local communities, leaders, volunteers and supporters. With your support, we create a better world — because we build it together.
Resident maintains sanitary water kiosks during COVID-19
Morrix, his wife, Lucy, and their four children do not have running water in their house in the Bauleni neighborhood of the Zambian capital of Lusaka. Few families in the city's densely populated, low-income settlements like Bauleni do — most can't afford to connect their homes to the local water system, which is run by a private company.
In response, Habitat Zambia has installed 28 water kiosks in and around Lusaka, including one in Morrix's neighborhood, so that residents will have easier access to the water they need for drinking, cooking, cleaning and bathing. This saves families like Morrix's hours of walking and standing in line to collect water from nearby farms.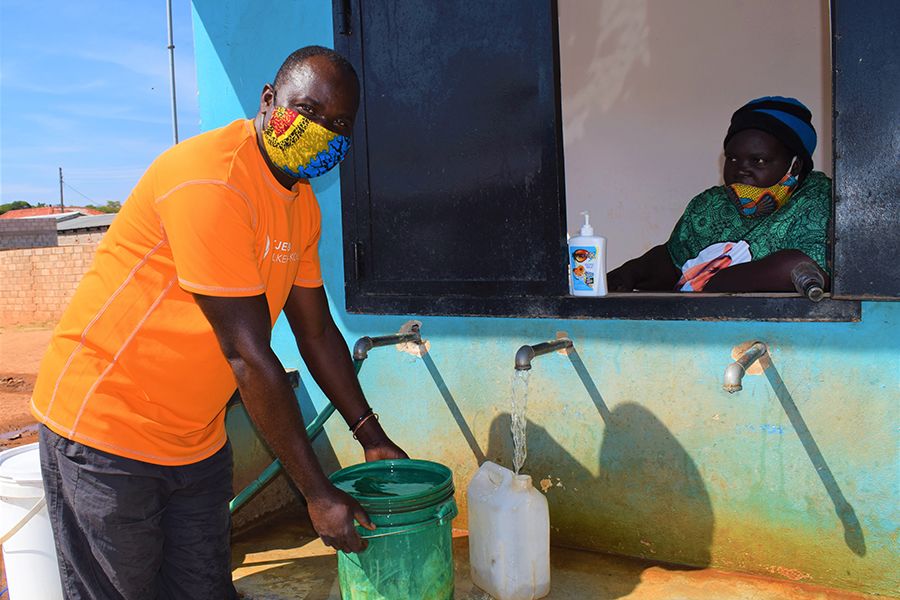 "I spend less time on fetching water, which means that I have time to attend community meetings and spend more time with my family," Morrix says. His family also lives healthier, with improved hygiene and sanitation. And now that his 14-year-old son, Rabson, does not need to miss classes to help with this essential task, his grades have improved.
During COVID-19, Morrix has stepped forward, taking a part-time position to help ensure that people who come to use the neighborhood kiosk wear protective masks and wash their hands thoroughly before drawing water. He cleans the kiosk regularly and assures that lids stay on the water containers. He does all of this to help protect his neighbors — and the water source that has made their community a healthier, better place to live.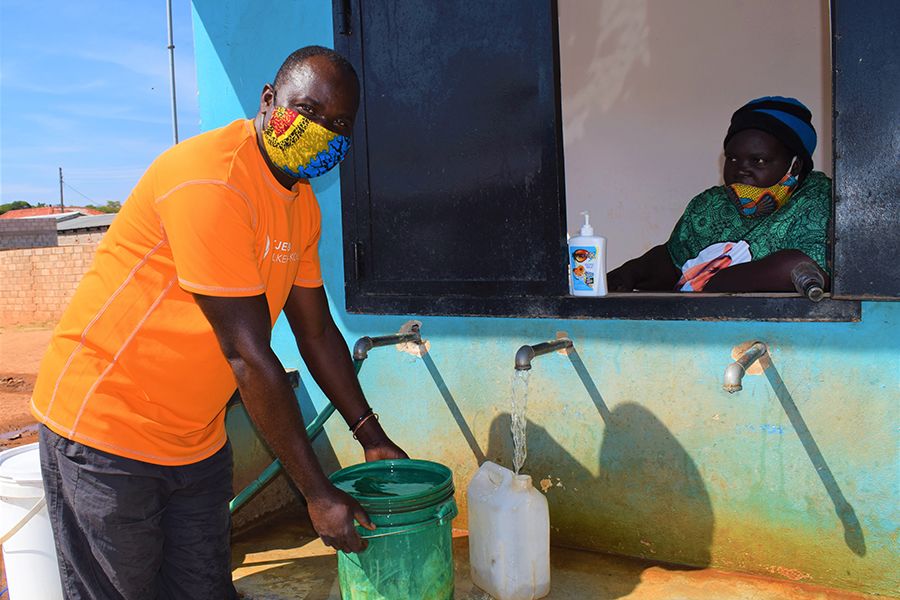 Through our Quality of Life Framework, Habitat continues to harness the collective power of community — from residents and businesses to local policymakers and schools — to improve the places we call home.
This innovative, resident-centered approach — made possible by the Robert Wood Johnson Foundation along with Lowe's, Wells Fargo Foundation and General Motors in addition to local partners — currently brings together coalitions in 10 communities from Portland, Oregon, to Moncks Corner, South Carolina, and from Pittsfield, Massachusetts, to Long Beach, California. Participants work together to focus on sustainable solutions to the unique issues facing their neighborhood, with efforts including building and repairing homes to increase affordable homeownership opportunities, improving health outcomes through community gardens and mental health resources, and encouraging and strengthening community connections and engagement.
"You will see a better Larimer. You will see a beautiful Larimer — inside and outside. Inside of the people and outside in the community."
— Betty Lane, neighborhood resident leader in Pittsburgh
The impact of partnership and advocacy
Sixty-eight square miles. That's all the land that exists in Washington, D.C.
"We don't have the opportunity to grow outward like a lot of other cities with suburbs because we're fairly constrained and small," explains Gene Bulmash, manager of the inclusionary zoning program at D.C.'s Department of Housing and Community Development. "As a result, housing is a challenge. And we would not be able to do as much to produce and preserve affordable housing without partners like Habitat for Humanity."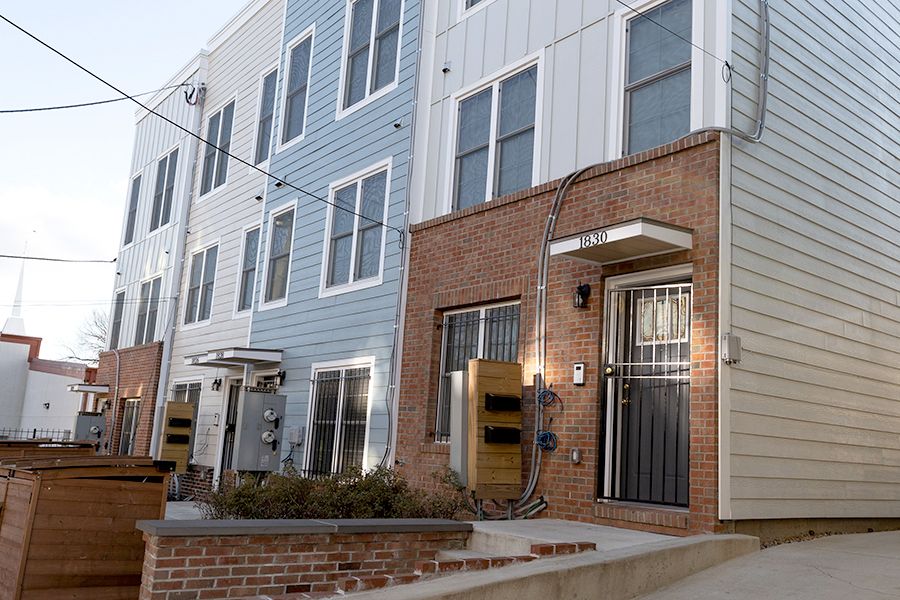 One outcome of that partnership was the creation of the Towns at Ivy City, a multiunit development in the capital's northeast quadrant. DHCD's inclusionary zoning program requires that new residential developments include a certain percentage of affordable units. Working together with the private developer of a new luxury apartment complex, DHCD and D.C. Habitat were able to take the funding earmarked for the creation of the few small affordable rentals in that complex and instead put it toward the creation of more than a dozen affordable homeownership opportunities that could accommodate larger families at the Towns at Ivy City.
The development, a community of both Habitat and non-Habitat homeowners, has allowed residents to benefit in myriad ways — from improved physical health to reduced mental stress. Most of all, for Bobby, it means that after years of couch surfing with friends and family, he can finally afford to live where he works.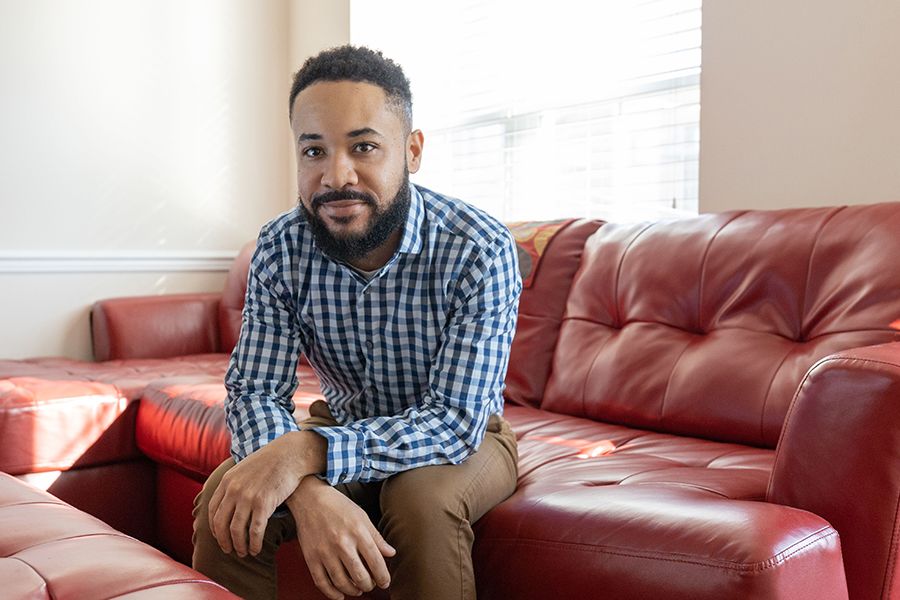 With the newfound constancy of his home, he says, he feels both more invested and empowered to build up the people and places around him, inspiring him to attend neighborhood meetings, petition for the preservation of nearby historic buildings and participate in neighborhood cleanups. "I feel more connected to my community — which makes me want to give back to it," says Bobby.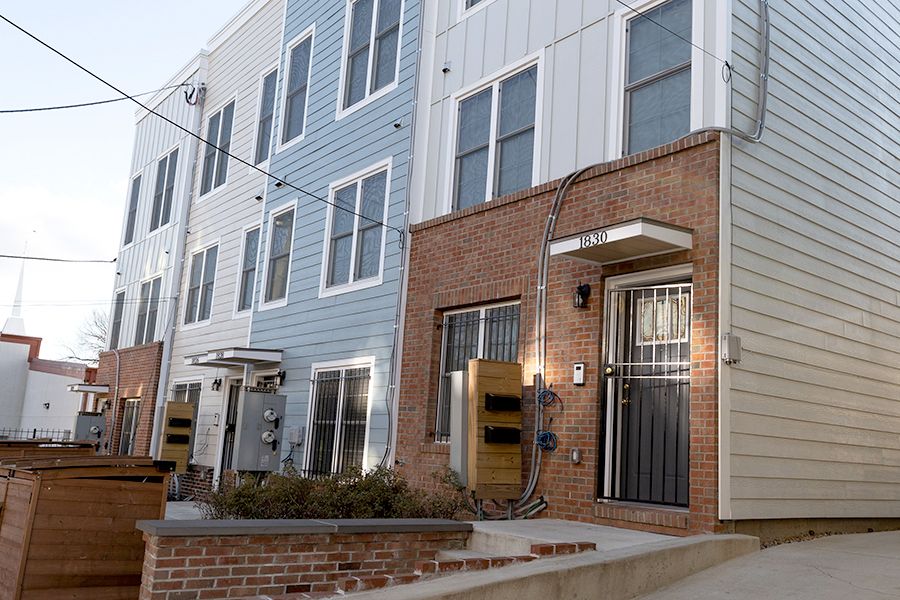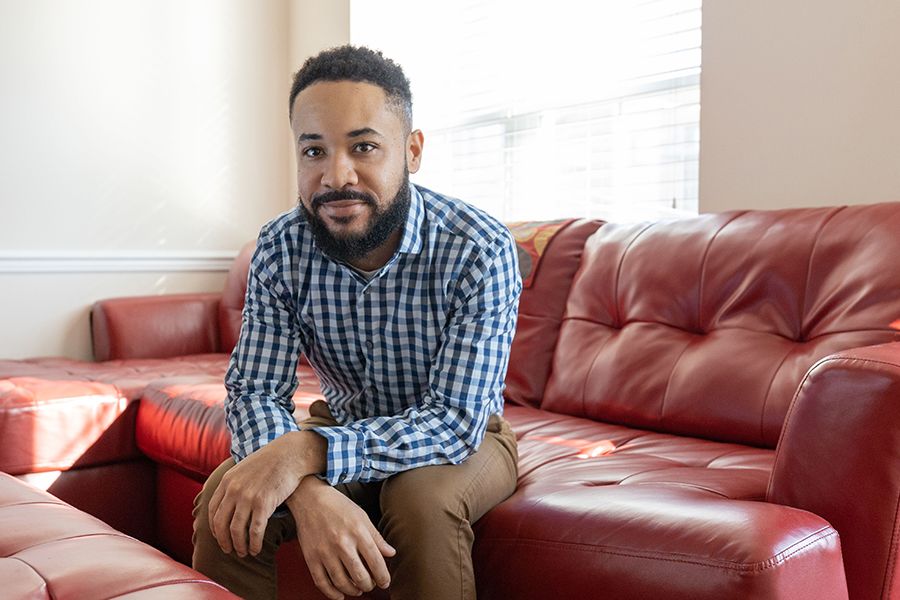 Terwilliger Center for Innovation in Shelter
As part of our continued commitment to making housing markets more inclusive and responsive to low-income families seeking adequate shelter around the world, Habitat's Terwilliger Center for Innovation in Shelter helped 5.3 million people in fiscal year 2020.
COVID-19
Redoubling our commitment to inclusive housing markets as health and economic crises hit globally: The Terwilliger Center developed nearly 40 activities to address the impacts of COVID-19, from issuing small grants to shelter-related innovators to prototyping temporary shelter concepts. We ratcheted up our efforts to make housing markets more responsive to the needs of families who are disproportionately affected by COVID-19 and who often go unseen.
ShelterTech
Expanding ShelterTech as the world's leading platform for affordable housing innovation to advance entrepreneurial shelter solutions that radically improve the lives of low-income families: After successfully completing accelerators in Mexico, India and Kenya, we began expanding into 13 new countries by laying the groundwork for two new regional accelerators: one in the Andean region, the other in Southeast Asia. To kick-start these efforts, we launched a new online hub that houses the new accelerators, offers "tech camps," facilitates access to our global community of mentors, and provides information on investment opportunities related to catalytic funding and our Shelter Venture Fund.
MicroBuild
Learning about the launch of the Terwilliger Center's flagship impact investment fund: New York University's Grunin Center for Law and Social Entrepreneurship and Wagner Graduate School of Public Service collaborated to create the first in a suite of multidisciplinary case studies about the MicroBuild Fund, the Terwilliger Center's housing-focused microfinance investment vehicle dedicated to helping low-income families. This first study focused on the fund's launch. Now in its eighth year, the MicroBuild Fund has disbursed US$136.9 million to 55 microfinance institutions across 32 countries.
Shelter Venture Labs
Bringing construction labor issues to center stage: As our Shelter Venture Lab teams work across India, Kenya, Mexico, Peru and the Philippines to transform home construction for families, they are zeroing in on an important ingredient: construction labor. When India's COVID-19 lockdown resulted in millions of migrant workers walking thousands of kilometers to reach home, we conducted a rapid assessment in Maharashtra with nearly 1,000 of the workers, many of whom worked in construction. Habitat's Terwilliger Center convened migration and policy experts, along with industry and civil society leaders. Then we presented the findings and recommendations to an official developing the government of India's COVID-19 welfare and action plan for migrant workers.
The Terwilliger Center is working in Kenya to support local firms like iBuild that are bringing innovative products to the housing marketplace. iBuild's app allows homeowners to connect directly with local contractors to facilitate the process of home projects and construction.
Publications
Spotlighting the housing crisis and our successful interventions: We publicized the challenges and success stories of our work across several high-profile places, including a Devex article on Kenyan entrepreneurship in shelter, an Economist article on home improvement finance's potential that cited our work with the Mastercard Foundation in East Africa, and a Thomson Reuters article on how COVID-19 is ravaging vulnerable housing markets globally.
Habitat is grateful for the leadership and generosity of J. Ronald Terwilliger, retired chief executive officer of Trammell Crow Residential and current ex officio member of Habitat for Humanity International's board of directors, along with other major donors such as Dow, the Hilti Foundation, the Mastercard Foundation, the IKEA Foundation, the AutoDesk Foundation and the Swiss Capacity Building Facility, who are making a global difference in the housing sector.
hope
We build because we want to make this world a fairer place, to help make our communities beacons of equality. We know that when we do — when we join together — every improvement we make envelops and uplifts us all. What might seem for many families like an impossible dream of homeownership often starts with a whisper of hope — a small act of courage in its own right. And it makes all the difference.
"We are the example of the seed, we grow it, and we need to care for it to grow more and more."
— Camilo, a Habitat Mexico homeowner. He started hearing about Habitat's work in the mid-1990s in another community. He frequently traveled over an hour to observe and convince them to start working in his own community. Since his inaugural build, more than 30 families in his village have built a home of their own alongside Habitat.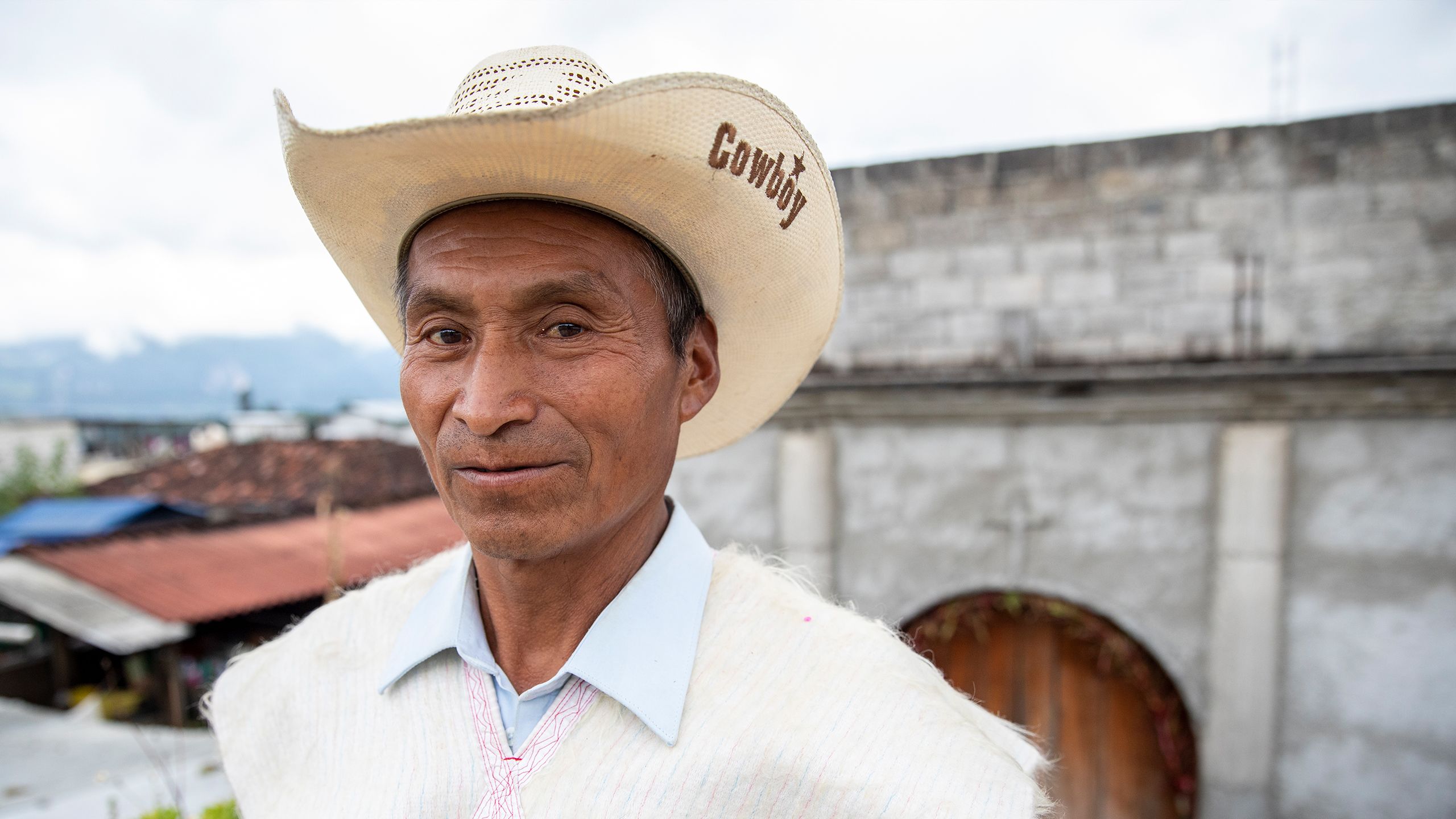 "It's unbelievable what an impact a home can have on the health of a family.
"Just at the beginning of the pandemic, we succeeded in moving 36 families in their new homes. And one of the families has a son who was diagnosed with autism in his early childhood. The entire family was living in overcrowded conditions in a house with just one room, a couple square meters. I had a conversation with his mother just two weeks ago. In tears of joy, she explained to me what phenomenal progress her son made just because he now has a decent home."
— Roberto Patrascoiu, Habitat Romania national director
"I'm finally able to step back and see the full role that substandard housing plays — even in my own story — in keeping people down and the role that decent housing can play in lifting people up.
"As you move forward into this newly changed world, I ask that you remember your own moments of instability. That you never forget the times your home served as your refuge — the only place where you could shield yourself from the outside world and its threats. And know that for many others home continues to be a place to escape from, not run to.
"We need to not only remember and know this — we need to act."
— Lynda, Habitat Brant-Norfolk director of communications and fund development. Lynda draws on her own life experiences to help families find their footing.
Habitat homeowners from around the world share what their home means to them, especially during the COVID-19 pandemic. Decent, affordable shelter has never been more important in keeping families safe and healthy.
"It has rewritten our future from loss to possibilities."
— Amy, Fox Cities Habitat homeowner
"I had a moment when we were in front of everybody, walking into the home and receiving our keys. 'Mom, you made it.'
"For the people who are about to move into their home, congratulations. You deserve this. It's so important when you receive the keys that you understand that you deserve it and that you are worthy and that your kids are worthy."
— World Cup champion A.D Franch, who grew up in a Manhattan Area Habitat house in Kansas and has also served as a Habitat volunteer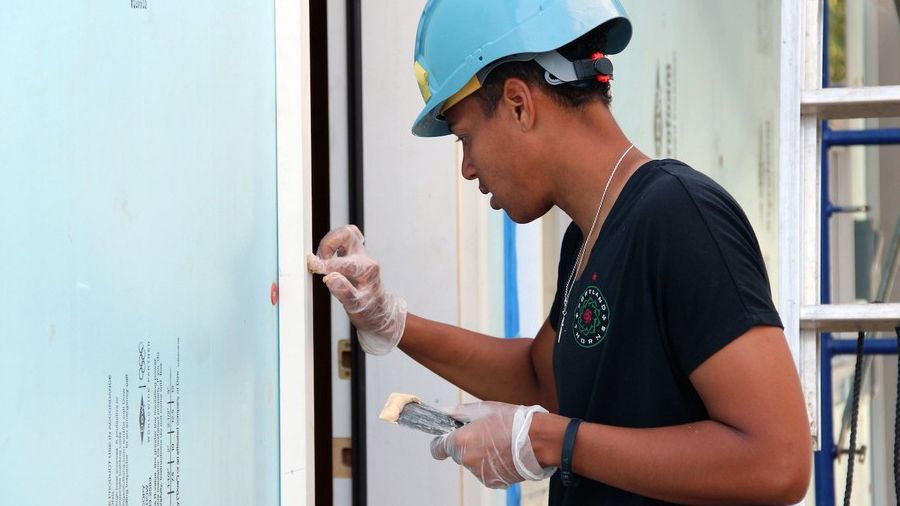 you
Our work only happens because of people like you. Your generosity means families can partner with Habitat and experience the stability that affordable homeownership and improved living conditions can provide. It's your presence and participation that help make our communities whole. And it's your actions that help families around the world improve the quality of their own lives — and those of generations to come.
"Habitat has given and taught me so much as a college student. It's made me a strong advocate for policy change, and it's made me extremely passionate about affordable housing.
"I'm very excited to see the impact that our voices, as young people, can make on government, on policy and on lives in the future."
— Henry Lu, executive team member of Vanderbilt University's Habitat campus chapter
"Habitat has played a large and consistent role in our giving for many years. We value the easy-to-understand mission and the ability to be a part of the giving versus just sending a check.
"Today we are all looking for authentic experiences. Habitat can fulfill that desire to be involved and immersed in the mission as much or as little as one desires. At home or away, it's real."
— Bill and Sherry Fortier, longtime Habitat donors
"When friends and family ask me why I take time off my regular job to volunteer for Habitat LA, I simply respond, 'It's who I am.'
"I come from a large family. I love helping others and giving back to the community. Being a donor and volunteer, I support Habitat LA's mission in changing the lives of many families. I've participated in a number of events, including Power Women, Power Tools, and — as a powerful woman myself — I believe in helping other women recognize the power they have within to make their dreams come true.
"I also want to be a part of Habitat LA's mission in helping families achieve homeownership and build a strong foundation for their future."
— Brigitte Green, Habitat Greater Los Angeles volunteer and donor
"Giving back to the communities where we live and work is an integral part of who we are, and this year, as home has taken on increased importance in all our lives, we are proud to support Habitat for Humanity's mission.
"As a home improvement company, we are uniquely positioned to help make a lasting impact in the lives of thousands of families, helping them build strong and stable homes and communities."
— Bill Boltz, Lowe's executive vice president of merchandising
"Simply put, Habitat changes lives. That is why we give.
"Families thrive in a secure, stable environment. Housing is vital to a family's security. Habitat brings communities together, and —through giving — we can be an active part of Habitat's mission to ensure everyone has a safe, healthy home where they can thrive."
— Dr. Enrico and Mrs. Pat Camporesi, longtime Habitat donors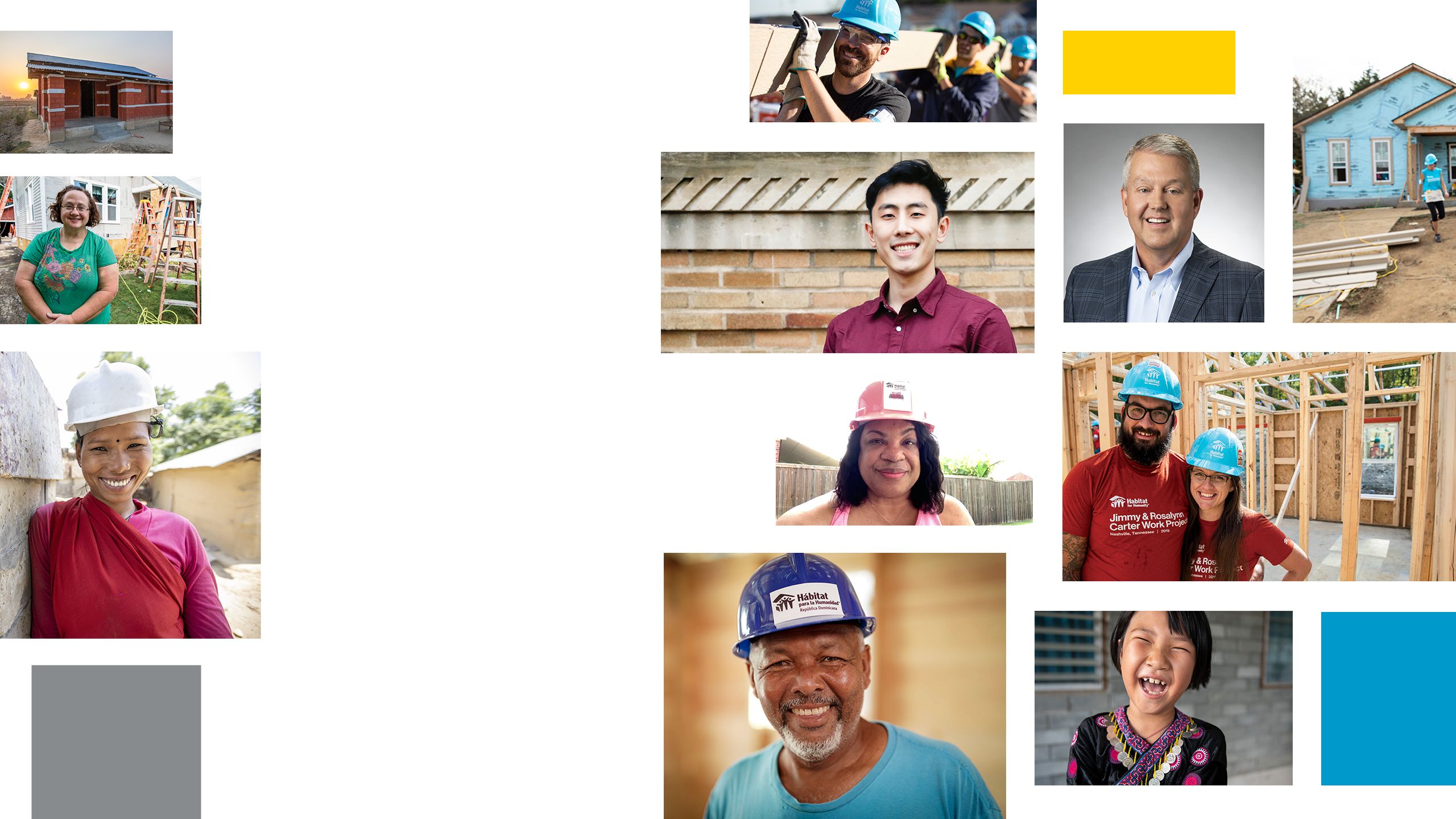 Cost of Home
We launched Cost of Home, Habitat for Humanity's first U.S. advocacy campaign in June 2019 to find the solutions and help create the policies that will allow 10 million individuals to afford the cost of home.
The world has changed since then; the significant impacts of the COVID-19 pandemic and its economic fallout are still unfolding. The number of families struggling to make ends meet continues to grow.
Cost of Home has been a critical component of our response to the pandemic and will continue to play a key role in recovery. Habitat is refocusing and expanding our advocacy efforts, through Cost of Home, to address the housing affordability challenges that have been further revealed and exacerbated as a result of COVID-19.
Even further, the killing of George Floyd and protests in response have highlighted the ongoing impacts of systemic racism, which have been a reality for Black communities for centuries. Guiding the policy work of the campaign, the Cost of Home Policy Platform states:
"Advocates and policymakers must acknowledge and address the well-documented historic patterns of racial discrimination in housing and land use policies — at all levels of government — that still impact the makeup and opportunities of our communities."
Moving forward, we must recommit ourselves to taking bold actions to ensure racial equity. Our collective advocacy through the Cost of Home campaign gives us a solid platform and a critical tool as we move forward.
Habitat's strategic plan calls on us to build sector impact through policies and systems that advance access to adequate, affordable housing. Working locally, Habitat affiliates across the nation see firsthand that a stable, affordable home is out of reach for far too many. Even before the pandemic, more than 38 million U.S. families were spending too much on their housing. We know we can't meet the need through building homes alone. That's why it's imperative that we address the underlying policies and systems that hinder access to housing.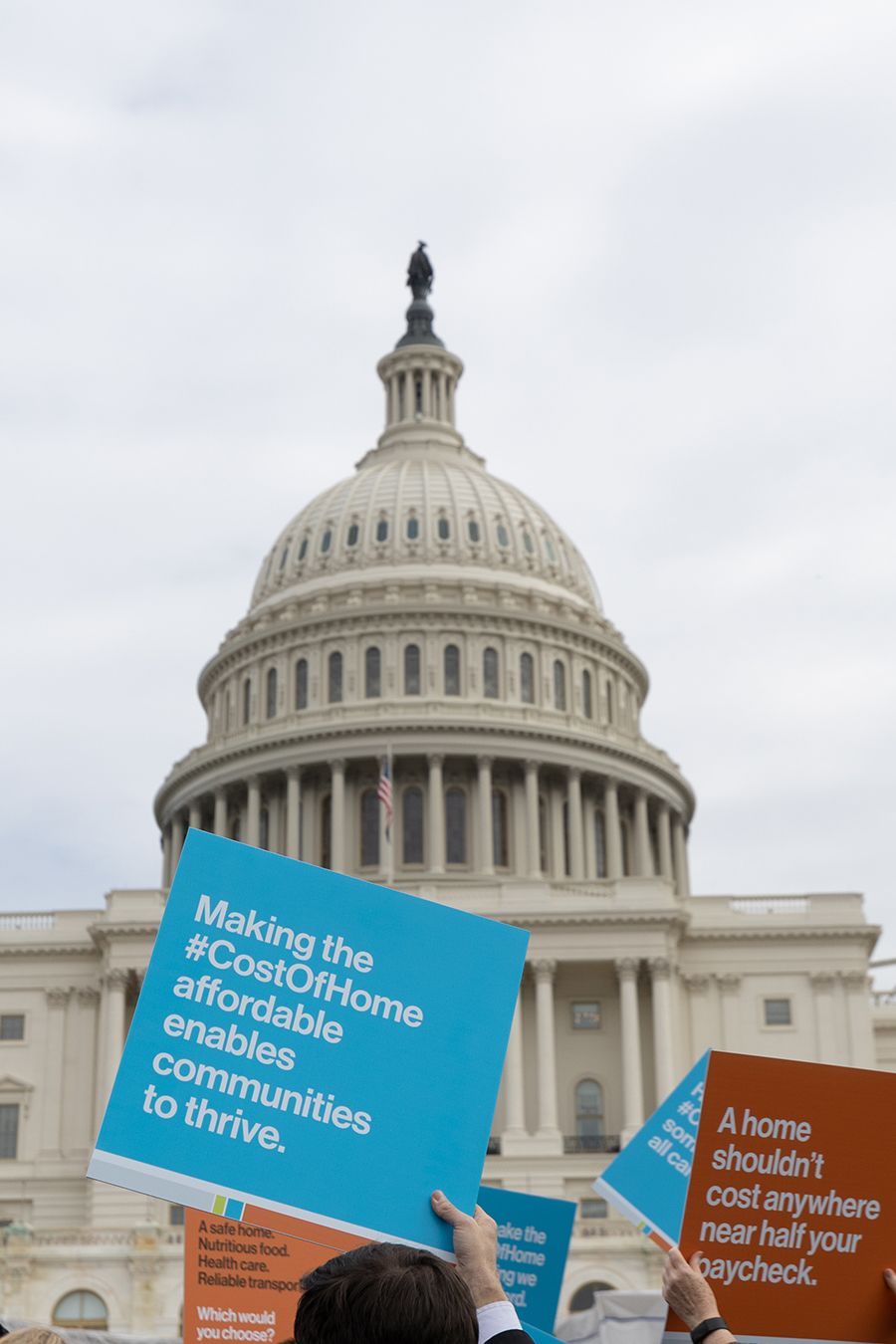 We built a five-year campaign to mobilize local Habitat organizations, partners, volunteers and community members across the country to find solutions and help create policies that will allow 10 million individuals to have access to affordable homes. In just one year, more than 300 Habitat organizations from 45 states and Washington, D.C., are working in partnership with local communities, coalitions and policymakers to influence policies to improve home affordability. Already, significant progress has been made — from improving the supply and preservation of affordable homes in Buncombe County, North Carolina, to optimizing land use for affordable homes in Austin, Texas, to increasing access to credit in Oregon, to expanding access to and developing communities of opportunity in Omaha, Nebraska.
Looking ahead, we know the impacts of COVID-19 will be felt most by those who can afford it the least. We know the disparate impact the pandemic will have on communities of color, communities already suffering as a result of systemic racism that has all too often played out in housing policy. We know we must address the Black homeownership gap. We know we must continue to advocate to policymakers at all levels of government to ensure that every family — no matter who they are, where they live or how much money they earn — can build the foundation for a stable, healthy future for themselves and their families.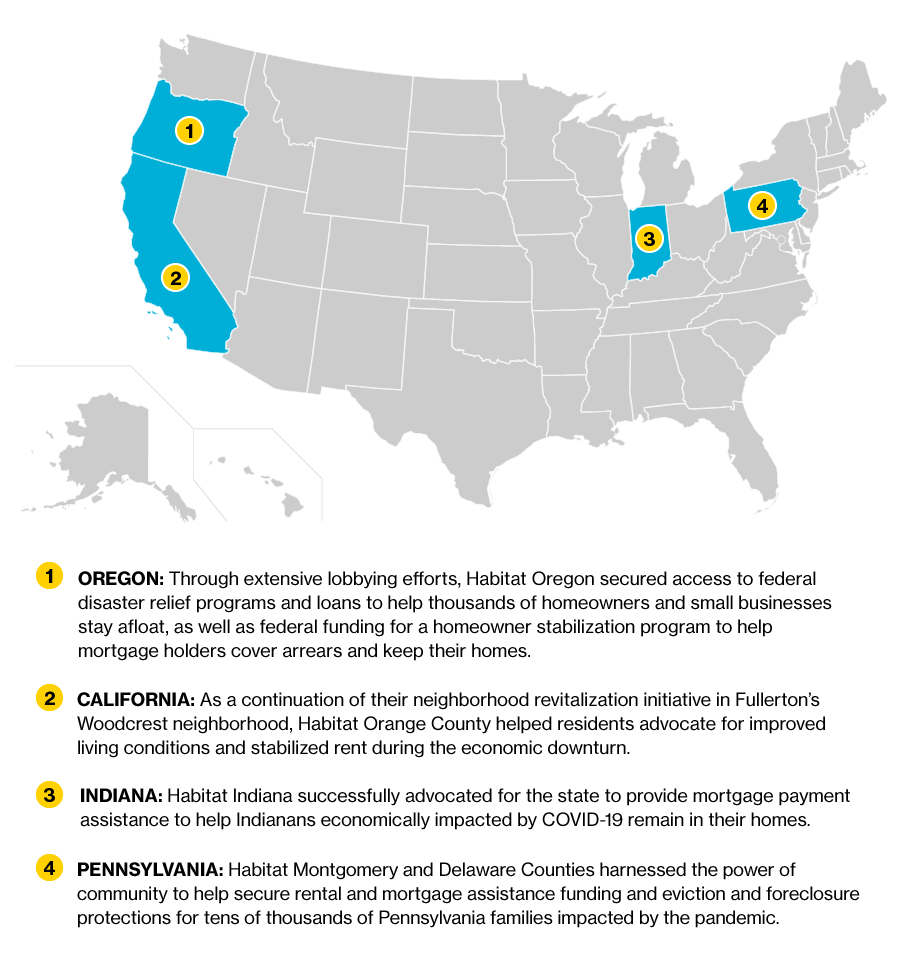 Now more than ever, we must work together to make the cost of home something we all can afford.
Our thanks to the generous supporters of Cost of Home.
+You thought leadership series
In response to the uniquely pressing issues and landscape of 2020, we launched our +You thought leadership series.
During these livestreaming events, experts from around the world help us inform and educate our audiences about critical topics: housing and health, the effect of COVID-19 on low-income families, redlining and racial inequity in housing, issues related to veterans and seniors, and more.
Watch the entire series and find upcoming events, and enjoy these highlighted excerpts from some of our early conversations.
Our thanks to the Stanard Family Foundation for their support of this series.
"It's changing the conversation at the national level to understand what makes a strong nation. Strong cities, strong inclusive cities, particularly inclusive informal settlements and the money to make them work."
— Eugénie L. Birch, Nussdorf Professor of Urban Research at the University of Pennsylvania
"I'll never forget — I took a sheet of paper out of a notebook, and on the back of my door, I nailed the SAT scores that I needed to get into college. I wish I still had that door, my mom probably does.
"But that house played a tremendous role in where I built confidence, where I established my goals and dreams.
"Now in that moment did I realize that I'd become a Super Bowl champion? No way. But I was hopeful that I'd make something of my life."
— Malcolm Mitchell, retired New England Patriot and Share the Magic Foundation founder and CEO who grew up in the Habitat house his mother helped build
"The prescription I want to write is for a healthier home, and that's not stocked at the pharmacy at Boston Medical Center. And so, how do we make a housing prescription available to everyone. Everyone. So that they have that foundation to be healthy now and in the future.
"We can't just be on defense. We have to somewhat be on offense and really start thinking about reinvesting in housing as infrastructure. How do you build equity? How do we address the racial wealth gaps in many of our cities and be able to do that in a more comprehensive way?
"I think this is the time to work with government to be able to find new resources and not just step back from what we're doing, but actually lean in and do more."
— Megan Sandel, M.D., associate professor of pediatrics at Boston University School of Medicine and co-director of the Grow Clinic at Boston Medical Center
"There were many, many federal, state and local policies, not just police, that were explicitly designed to create residential segregation in this country, to reinforce it where it existed, to prevent it from being dismantled.
"The interlocking nature of all of these policies at the federal, state and local levels create a system of state-sponsored segregation, which made the notion of de facto segregation an utter myth. Of course there's private discrimination. Of course there were people who made choices to live with others of the same race. Of course there were banks and real estate agents. But without the federal government in particular structuring these choices and decisions in the private economy, we would not have the kind of residential segregation that we have today."
— Richard Rothstein, author of The Color of Law, Distinguished Fellow of the Economic Policy Institute and Senior Fellow (emeritus) at the Thurgood Marshall Institute of the NAACP Legal Defense Fund
"When historians talk about this time period in the years to come, they're probably going to use words like 'unprecedented,' 'unusual,' with the pandemic, with unemployment being what it is, with our struggle for equality and a continued push in this country to make sure that everybody can prosper, and with a potential wave of evictions like we've never seen before.
"Now is the time, I believe, where we need to embrace the idea of housing as a human right, that in this, the wealthiest nation on earth, we should work toward the day when every single person has a safe, decent, affordable place to live."
— Julian Castro, former U.S. Secretary of Housing and Urban Development