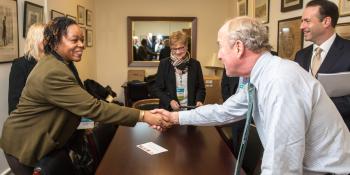 Success stories: Habitat's advocacy achievements
The Cost of Home campaign builds on Habitat for Humanity's strong record of advocacy achievements throughout the U.S. and on the unparalleled reputation of our network of more than 1,200 U.S. affiliates.
Over the next five years, we commit to mobilizing our local Habitat organizations, our partners, our volunteers and community members across the country to find solutions and help create policy changes – like the examples below – that will allow 10 million individuals to meet their most basic needs.
Learn more about the campaign's four key policy areas and join us!
Use this tracker to stay up to date on innovative ways that Habitat's network is advocating across the nation amidst the COVID-19 pandemic.
Increasing supply and preservation of affordable homes
Twin Cities Habitat
In Minnesota, Twin Cities Habitat has worked in coalition with other organizations throughout the city to advocate for increased overall funding for affordable housing and substantial increases to the Minneapolis Affordable Housing Trust Fund.
The Affordable Housing Trust Fund provides gap funding to finance the development of affordable and mixed-income rental housing, housing production and preservation projects in the city. In December 2018, the mayor of Minneapolis signed into law the city's 2019 budget, which included record funding for affordable housing. The total housing budget for 2019 ended up at $45.3 million, compared to less than $25 million in 2018.
Minneapolis's Affordable Housing Trust Fund is funded at $21.1 million, which will support the production of between 500 and 800 units of affordable housing.
Asheville Area Habitat for Humanity
On June 18, the Board of Commissioners in Buncombe County, North Carolina, approved their budget for FY2020, including the allocation of $3.7 million for affordable housing. This funding will build nearly 350 new and affordable homes in Buncombe County, impacting an estimated 815 people, and provides an additional $1.6 million for projects that will create more affordable rental and homeownership opportunities throughout the county.
Asheville Area Habitat for Humanity played a major role in securing the allocation through involvement in a local campaign called Family Friendly Affordable Buncombe. The campaign successfully influenced the creation of a Board of Commissioners subcommittee focused on affordable housing and created a coalition with the local NeighborWorks and Housing First organizations. Through advocacy efforts such as bringing requests to the county for much-needed projects, meeting with county commissioners one-on-one and attending meetings of the new housing subcommittee, Habitat Asheville increased the county's investment to affordable housing.
Equitably increasing access to credit
Habitat Indiana
Habitat affiliates in Indiana partnered with a wide variety of nonprofit, community development, veterans and faith-based groups to halt legislation that would have expanded payday and predatory short-term lending in the state. The bill would have permitted more payday lending products in the state and higher rates. 
Habitat Indiana worked to engage its supporters and members of the Statehouse to oppose the proposal. Although the bill passed the state Senate earlier this spring, it died in the state House when its sponsor declined to call it for a vote by the required deadline.
Habitat for Humanity of Oregon
Earlier this year, the Oregon Senate approved a critical change to the Oregon Individual Development Account Initiative tax credit that will help to keep the program viable in the context of newly passed federal corporate tax laws. Oregon's Individual Development Account program, which operates in conjunction between state agencies, private nonprofits and the private sector, matches savings for low-income individuals ─ those who earn 80% or less than the area median income.
Participants work with one of the partner agencies to identify a goal ─ such as purchasing a home, pursuing education, launching a small business or repairing their home ─ and create a savings plan. Once the participant has saved the agreed upon amount, the program matches their savings 3-to-1. Participants are also required to partake in financial management education. Of the IDA program funds, 45% is allocated for first-time home purchases, and 4% goes toward affordable home repairs.
Many Habitat for Humanity homeowners have participated in the IDA program, and it has been a key resource in helping working families attain a safe and affordable home. Habitat Oregon advocated in support of the IDA program.
Optimizing land use for affordable homes
Austin Habitat
In Texas, Austin Habitat has been actively engaged with a coalition of affordable housing and community development organizations in support of the Affordability Unlocked ordinance. In May 2019, after hours of discussion, the city council voted unanimously to adopt.
Affordability Unlocked is a proposal designed to increase the city's affordable housing stock through zoning changes and by reducing some development requirements, such as parking and minimum lot sizes.
Austin Habitat stated in their letter of support to the city council that the ordinance would allow affordable housing organizations "to do more with precious land in the community … as it unlocks our neighborhoods and enables us to build more in Austin's highest opportunity areas with better access to all of the things that make Austin so special."
Habitat for Humanity of California
In October 2019, Governor Gavin Newsom approved 18 significant housing bills aimed at increasing access to land for affordable homes by reducing barriers to building housing throughout California. AB 587, the Accessory Dwelling Unit bill, championed by Habitat for Humanity California will allow Habitat for Humanity affiliates in California, as well as other nonprofit organizations, to better leverage property and provide additional homeownership opportunities. Habitat for Humanity California also supported several other land use related bills signed into law, including:
SB 330, Establishing the Housing Crisis Act of 2019, which suspends specific local rules and regulations that are recognized as obstacles to housing production and establishes reasonable time periods for processing housing permits;

SB 6, Surplus Lands, which creates a statewide list of all local lands suitable and available for residential development as identified by local governments; and

AB 1486, Public Lands, which prioritizes disposing of local agency unused lands for affordable housing projects.
Increasing access to and development of communities of opportunity
Habitat Omaha
In early 2019, Habitat Omaha advocated in favor of an ordinance that would establish a rental property registration and require inspections of all rental properties in the city every 10 years. Habitat Omaha mobilized their volunteers and supporters by providing guidance and talking points for them to reach out to city councilmembers to support the proposal.
In April, the Omaha city council and mayor passed the ordinance. This law, which takes effect on Jan. 1, 2020, will help address inadequate and unsafe rental properties in the city.
Habitat for Humanity Metro Maryland
Habitat Metro Maryland advocated for a bill that allows tenants to end their leases early and without penalty if a landlord does not address pressing health and safety concerns in the rental unit. The affiliate submitted written testimony, shared the legislation and their support for it on social media and had a board member testify in support of the bill in front of the full council. As a result of these efforts, the bill passed unanimously. This policy change will affect an estimated 6,049 renter households. With an average of 2.3 people in a rental unit, it is estimated that this legislation could affect around 13,913 people.