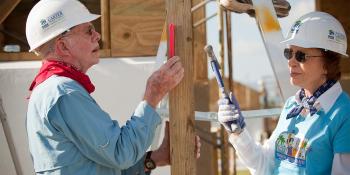 Jimmy and Rosalynn Carter
Every year since 1984, former US president and Nobel Peace Prize laureate Jimmy Carter has donated one week of his time – and his building skills – to Habitat.
Each year, he and his wife Rosalynn lead a major volunteer building event that attracts thousands of volunteers. Usually the event takes place in the USA one year and overseas the next.
In November 2009, the Jimmy and Rosalynn Carter Work Project took place across sites in Thailand, southwestern China, Laos, Cambodia and Vietnam.
This was the fourth time the former US president and his wife have built with Habitat for Humanity in Asia.
In October 2006, the Jimmy Carter Work Project saw 100 homes built place in Lonavala, outside Mumbai, in western India.
The Carter Work Project was held in 2001 in Seoul, South Korea. In 1999, it was held in the Philippines.
In May 2008, the Carters led volunteers building in the US Gulf Coast, rebuilding after Hurricane Katrina.
Since leaving office, Carter has gained a reputation as a tireless champion for social justice. "Habitat has successfully removed the stigma of charity by substituting it with a sense of partnership," says the former president. "The people who will live in the homes work side by side with the volunteers, so they feel very much that they are on an equal level."
Of the annual the Carter Work Project, which he and his wife Rosalynn lead, he says: "We have become small players in an exciting global effort to alleviate the curse of homelessness."
"With our many new friends, we have worked to raise funds, to publicize the good work of Habitat, to recruit other volunteers, to visit overseas projects and even build a few houses."