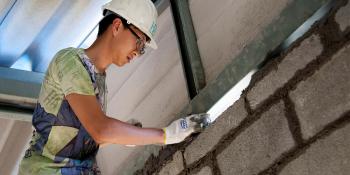 Work on a Habitat construction site
Asia-Pacific
Volunteer and Change Someone's Life – It Could be Yours
Anyone who can hold a hammer or a bucket or a paint brush is welcome to the work of Habitat for Humanity.
The "muscle" volunteers provide means homes can be built at considerably lower costs.
More importantly, the experience transforms lives: both for the volunteers who work alongside Habitat homeowners and for partner families who see that there are "outsiders" who care enough to help them break the cycle of poverty.
Build teams come from within a country or from overseas, known as Global Village teams. Business corporations, churches, schools and colleges, civic groups and other organizations organize and send teams. Some teams are open to anyone who wishes to join.
Specialist teams of experienced builders are recruited to start building after national disasters.
Join a Global Village Trip
A Global Village trip offers the opportunity to travel to another country to work hand-in-hand with people around the world to help build simple, decent homes.
Volunteers build alongside homeowner families who invest their own labor into building their home and those of their neighbors.
Come and Build in Bangladesh, China, India, Malaysia, New Zealand, Philippines, Sri Lanka and Thailand are among the many countries in the Asia-Pacific region to host Global Village teams.
Find Out More OR Sign Up
To find out about their programs and volunteer opportunities in the Asia-Pacific region, click here.
To find out what trips are available, click here to contact the Habitat for Humanity volunteer coordinator nearest you.
The Experience
SEE first-hand how poverty housing undermines the life chances of children and adults alike
ROLL UP your sleeves to build houses and communities for people in need
EXPERIENCE the sights, sounds and adventure of living and working with people from different cultures and traditions
BUILD friendships that transcend borders
WITNESS and share the joy that comes when a family you have worked with receives the keys to their new Habitat home
BE part of an international movement to create a world where everyone has a proper home