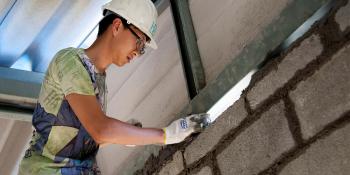 Work on a Habitat construction site
Asia-Pacific
Volunteer and change someone's life — it could be yours
Habitat is unique and blessed to have a mission where our supporters can engage in direct and meaningful ways. Volunteering on a construction site is one of them. Anyone who can swing a hammer or set a block in place is welcome to the work of Habitat for Humanity.
Habitat sets the stage for families and volunteers to come together. A family partners with Habitat and contributes their "sweat equity" or their own labor. A volunteer offers them a hand up, providing the support and the "muscle" that often means homes can be built at considerably lower costs. At a Habitat build site, relationships are formed and friends are made. Watch this video and you will know what we mean.
Build teams come from within a country or from overseas, known as Global Village teams. Businesses, churches, schools and colleges, civic groups and other organizations organize and send teams. Specialist teams of experienced builders may also be recruited to start building after national disasters.
The COVID-19 pandemic has brought unprecedented challenges to all parts of society, Habitat for Humanity included. Habitat's top priority is the health and safety of our staff, volunteers, partners and the people we serve and, as such, there are no currently scheduled Global Village builds. For more information or questions, please contact  [email protected].