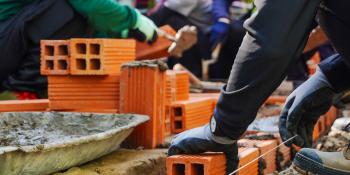 Volunteer on a Habitat site
Asia-Pacific
Habitat's volunteering touches the hearts and minds of people around the world. It is considered the backbone of achieving Habitat's mission and has been the source of inspiration and personal transformation for more people to act for housing.
A family partners with Habitat and contributes "sweat equity" or their own labor. A volunteer offers them a hand up by working alongside them. Habitat sets the stage for these people to come together, to build and to have a truly transformative experience — one that has a lasting and tangible outcome. Evidence increasingly demonstrates the positive contributions of volunteering to the achievement of the Sustainable Development Goals.
Those who volunteer at a site can come from within a country or from overseas, known as Global Village teams. Corporations, colleges and other organizations organize and send teams. Specialist teams of experienced builders may also be recruited to start building after disasters.
The COVID-19 pandemic has brought unprecedented challenges to all parts of society, Habitat for Humanity included. Habitat's top priority is the health and safety of our staff, volunteers, partners and the people we serve. In 2023, Global Village builds in select locations in Cambodia, Indonesia and Vietnam have resumed. For more information or questions, please contact  [email protected].